When It Comes to Communication, What Do Your Candidates Really Want?
The top five qualities that make a successful recruiter are persistence, ability to listen, tenacity, ability to follow-up, and communication. All five are about communication (one even is communication!). They are about your ability to connect, respond, and engage.
To be a stellar recruiter, you have to be savvy about every aspect of communication, from choosing the right method of contact to choosing the right words. With that in mind, here's a breakdown of what your candidates really want when it comes to communication.
They want you to go mobile
Mobile now beats out desktops as the primary way people access the internet. Today's best candidates are doing much of their job search on their mobile devices. In fact, 86% of active candidates use their smartphones to begin a job search.
That isn't the only way candidates use their phones.
In our recent survey of staffing firms, 75% indicated that text messaging is an effective form of communication for their business. The firms that use texting extensively experience faster growth than those that don't. These firms use texts to sell jobs, confirm references, offer shifts and confirm shift changes, send reminders, and converse on other daily matters. They report that candidates respond positively to this engaged form of texting.
Key takeaway: The candidates you're looking for are already on their phones. Be responsive to their needs and go mobile with them.
They want you to meet them online
Social media is now the go-to place for many candidates to find their next big opportunity. In fact, 73% of recruiters say they have hired a candidate through social media. Interestingly, LinkedIn found that 73% of candidates also say they are interested in hearing from a recruiter. So don't hesitate to reach out.
Candidates want recruiters to have their social media game down. Use your networks not just to inform followers about positions but to provide value, educate, and engage. Post relevant blog posts, build brand awareness for your clients, and leverage your networks to find the best talent out there.
Focus on the platforms that reliably bring in the best candidates and don't waste energy on the others. In a recent survey of recruiters and hiring managers, 95% said they used LinkedIn to search for and contact candidates. They use Facebook and Twitter, on the other hand, to showcase an employer's brand.
Key takeaway: Meet your candidates where they are online, but be sure you're using the right platform for each type of communication.
They want to build relationships
Today's smart, busy talent require personalized messages, tailored to who they are (qualified and awesome) and what they want (exciting connections and new opportunities). Each interaction with a potential candidate is as much about building a relationship as it is about filling a position.
Candidates are looking for recruiters who listen. One candidate told LinkedIn, "It's frustrating to not feel heard. I'd like recruiters to understand my unique skills and what I'm looking for in my new role before pitching me a job."
Pay close attention, especially at the beginning of a relationship, to what the candidate is looking for. This will go a long way in making better-fit matches and reducing turnover for your clients.
Engage with your candidates regularly and often, building up trust and confidence over time. Don't be in touch only when you have a position open (though that's great, too). In the current talent war, candidate experience is crucial. Going the "extra mile" now needs to be the MO.
Key takeaway: The modern recruiter-candidate relationship is more than just a transaction. Take the time to get to know your candidates — or they'll go with someone who does.
They want to hear back from you
Just like any good relationship, the connection between you and the candidate requires consistent, reliable communication. One of the biggest complaints candidates have about recruiters is lack of follow-up. If you regularly drop the ball — take a week to follow-up, fail to respond to requests for information, or ignore questions and concerns entirely — candidates will get the message loud and clear that they don't matter.
Furthermore, 49% of companies hire recruiting firms because they need to fill positions quickly. So speed of follow up is crucial for keeping clients happy, too.
Candidates want an engaged, dedicated recruiter who responds immediately. Give each candidate the attention they deserve by:
Key takeaway: Don't leave your candidates hanging. Treat them the way you'd want to be treated in the same situation.
They want value
To engage the best of the best talent, your follow-up can't be empty. Use each communication as an opportunity to give support, educate, and convey enthusiasm.
Candidates want recruiters who:
Inform them about the company and leaders they are interviewing with.

Assist them in researching and exploring a company.

Send them regular updates about news in their industry.

Offer them resume tips to ensure theirs is top-notch.

Remind them about interview and industry best practices.

Communicate with vivid, positive energy to build them up.
Your dedication to education and support really shows candidates that, from the get-go, their potential employer has their back.
Key takeaway: Candidates are like customers. Give them the information and support they need to make good career decisions.  
The candidates you want on are their phones, texting their networks, and scanning their social feeds. Stand out by making communication convenient for them, meeting them where they are, prioritizing the relationship, listening well, responding quickly, and providing value. Your placement numbers will thank you.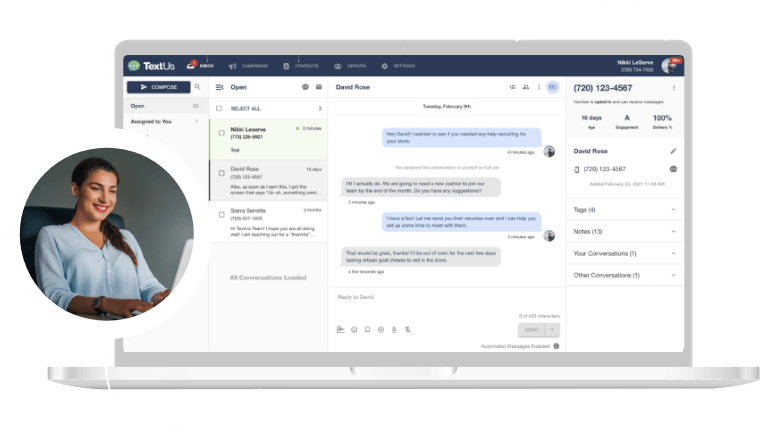 Get a TextUs Demo
Learn how thousands of businesses use TextUs everyday to communicate in real-time.