Why Over 700 Staffing Firms Now Use TextUs
Fastest-growing business-class texting platform now used by over 700 staffing firms to quickly place job candidates
BOULDER, CO — TextUs, the leading business-class text messaging™ software, announced today that over 700 staffing firms now use the platform to communicate in real time with staffing and recruiting candidates. Debuting at #573 on the Inc. 5000, TextUs is the fastest-growing text messaging software solution in the country.
"We can get a nearly instantaneous response using TextUs," said Lizzy Derish, Corporate Training Coordinator at the QTI Group, "versus waiting a few minutes, hours, or even days for responses through other methods of communications."
Marci Wainwright, VP of Operations at Delta Construction Partners, agrees. "We've had responses from candidates that we've only been able to leave voicemails for in the past."
Staffing firms are choosing business-class text messaging™ over cold calls and impersonal emails. TextUs eliminates over-automation and creates an authentic recruiting experience. With TextUs, firms will:
1. Save recruiter time by eliminating wasted voicemails
2. Boost candidate response rates up to 800% over phone calls and emails
3. Move candidates quickly through the process to get faster job placements
4. Create a transparent relationship between recruiter and candidate
TextUs President Ted Guggenheim hinted at more features to come. "It's been so exciting to see TextUs picked up at such a fast rate by staffing firms. And we have even bigger plans for the new year. Based on our response to client feedback and emerging trends and technologies, we can promise we have a real game-changer coming in early 2019. Business-class text messaging™ is only the beginning of what's NEXT."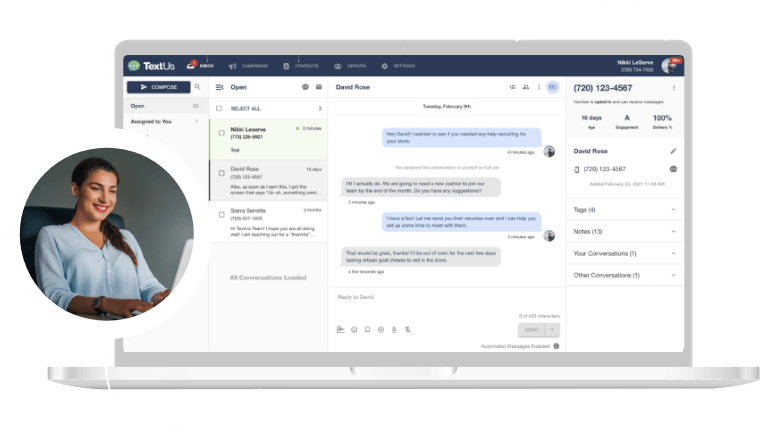 Get a TextUs Demo
Learn how thousands of businesses use TextUs everyday to communicate in real-time.