Why You Should Text Your Candidates More
You know that staffing and recruiting effectively today means going mobile and going social. The common denominators in these recruiting trends are: speed, efficiency, convenience, and connection.
To reach the top candidates, texting is a simple communication powerhouse that increases your reach with a mobile workforce. Here's why you should text your candidates more.
It's faster than the phone
Phone tag is an efficiency killer. If a prospect is at their current job, trying to get the baby to sleep, or waiting in line at a noisy coffee shop, taking your phone call may not be convenient, or possible. You'll go to voicemail, and it may be hours or even days before you're able to connect.
Texting is quick and quiet, part of the reason many texts receive a prompt response. It is often much more possible to tap out a text response than to engage in a voice call, so candidates can text you back without needing to interrupt their day.
You know how crucial speed is to your staffing firm. If it takes you hours or days to establish a relationship with candidates, in all likelihood, the strongest ones will take other positions or get snagged by your competitors. To keep your edge, you have to use the speediest communication platform.
It's more efficient than email
Text saves time over emails, too. Starting a conversation over email can take hours or days, if it happens at all. The average email open rate is around 32%, while texting has a 98% read-rate, usually within three minutes of delivery.
Plus, who hasn't spent 15 or 20 minutes crafting the perfect email to talent? With text, brevity is expected. This can shave minutes off your recruiting turnaround, for every candidate, every time. (However, this doesn't mean professionalism goes out the window. See our tips on business text etiquette.)
It has a high conversion rate
A text message is essentially a call-to-action. It's short and to-the-point, often providing candidates with a single piece of information (a link to a relevant job posting, a confirmation of an interview time, or a hot piece of industry news) and a request for response. It's no surprise, then, that an effective text messaging strategy can boost conversion rates by as much as 328%.
It helps your bottom line
In an increasingly competitive job market, recruiting and staffing are all about speed. The faster the communication method, the more revenue you generate.
In our recent benchmarking study, we found that using text messaging and social media to communicate with prospects is associated with faster growth for staffing and recruiting firms. Slower-growth firms, on the other hand, rely primarily on phone and email communication. Rather than replicating spammy email techniques on a smaller screen, fast-growth firms also use text messaging in a more personalized way.
It improves your brand
Texting is a comfortable, convenient medium. It allows recruiters to build their brand in an intimate way, personalizing communication and sending value right into prospects' pockets.
Joseph Anthony, CEO of millennial-focused marketing agency Hero Group says, "Brands must see text message marketing similar to how they look at joining conversations on Facebook, Instagram, and Twitter. They must ask themselves how they can add value without being intrusive, so what they offer is commensurate with what [consumers] may get from [their friends]." In this way, text messaging makes your staffing firm's brand synonymous with a valuable, conscientious, candidate-focused recruitment process.
It meets candidates where they are
The average person checks their phone over 150 times a day. More, 91% of people report always having their phone within arm's reach. The candidates you are looking for are already on their phones. They use their phones to find jobs, to network with companies on social media, and to apply for jobs. Make communication convenient for them by bringing it right in front of their faces.
It builds relationships
In today's fast-paced world, the best candidates want responsive staffing firms, dedicated to building relationships. Texting allows for timely, immediate communication and the kind of real-time connection that builds trust and confidence in your staffing firm. By texting, and texting well, you show your candidates your commitment to providing value in the most convenient, considerate format around.
No candidate wants to feel dropped. Many cite recruiters' failure to communicate as an impediment to a strong relationship. The efficiency and ease of text messaging help you respond to every candidate, every time they touch base with you.
It impresses Millennials
By 2020, Millennials will make up 50% of the workforce. This influx has changed the face of recruiting, and it's essential that you cater to the preferences of this young generation of candidates.
According to a recent Experian survey, Millennials use their phones around the clock more than users of other ages. Plus, 68% of 18- to 29-year-olds say they are heavy text users. So, it's not surprising that Millennial candidates prefer text to other forms of communication.
As digital natives, Millennials will start to assess your staffing firm's brand from first contact. They are concerned with the life story of a brand, which is conveyed through your website, social media presence, and one-on-one communication. Texting shows them that your staffing firm is on-the-pulse and keyed into the kind of contact that works best for them.
If you're ready to start texting, check out the TextUs Team Pilot Trial today.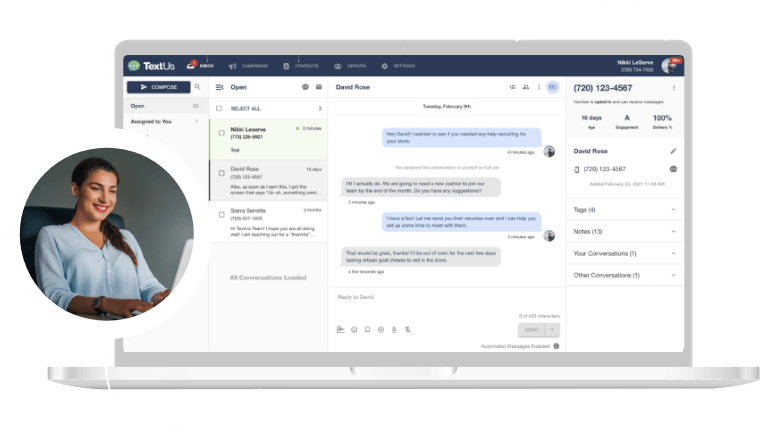 Get a TextUs Demo
Learn how thousands of businesses use TextUs everyday to communicate in real-time.