The World Now Does Business in Real Time: TextUs Expands into Europe
The need for business-class text messaging™ is spanning the globe. No matter where your business is, your customers expect on-demand communication. They want to reach you on their terms, not on yours.
That's why we're super excited to announce our expansion into Europe, where we'll bring real-time communication to clients and customers looking to shift their business into the speed of Now. Our newest headquarters is located in Krakow, Poland, and our customer experience team there is ready to help you tap real-time 1-to-1 conversations, build better relationships, and grow your business faster.
We're settling into Krakow's thriving Diamante Plaza, home to Europe's most prestigious tech, healthcare, and IT organizations. The branch is headed up by Jacek Kilian, the Global Account Manager of the Year 2015-2018 during his tenure at CRM-superstar, Bullhorn. Kilian and the entire TextUs team will bring our passion and authenticity to Europe, making it easy for you to:
Build authentic relationships with customers and candidates via personalized text messaging
Boost response rates over phone calls and emails by 800% percent
Save time by eliminating wasted voicemails and reducing cold calls
Text directly from their computers and their favorite CRM or ATS
Optimize results across teams
Here's a quick quote from our news announcement that we issued today:
"TextUs Europe is an exciting adventure for us," said TextUs CEO, Ted Guggenheim. "We've had such fantastic success in the United States, and we're extremely excited to move into new territories in Europe. We look forward to working with our new partners to bring the next wave of real-time communications to European customers."
Today's hottest companies know that spammy emails, cold calls, and impersonalized automation leave their customers feeling cold. Instead, they are choosing communication that's instantaneous, authentic, and more human. By pivoting to integrated text, chat, social, and voice technologies and focusing on messaging that's personalized, authentic, and thoughtful, these customer-centric teams don't just close deals — they build relationships.
That's the benefit of a real-time approach to business communication. In a world full of spam, cold calls, and excessive automation, we believe in keeping it real.
We're excited to celebrate our expansion and to meet you! Come join us at 2019 CWS Summit and GigE event next week, March 26 – 28, 2019. If you are attending please stop in to say hello.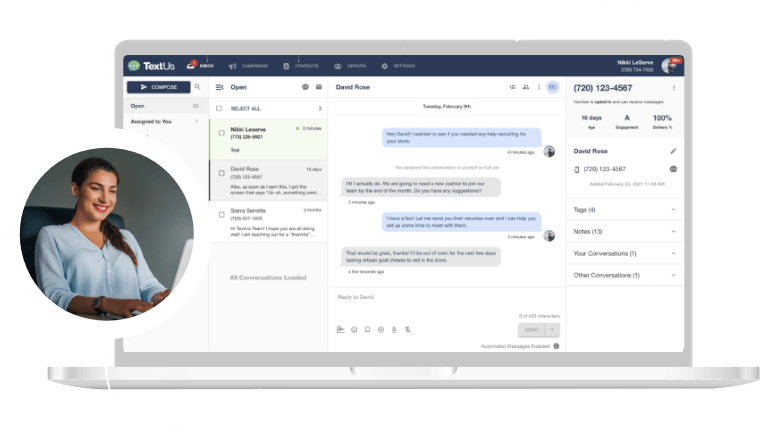 Get a TextUs Demo
Learn how thousands of businesses use TextUs everyday to communicate in real-time.