Wrap-Up of Today's Top Staffing and Recruiting Trends
Recruiting is becoming more like marketing
Skills shortages and heavy competition for talent mean that the candidate is in the driver's seat. To stand out from the crowd of eager recruiters in 2016, you have to think like a marketer. Define the talent that your clients want and work to woo them.

68% of staffing leaders say that their brand has a significant impact on their ability to grow business. In a recent case study, a small staffing firm was able to increase their organic leads by 100%, while slashing their paid advertising budget. How? You guessed it: by thinking like marketers, getting out on social media, and increasing brand awareness of their firm.
Think of your ideal candidates as customers and tailor your message to what would be most appealing to them.
Relationships are crucial for the new workforce
If your staffing game is still stuck in 2010, get started on a reframe — STAT. We're no longer in the depths of a recession, 10,000 Boomers retire every day, and Millennials and Gen Zers are coming up powerfully. They are the force in our new workforce. They are, on the whole, egalitarian tech-natives, focused on connection and collaboration.
Welcome them in, and open your mind to a new way of staffing and recruiting, where relationships come first.
The best candidates are going social
Recruiting is increasingly a social affair. You are going to initiate most of your relationships with talent and hone your brand presentation on social media. Keep your aesthetic, message, and voice consistent across platforms to create a cohesive portrait of who, exactly, your agency is.
Don't dilute your efforts. Analyze what platforms have drawn in the best talent in the past and focus on them. Don't put a lot of time and money into a Twitter campaign if you hooked all your best candidates from LinkedIn.
Mobile is the mode
It's now a fact: the talent you want is doing their job search on a mobile device. 71% of staffing firm candidates have searched for a job on a mobile site. And it's not just the candidates — 65% of clients correspond via text with someone from their staffing or recruiting firm.
Mind your mobile presence. Take some advice from Barry Wu, a product manager at Monster: "If you've got a career site that's onerous to look at on a phone, a lot of people will say, 'OK what's the next job?'"
The market is too competitive not to think mobile. Prioritize mobile optimization and consider incorporating a texting platform into your staffing strategy.
What staffing and recruiting trends did we miss? Let us know on Twitter, Facebook, and LinkedIn.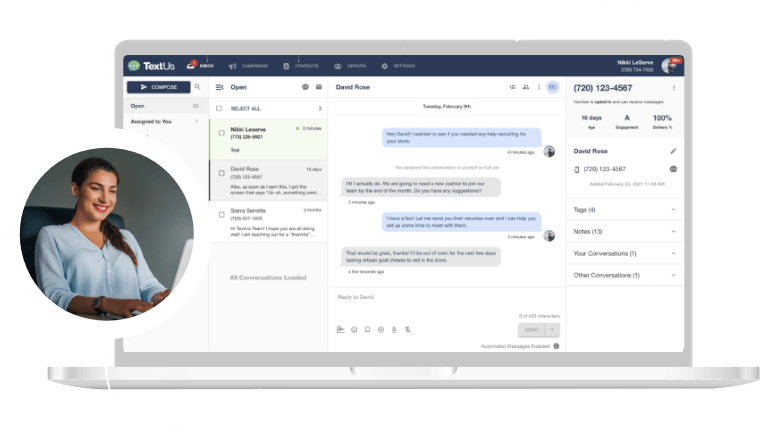 Get a TextUs Demo
Learn how thousands of businesses use TextUs everyday to communicate in real-time.