Introducing TextUs Business Texting Analytics
In the past, you and your team have been texting with little insight into what happens after you hit send. You might wonder, "Did my message go through?" or "Was that a good time to send a text?"
Well, the TextUs team has been hard at work this year and is super excited to introduce TextUs Analytics, the first analytics platform to give you deep insight into your text messaging. You can now track message efficacy, learn which strategies work, and establish data-driven best practices to reach your audience. Here are all the new features you can check out today.
TextUs Dashboard
With the new TextUs Dashboard, you can get a quick glance into your latest activity. It tells you everything from your team's receive rate to the latest TextUs product updates.
Across all users, the main dashboard chart will display an overview of message analytics from the past week. This will vary depending on your account type:
Organization Admins will see data from all accounts associated with their team. Their dashboard gives them the following options:
Manage their team's accounts
View their latest notifications
Edit contacts and update opt-out information
Individual team members (Standard Users) will solely have access to the data associated with their account. Their dashboard gives them the following options:
View details about the users on their account
View their latest notifications
Manage their integrations
Below the week's overview, three Dashboard Panels display the information described above, according to user type.
For more detailed analytics, users will explore the Analytics tab.
TextUs Analytics Charts and Data
In the Analytics tab, we have more detailed analytics, available to everyone. Organization Admins get a simplified look into all the accounts under the control, while Account Admins and Standard Users benefit from more powerful analytics on an individual level.
Messages Over Time Chart
Here, you'll be able to view a line graph to quickly understand all the messaging activity on your account. This graph tracks the following 7 KPIs:
Sent – The total number of outbound messages sent in a given timeframe.
Delivered – The number of messages sent through TextUs and successfully delivered to the carrier.
Unconfirmed – The number of messages sent through TextUs that have not received confirmation of delivery.
Bounced – The number of messages sent through TextUs but not successfully delivered to the carrier.
Responses – The number of inbound messages received within 24 hours of an initial outbound message send.
Received – The number of total inbound messages received within a given timeframe.

Search by Account
In the top analytics navigation, Organizational Admins can select individual accounts within your TextUs team. With this feature, you can examine texting analytics of a single account.Individual team members can view their own account info.
Messages by Account
In the Message by Account section, Organizational Admins will be able to compare different account's messaging activity in side-by-side bar graph.
This helps admins compare data from their users, identify top performing texters, and spot users in need of additional help becoming a TextUs Pro.
Chart View + Table Views
You have the option to choose between a chart view (which is the default) and a table view from the top selector.
The table view allows team admins to download a .csv spreadsheet of the selected Messages Over Time or the Messages by Account.
Analytics by Date Range
Here, you can see beyond the previous week and delve into whatever date range you're interested in. This allows you to explore data over the timeframes that are most meaningful to you and your team.
With TextUs Analytics, you can improve your team's tactics, boost your texting strategy, and close more deals, faster.
Looking for more on how TextUs can improve your daily workflow? Check out our other recent product updates.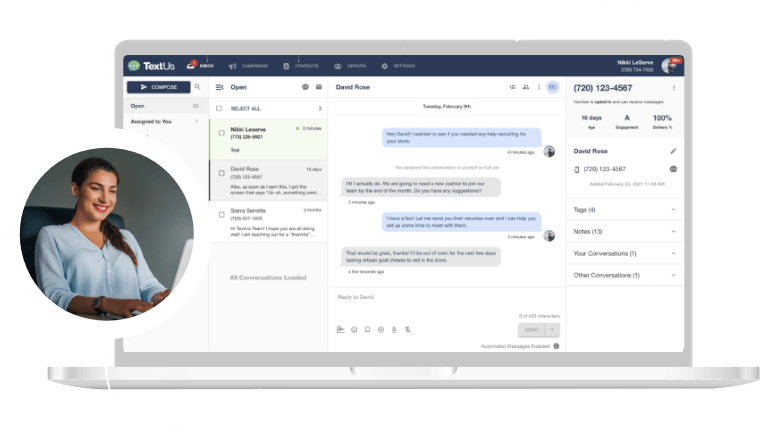 Get a TextUs Demo
Learn how thousands of businesses use TextUs everyday to communicate in real-time.