Sliding into Messages is Easier with TextUs
At TextUs, we always look for ways to improve the user experience of our product. Seeking feedback from customers, building with a purpose, testing internally, and working with beta users for improvements are all a part of our UX process before we launch a release to the public.
Our TextUs Next Slideout Chrome Extension is a tool that allows you to pull contact names and phone numbers directly from your CRM or ATS into TextUs.
We worked with a beta council to bring this to life and create the best workflow possible for you. Unlike with general beta releases, the council was composed of customers who work with us regularly to give us feedback before going to production.
Wait… Don't we already use a Chrome Extension?
TextUs has another Chrome Extension that is a Pop Out.
The Slideout Chrome Extension is a lighter version of the Pop Out. Slideout lets you quickly find numbers and easily maintain 1:1 conversations without leaving your existing workflow within your CRM or ATS.
If you have been a TextUs customer for a while, you may remember a similar feature to Slideout.  We heard from customers that it was one of their favorite features when using a CRM or ATS and helped them to easily see their messages and control their inbox without switching between platforms.
Key Benefits of Slideout
We believe that texting is one of the best communication tools to increase your productivity in business.  The ability to easily check your messages without having to switch tabs, platforms, or grab a different device means you can take care of business right away and in real-time. Slideout fits right in with your daily activity so that you don't have to stop what you are doing to send a message.
We also believe that where quality UX exists, people are more likely to adopt a product. Taking into consideration customer feedback and requests to see a feature like Slideout again to help manage their workflow and productivity motivated us to build Slideout with more features. One of these top requested features is the ability to auto populate contact details or conversations when a match is found with an existing contact or conversation within your TextUs account and CRM or ATS.
Here are some of the top capabilities of Slideout:
Streamline texting when working in your CRM or ATS.
Automatically land on contact details within your TextUs account when on a contact record
Switch between multiple TextUs accounts easily.
Create your own messages or use a template.
Send messages to a group of up to 10 people.
See message history if it exists.
Search by contact name, number, or message.
Create a new contact.
Filter and find messages.
How to use Slideout
Find and click the TextUs icon in your toolbar for Chrome Extensions.
Click "Open Slideout" or use the shortcut code
Select the account you want to use.
Compose your message.
Send your message.
For more information on how, visit our knowledge portal.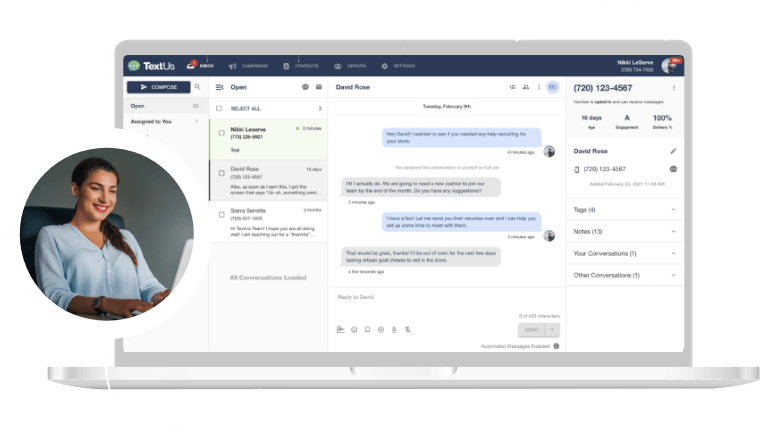 Get a TextUs Demo
Learn how thousands of businesses use TextUs everyday to communicate in real-time.