A Faster, Better, Easier Way to Business Texting
Two Way Text Messaging
Text messaging is one of the most engaging ways for businesses to communicate with customers, candidates, employees and leads. 1:1, 2-way SMS encourages response and engagement.
Get Replies Faster
Text messages help teams get 10x the response rate over phone and email. Enterprise text messaging has become a more viable form of communication than traditional mediums.
Easy-to-Use Platform
The TextUs user experience is intentionally designed to resemble the familiar SMS inbox, allowing users to easily manage contacts, conversations, and campaigns.
Real-Time Conversations Anytime, Anywhere.
Work right from your desktop with the TextUs web app or use the Chrome extension alongside your ATS or CRM. Leverage the mobile app for on-the-go sending and responding.
Integrate with your CRM or ATS
Seamlessly share data from TextUs to your CRM or ATS, making texting an easy extension of your current business systems.
TextUs makes my life easier.
"I like the ability to search by number or partial name and not having to call everyone."
Karen G.
Field Support Specialist at Maxim Healthcare Services
Test Messaging Resources and Guides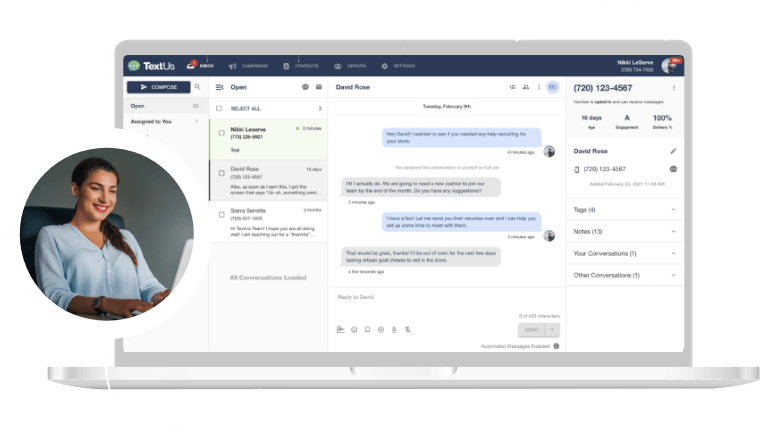 Get a TextUs Demo
Learn how thousands of businesses use TextUs every day to communicate in real-time.