Remote, Hybrid, or Onsite?
How the "Great Resignation" or "Reshuffle" is redefining workplaces
The roller coaster of jobs over the past few years has both employers and employees scrambling. Many people know or have personally been laid off, furloughed, or willingly quit jobs. Companies faced the polar extremes of closures and then rapid rebuilds to meet demand. Employees struggled to find balance or security in their jobs.  The roles of HR and recruiters have been catapulted to be more central in making business-defining decisions. As business leaders decide whether to return to the office, continue remote working, or offer hybrid working, understanding how to attract and retain workers will continue to be a main focus.
"With the rise of work from anywhere, hire from anywhere and an easier interview process all done virtually, there's no reason for employees not to be looking for a better opportunity…Companies now need to be thinking about having a constant stream of potential candidates to fill their workforce"

– EVAN SOHN, CEO OF RECRUITER.COM
The great resignation
Employees are looking for better opportunities and with the rise of remote work or flexibility, they have found that sometimes a second chance is worth it.  A Pew Research Study from February 2022 discovered that of workers who switched jobs "at least half of these workers say that compared with their last job, they are now earning more money (56%), have more opportunities for advancement (53%), have an easier time balancing work and family responsibilities (53%) and have more flexibility to choose when they put in their work hours (50%)."
Most of those who quit jobs say that it was easier to find employment and enjoy a better balance for their life now after the switch.  HR leaders and recruiters have seen these trends and started to change the way they engage with employees and candidates to ensure a positive experience and relationship between employers and employees.
Harvard Business Review learned that resignations were highest in the tech and healthcare fields.  We have witnessed how texting has helped these industries greatly impacted by resignations and helped build better employee relationships.
During the COVID-19 pandemic, our customers at healthcare systems and staffing firms have used text messaging to recruit and deploy medical staff in a rapidly changing and high demand environments, and even caught Oprah's attention with how they used text messaging to check in on staff and spread positivity during a difficult time.
As a tech startup, TextUs has been able to use a recent Series C round to grow its team.  We've actively hired throughout Q1 and plan to continue our growth through the remainder of the year.   Our HR team has seen a top selection of candidates looking for new opportunities.
Labor shortages
Because people are quitting at escalated paces but are also seeking better opportunities, the U.S. Chamber of Commerce refers to the trend as "The Great Reshuffle" versus "The Great Resignation".
The Chamber noticed that "leisure and hospitality lost 1 million workers in November 2021, but 1.2 million people were hired into the industry that same month. In fact, leisure and hospitality has maintained the highest hiring rate of all industries since November 2020 at 8.1 percent. This is compared to the national hiring rate of 4.5 percent."
While one side of the equation has reshuffling and job shifts or career changes – the other side of the equation has workers either retiring early and for good or being unwilling to participate in the labor force.  The Washington Post reports that during the massive layoffs in 2020 we did not see a return to jobs as projected based on other years following economic or healthcare crises.
Depending on the industry you are hiring for, this labor shortage and demand differs.  In some industries the labor shortage has provided an opportunity to quickly hire the right fit, but in other industries, it has left workers unwilling to work and employers unwilling to meet their demands.
Some of the topics driving the labor shortage include wages, flexibility, and safety concerns. At the crux of these issues is returning to the office.  Remote work impacts wages, flexibility and safety concerns employees have addressed when quitting or changing jobs.
Returning to the office
Returning to the office presents the newest obstacle to tackle in the workforce. Employers are curious about what employees are looking for so they know how to recruit effectively and address these concerns with current employees to prevent job jumping or quitting.
Gallup's State of the Workforce study found that employees:
Hope remote work will stay
Prefer hybrid models
Time preservation is a priority
Don't believe remote work hurts company culture
91% of workers in the U.S. working at least some of their hours remotely are hoping their ability to work at home persists after the pandemic. As employees are looking for the flexibility to handle personal errands, improve wellbeing, and cut out commutes to their day in order to be more productive, employees will have to decide which office workforce will work best for them.
According to Gallup, employees are very serious about remote or hybrid work.  Three in 10 employees working remotely say they are extremely likely to seek another job if their company eliminates remote work. Knowing the struggles with labor shortages and resignations, this statistic may impact how you hire and maintain your workforce.
Employees who prefer to be onsite say productivity, technology, and collaboration are the top reasons that drive their preference.
"The greater risk to culture could be not providing options for work location flexibility that match what employees desire and make them more productive. Gallup research suggests that a mismatch between where employees work best and where they are required to work could impair employee engagement, and ultimately, employee retention."

– GALLUP
How can you increase employee engagement, boost morale, and effectively hire and train candidates?
We have worked with many HR leaders and staffing agencies who have used text during the pandemic amid the changing work environments.  We have collected the top ways texting has bridged the gap between employees, candidates, and employers:
Connect and engage with candidates via text.
Easily schedule interviews and confirm candidate participation.
Schedule 1:1s with team members and reach out for mental health checks.
Collect survey feedback to improve culture, benefits, and flexibility.
Schedule shifts easily and keep track of timesheets.
Communicate company wide announcements without extra time or hassle.
Experience seamless workflows in one place.
Track KPIs and best practices to ensure success of future communications.
When a top reason for employees quitting or retiring for good surrounds flexibility, text is the perfect match.  Texting is the communication tool that lets people respond and engage when it's convenient for them.  If you have a hybrid or remote team, our platform can sync with your ATS or CRM so that collaboration is easy and productivity increases. We also have seen that engagement with text is higher than email or phone calls so you won't lose that connection.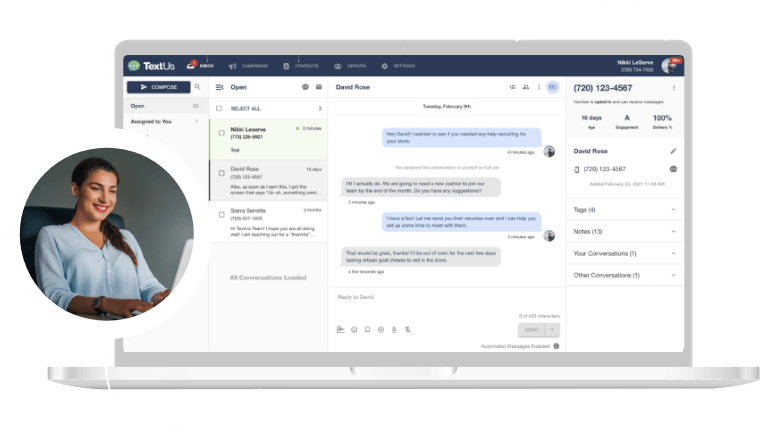 Get a TextUs Demo
Learn how thousands of businesses use TextUs everyday to communicate in real-time.