SOS: How to Use Texting For Announcements and Emergencies
Use texting for quick announcements and emergency blasts to internal staff and contacts. Brief enough to grab attention and more widely-accessed than email or calls (which may be jammed during an emergency), texts are a great way to quickly get time-sensitive messages to your audience.
Reasons you might send an emergency text:
Impending catastrophic weather
A national emergency affecting your business and customers
An active, dangerous situation inside your building
Prepare on how to send an effective SOS text so you're ready if the emergency strikes.
1. Create a chain of command ?
Know who's in charge of communication — before an emergency occurs. WIll you send a company-wide text? Will individual managers text their staff and contacts? Have a clear, written plan and make it known to your staff.
2. Be brief ?
No time for long explanations. Emergency texts should be three short sentences or less.
3. Stick to the facts ?
Text clear, accurate information without surplus. Focus on the essentials: what's happening, where it's happening, what to do, and who to contact.
4. Stay calm ?
Keep texts level-headed and calm, no matter the situation. Remember you're relaying information so they can stay safe.
5. Send resources ?
Make sure your audience knows what to do next.
Send workable, relevant links. For example, if it's a weather emergency, send links to the National Weather Service, relevant maps, or shelter resources.
If you're sending links to breaking news, send only from reputable news sources.
6. Avoid fake news ?
Don't speculate or gossip. Rumors might fly, but keep your texts straight to the point with no color.
7. Check in after the emergency has passed ?
Whether the emergency passes quickly or days after, don't forget to let your contacts know the emergency is over and what to do next.
---
P.S. Can we send you an email?
Once a month or so, thousands of business pros get an email with our best content. We never bug you; we just send you our latest content to keep you in the loop.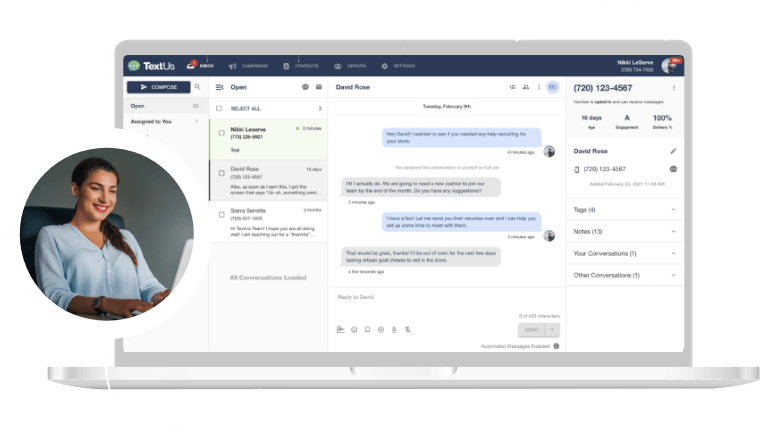 Get a TextUs Demo
Learn how thousands of businesses use TextUs everyday to communicate in real-time.