How to Use Texting For Announcements and Emergencies
Did you know that you can create a text alert system for quick announcements and emergency blasts to internal employees and external contacts?
Emergency SMS is brief enough to grab attention and more widely-accessible (read and responded to) than email or calls (which could be jammed during an emergency).
SMS for emergency services is a great way to quickly get time-sensitive (or life-threatening) messages to your audience.
Reasons you might send emergency SMS:
Impending catastrophic weather
A national emergency affecting your business and customers
An active, dangerous situation inside your building
A health pandemic such as Covid-19
School or work closures
When Covid-19 happened, businesses and schools were forced to shut down rapidly and without any notice—leaving employees, customers, students, and parents unsure of the situation and next steps.
Many businesses scrambled to update staff and customers on store openings in a timely manner. Learn how to implement a mass text alert system so you will be prepared on how to send an emergency SMS if a crisis arises.
Create a chain of command
How will your text alert system operate? You should know who's in charge of communication before an emergency occurs. Will you send a company-wide text message or will individual managers send emergency SMS to their staff and contacts?
Have a clear, written plan and make it known to your staff. No matter if you send one text message or empower managers, a text message platform can send SMS for emergency services.
You could also create different groups for each department to make the message more personal if you have a larger organization.
You should send emergency SMS that are to the point—there is no time for long explanations during a crisis. In general, text messages see better response rates and times when they are under 150 characters.
Emergency SMS should follow the same format—even staying near 100 characters to get your message out and received.
If you have a memo or procedure staff or customers should follow, SMS allows you to attach a PDF if contacts need more information—but your main text message should be clear and concise.
A mass text alert system should include text messages that contain accurate information without surplus. Focus on the essentials: what's happening, where it's happening, when it's happening if you are taking preventative measures, what to do, and who to contact.
A text alert system should send text messages that give a sense of security—emergency SMS should be level-headed and calm—no matter the situation. Remember you're relaying information so contacts can stay safe.
SMS for emergency services should make sure your audience knows what to do next. Include relevant, branded links that show contacts where you are getting your information or asking them to click.
For example, if it's a weather emergency, send links from the National Weather Service, local maps, or American Red Cross.
If you're sending links to breaking news, send only from reputable news sources—and if the crisis is geographic, send from your local news who may know the area best.
When you send emergency SMS, remember that tensions may be high and people could have many emotions. Don't speculate or comment on things you are not sure of.
Rumors might fly, but keep your text messages straight to the point with no color commentary. Even a joke during this time may be inappropriate—you may think you are helping relieve some tension but it could backfire.
Check in after the emergency has passed
Whether the emergency passes quickly or lingers on like Covid-19, use a mass text alert system to keep engaging your contacts. Don't forget to let them know the status of the emergency and what to do next.
One of the most common lessons from Covid-19 communications was discovering how many lists you were a part of because companies you had never heard from all updated their policies, hours, procedures, and reached out with notes of "we're in this together."
Those warm wishes aren't so warm when the communication has been silent for months or years. Don't forget to check in regularly all the time—but especially during and after a crisis.
Emergency SMS Examples:
Zach, due to the state-wide snow emergency, we are canceling all classes and activities today.
Hi Bailey! School is closed today because of the weather. Please reply "SNOW" to confirm. Have a good day!
Mrs. Thomas: Ridgewood elementary school has experienced flooding. Dismissal will be at 11am.
Hank: the front desk has alerted us that we are on lockdown. We will provide more information as we find out details via text. Stay in your office with the door locked.
Charlie: Due to the CDC recommendation, we are closing the store effective immediately. We will text you when we open again. Sorry for any inconvenience. (insert link to CDC)
Shawn: We will be returning to the office on Jan 10. A full memo on how we are addressing returning to in-person is attached. Please text with any questions! (insert PDF)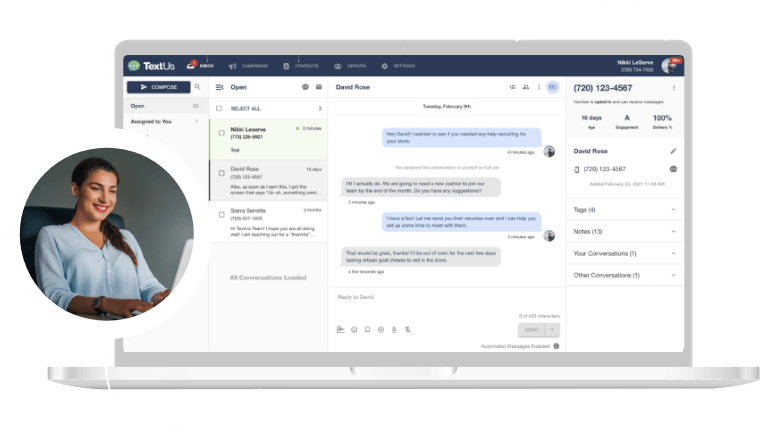 Get a TextUs Demo
Learn how thousands of businesses use TextUs everyday to communicate in real-time.