How Text Messaging Can Revolutionize the Manufacturing Recruiting Process
The manufacturing industry is one of the most lucrative fields with a high demand for talent. However, the process of finding the right candidate for the job can be long, tedious, and expensive. This is why many recruiters have embraced technology to make the process more efficient. SMS and MMS are increasingly popular methods of communication, 97% of messages are opened within three minutes of being received. This makes texting a game-changer in the manufacturing recruiting process. This article will discuss the benefits of using text messaging for recruiting and how to optimize it for your recruitment strategy.
Instant Communication: One of the biggest advantages SMS and MMS have over traditional methods of communication is speed. Sending a text message is instant and allows you to connect with candidates quickly. This is particularly useful when you have time-sensitive job openings that need to be filled urgently. Rather than waiting for weeks for email responses or phone calls, you can send a quick text message and get a response almost instantly.
Wide Reach: SMS and MMS allow you to reach a wider audience than other methods of communication. Nearly everyone has a mobile phone, and most people check their phones regularly throughout the day. This means you can reach candidates at any time of the day, regardless of their location. With SMS and MMS, you can expand your candidate pool by reaching out to people beyond your typical geographic area.
Personalized Communication: SMS and MMS enable you to send personalized messages to candidates. This can help build rapport and create a connection with potential employees. Sending a personalized message can also make the candidate feel valued and appreciated. In addition, you can use these tools to send automated messages that keep candidates informed about the status of their applications or get them excited about a new opportunity.
Higher Response Rates: SMS and MMS have 200% higher response rates compared to other communication methods such as email. Most people read their text messages within minutes of receiving them, which means you're more likely to get a response through SMS and MMS than other methods. This can help you save time and increase the chances of finding the right candidate for your manufacturing positions.
Increased Efficiency: SMS and MMS can help increase the efficiency of your recruitment process. With these tools, you can automate certain aspects of your recruitment process, such as sending follow-up messages or scheduling interviews. This can help you save time and work more efficiently. In addition, using these tools can help you stay organized and keep track of your conversations with candidates.
Track Responses & Performance: Text messaging enables you to measure your recruitment performance through metrics like response rates and time-to-hire. You can use this data to optimize your recruitment strategy and tailor it to the candidates' needs.
SMS and MMS are powerful tools that can help improve your manufacturing recruiting efforts. Incorporating SMS messaging into manufacturing recruiting can be a game-changer for recruiters by enhancing the recruitment experience for candidates, saving time, tracking performance, and increasing the engagement and response rates. By using SMS and MMS, you can increase your chances of finding the right talent for your manufacturing positions. If you haven't already incorporated these tools into your recruitment strategies, now is the time to do so. Contact us today to learn more!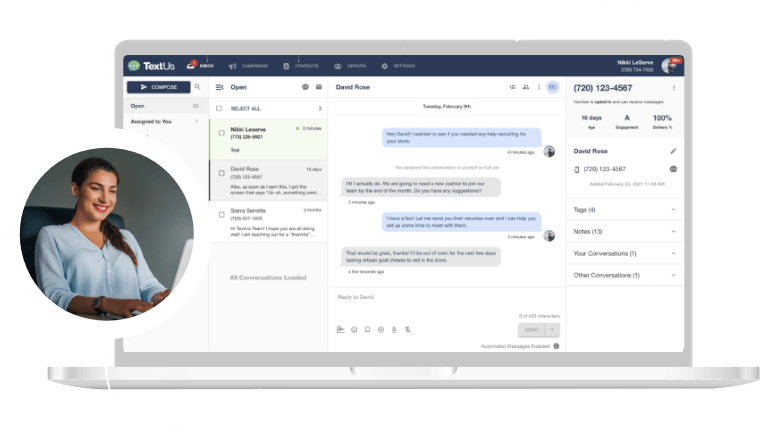 Get a TextUs Demo
Learn how thousands of businesses use TextUs everyday to communicate in real-time.