5 Ways to Get People to Text You Back
1. Make it personal.
No one enjoys feeling like just another check box on your to-do list. To get your customers to respond, tailor messages to what is meaningful to them.
Skip the blast.
Don't make your customers feel like one of the crowd. Mass marketing is dead for a reason. Focus on a personalized, one-to-one customer experience.
Listen.
Listen to what your customers say. Pay attention to what they tell you about themselves, from the get go.

What challenges they are trying to solve

What their purchasing constraints are

Who are the relevant influencers in their decision

What kinds of solutions have been helpful for them in the past
2. Provide value.
After you've listened to your customers, provide solutions, information, and texts to engage them on the topics that matter most.
Share an article that addresses a problem they have.

Pose a straightforward scheduling question, with clear options.

Mention an influencer they are connected to.

Send a link to a relevant piece of industry news.

Highlight how a product update suits their needs.
People like talking about themselves — it feels good (and is why 80% of social media posts are self-focused). To get the response you want, talk to customers about what interests them, not what interests you.
3. Keep it simple.
Keep it simple, salespeople. Text messaging is powerful because it is easy and convenient. Go with the grain of the medium and stick to best practices:
Simple, straightforward, clear requests and information will make it easy for customers to tap out a quick reply.
4. Time it right.
Since most texts are read within three minutes of receipt, the key to getting a response is all about timing.
Though Americans are rarely away from their cellphones, some times of day are better than others for getting a text response. The majority of mobile users are more connected at home or on public transit than at work. Immediately before and after traditional business hours are prime times for texting. Catch these upticks with a well-timed message.
5. Be responsive.
Set the tone for prompt, constant communication by being responsive yourself. If it takes you more than 24 hours to respond to customers' messages, don't expect them to be any quicker.
By being timely, all the time, you establish trust and reliability, which will only make your customers more eager to follow suit.
Looking for more business texting tips? Check out our fundamentals of texting for business.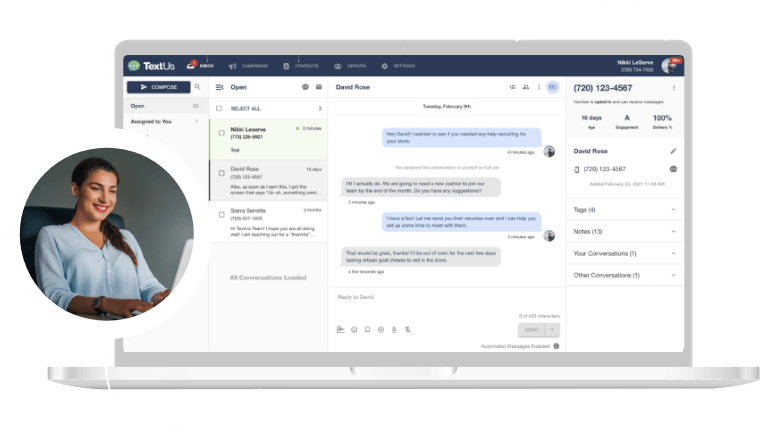 Get a TextUs Demo
Learn how thousands of businesses use TextUs everyday to communicate in real-time.