The Potential of SMS for Event Marketers
Events, festivals, and concerts are some of the most exciting occasions that bring communities together. However, organizing a successful event is challenging when it comes to reaching out to attendees and notifying them about updates, registration details, and other important information. SMS (Short Messaging Service) comes to the rescue in this case. SMS is an effective way for event marketers to communicate directly with their audience during various stages of event planning and implementation. In this post, we will explore some of the most popular SMS use cases for tradeshows, festivals, concerts, and events.
SMS for Tradeshows
Tradeshows are a great way for businesses to showcase their products and services to a relevant audience. However, with so many booths and products on display, attendees can easily get lost or forget to visit a booth. To avoid this, event marketers can send SMS notifications to attendees that include route maps, highlighted booths, and announcements for special events at the show. Another effective use case of SMS for tradeshows is for lead generation. Through SMS, businesses can ask attendees to opt-in for follow-up communications, appointment scheduling, and other actions to start building relationships with potential buyers.
SMS for Festivals
Festivals are a time of celebration when people come together to enjoy food, music, and entertainment. With so many activities going on at once, it can be overwhelming for festival-goers to keep track of their schedules and navigate the event. SMS can help event organizers to streamline communication channels and deliver important information to attendees. For example, sending SMS reminders for show timings, last-day schedule changes, and emergency updates can be extremely helpful for attendees. Additionally, SMS can be used to promote sponsor activations, food vendors, and happenings within the event.
SMS for Concerts
Attending concerts is a memorable experience that can leave a lasting impression on attendees. However, ticket management, security checkpoints, and crowd management can all be challenging for concert organizers. SMS can assist event marketers to reduce wait times for attendees, increase event safety, and create memorable experiences. With SMS, event marketers can send attendees reminders about ticket scanning, line updates, and the entry process, ensuring a smooth entry. SMS can also be used to send follow-up surveys or thank you messages after the concert is over to encourage repeat attendance.
SMS for Events
Events can come in all shapes and sizes, from small corporate gatherings to large-scale product launches. Whatever the event type, SMS can be used to support event organizers in delivering relevant messages to attendees, ensuring their needs are met, and fostering engagement. For example, event marketers can send SMS messages before the event, reminding attendees to complete registration, download the event app, and check for any last-minute changes. During the event, SMS can be an effective way of collecting feedback from attendees and encouraging participation in polls, quizzes, and contests. After the event, SMS can be used to send surveys, thank you messages, and special offers to attendees, motivating them to attend future events.
SMS has become an essential tool for event marketers to connect with their audience before, during, and after their event. SMS messages can be sent and received quickly, making it easier to communicate with attendees in real-time. By adopting SMS, event marketers can simplify the communication process and create more engaging and memorable events. It is evident that SMS can improve the event experience for attendees and event organizers alike by providing valuable information that connects them and creates a sense of community, which is essential in achieving success in event marketing.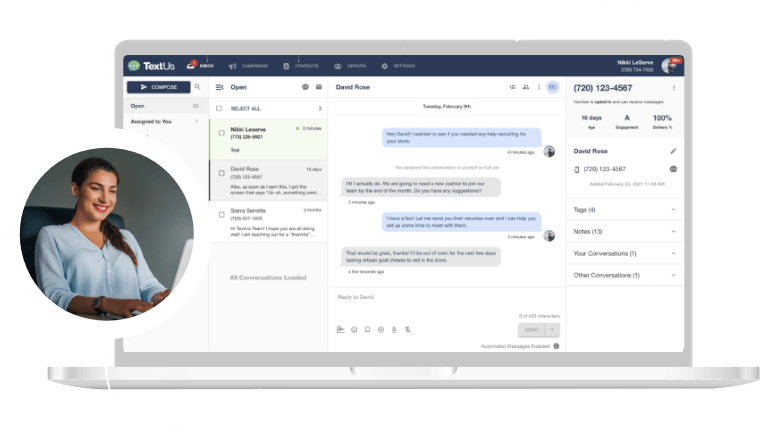 Get a TextUs Demo
Learn how thousands of businesses use TextUs everyday to communicate in real-time.