Why Use SMS in Marketing Campaigns?
Are you looking to get more out of your marketing campaigns? Have you considered using SMS messaging, but are unsure if it's the right move for you and your business? Many successful businesses have found that incorporating text message marketing into their overall strategies can be a powerful tool when used correctly. From automated messages and keyword campaigns to two-way conversations with customers, there is something in SMS messaging for nearly any type of business. We'll explore why using SMS in marketing campaigns should be a part of your strategy and how it can lead to improved customer engagement and return on investment.
Understanding SMS Marketing
SMS (short message service) marketing is a form of mobile marketing that involves sending promotional messages through text messages to customers' mobile devices. These messages can include anything from special offers and discounts to event reminders and new product launches. SMS marketing is usually permission-based, meaning that customers have to opt-in to receive messages from businesses.
Advantages of SMS Marketing
So why should businesses choose SMS over other marketing channels? Here are a few advantages of using SMS in marketing campaigns:
Direct and instant communication: With a 98% open rate and 90% of messages being read within the first three minutes, SMS offers a direct and instant way to reach customers. This ensures that your message is seen by a large percentage of your target audience.
Cost-effective: Compared to traditional channels like print or TV advertising, SMS marketing is more affordable. With the right strategy and messaging, businesses can achieve great results with minimal costs.
High engagement rates: Due to its personal nature, SMS marketing tends to have higher engagement rates than other channels. This means that customers are more likely to read and respond to your messages.
Using SMS in Marketing Campaigns
Now that we've covered the basics of SMS marketing, let's explore some ways businesses can use it in their campaigns:
Promoting new products or services: Launching a new product or service? Use SMS to spread the word and create buzz among your target audience.
Hey Frank! I'd love to show you how our features can boost your team's productivity. Join us for a live demo this Wednesday 3/6 at 4pm ET. Sign up here: sms.textlink.us
Offering exclusive deals and discounts: Everyone loves a good deal, and SMS is a great way to offer special promotions and discounts to customers. This can help drive sales and increase customer loyalty.
Hello Oscar! There's a special sale for SMS subscribers! Get 20% until 6/10 with the code "TEXTUS"
Sending reminders and notifications: Whether it's an upcoming event or a subscription renewal reminder, SMS can be a convenient way to keep your customers informed and engaged.
Stacy – don't forget to stop by booth #450 and respond with "DEMO" to schedule time with our team.
Getting Started with an Effective SMS Campaign
Ready to incorporate SMS into your marketing strategy? Here are some steps to get you started:
Choose an SMS platform: There are many platforms (like TextUs) available that offer SMS marketing services. Do your research and choose one that best suits your business needs.
Build your subscriber list: Start by asking customers to opt-in to receive messages from your business. This can be done through various channels like website pop-ups, social media, or even in-store.
Test and track your campaigns: As with any marketing channel, it's important to test and track the success of your SMS campaigns. Features like A/B testing can help you determine which campaign is the strongest performer. This will help you make adjustments and improve your strategy over time.

Best Practices for Writing Engaging SMS Messages
Here are some tips to keep in mind when crafting your SMS messages:
Personalize: Make your messages stand out by using therecipient's name or including relevant information.
Keep it brief: Use clear and concise language to convey your message effectively within the limited character count.
Promote: Include a clear call-to-action to encourage customers to take action, such as redeeming a discount code or visiting your website.
Sharing rich content: Photos, documents (PDFs), videos, GIFs, and links are a great way to increase your engagement with contacts.
These are just a few of the many tips and tricks to creating one-of-a-kind campaigns for your marketing needs. If you want a deeper dive into best practices, check out our SMS Marketing Playbook.
Maintaining Long-term Relationships with Customers Through SMS
SMS marketing can be a valuable tool not just for one-time promotions, but also for building long-term relationships with customers. Here are some ways to use SMS to maintain and strengthen these relationships:
Customized Celebrations: Delight your customers by sending personalized messages on special occasions, such as birthdays or anniversaries. Show them you care by going the extra mile with thoughtful gestures.
Ongoing Engagement: Stay top of mind with your customers by providing valuable information or tips related to your products or services. Keep the conversation going and position yourself as a reliable source of expertise.
Unlock Insights: Leverage customer feedback surveys conducted via SMS to gain valuable insights that can fuel your business growth. Understand your customers' needs, preferences, and pain points to continuously improve your offerings.
SMS marketing offers a great opportunity for businesses to connect with their customers in a direct and personal way. By understanding how it works and following best practices, businesses can make the most out of this powerful marketing channel. So why wait? Contact us and start incorporating SMS into your marketing campaigns today!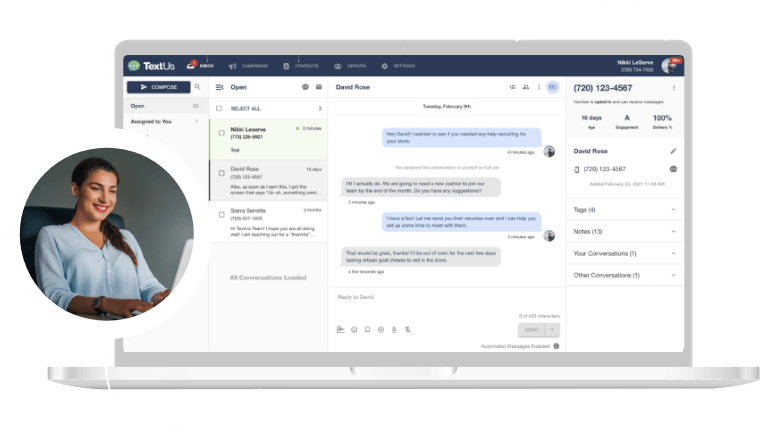 Get a TextUs Demo
Learn how thousands of businesses use TextUs everyday to communicate in real-time.