Business Text Messaging: How to Manage Accountability and Compliance
If you're in healthcare or finance, or if you use email for commercial purposes, you know all about regulatory compliance. You also probably have internal systems in place (like call recording and email archiving) so you can keep an eye on how your salespeople and customer service agents are representing your brand.
Compliance and accountability are two of the reasons companies invest in TextUs. For example, many of our staffing clients tell us that before becoming TextUs clients, their recruiters were already using text messaging with great success. But they were doing it using their personal mobile phones. TextUs provides is a way for these agencies to meet compliance requirements and also monitor the text messages being sent on their behalf.
Here is a three-step guide to managing accountability and compliance with business text messaging.
1. Use a text messaging platform
You wouldn't want your employees sending business emails from their personal email addresses. Texting is no different — any communications that come from your employees should be sent via an authorized platform. 
By using a text messaging platform, you can also make sure that your business text messages will be archived and accessible on demand, a requirement of many compliance regulations.
2. Provide training
It's one thing to put a process in place; it's a different thing to get people to follow it. Provide compliance and accountability training for your employees so they understand why it's important and how to do it right. 
Also make sure your staff is trained on how to use your text messaging platform. It's easy and won't take much time! But it's still an essential step.
3. Perform regular audits
Auditing yourself is a great way to prepare for a regulatory inspection. It also provides an accountability spot-check. So, at least once a year, conduct a self-audit to identify any areas in need of improvement — before anyone else does.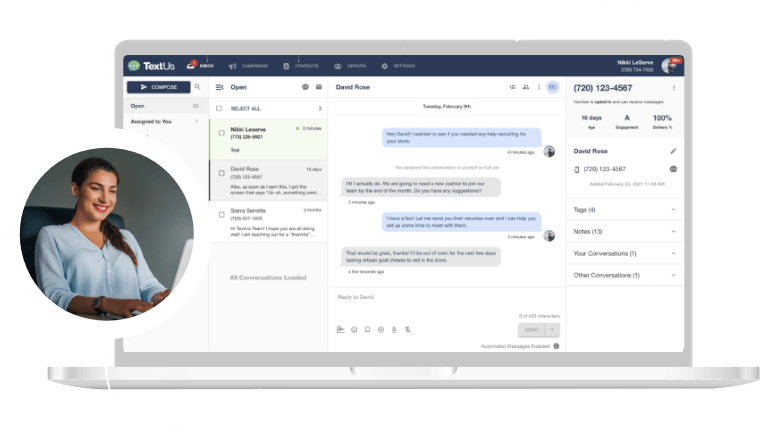 Get a TextUs Demo
Learn how thousands of businesses use TextUs everyday to communicate in real-time.