Text Message Compliance: Manage Accountability for your Business
If you're in a highly regulated industry like healthcare or finance you know all about regulatory compliance. You may even have internal systems in place (like call recording and email archiving) so you can keep an eye on how your salespeople and customer service agents are representing your brand and keeping a record of your compliance. The telecommunications industry is also regulated and you should know SMS compliance laws.
Compliance and accountability are two of the reasons companies invest in TextUs. Many of our customers tell us that before TextUs, they were already using business text messaging with great success—but they were doing it using their personal mobile phones. TextUs provides a way for companies to meet SMS compliance requirements and also monitor the text messages being sent on their behalf.
What are the top compliance laws and guidelines for text messages?
1. TCPA Compliance Text Messages
The Telephone Consumer Protection Act (TCPA) was passed by Congress in 1991. The goal of TCPA is to protect consumers from unwanted solicitations (aka spam) from third parties who are marketing products or services over the phone, via voice or text. To do this, text message platforms should know how to best manage opt outs. More specifically, how to ensure that every contact's desire to be opted out is enforced. As a benefit, TextUs software reminds users how to write messages in a way that is more engaging or less offputting, which minimizes the chance of an opt out.
Contacts you are reaching out to should be expecting a message. If you are contacting them about a product or service, then you will require an opt-in to do so. The most common ways of obtaining an opt-in is through a lead capture form on a website or a past purchase with your company. Sending text messages that don't involve marketing a product or service (eg, new job openings) do not require an opt-in per TCPA. Even though the law doesn't require an opt-in for such messages, mobile network operators oftentimes will require an opt-in even though the law doesn't require it because they have no way of reliably discerning marketing-related messages from other ones. You should always consult an expert about your specific use case and what your organization does or doesn't have to do around SMS opt in.
Since some users may have already opted in through another channel such as email or website, your first text message should reconfirm the outreach and what to expect as you add SMS to your communications strategy.
Some best practices include writing your name, business, why you are reaching out, and making it clear there is a way to opt out. One common way to provide an opt out is a message that says something like "Reply STOP to opt out."
Keywords such as STOP and UNSUBSCRIBE sent to a TextUs account will automatically opt them out. One TextUs feature we built allows you to take an opt out list from your database and load that into TextUs. This means that you will start out on the right foot with SMS compliance.
Notification messages or alerts like ones from schools and universities or reminders such as from your doctor or restaurant reservations tend to be exempt. However, it is still a good best practice that contacts should know why they are receiving the message and give options for opting out of receiving notifications or reminders in the future.
You can follow the national do not contact registry and check your database regularly. Some of the lists will also depend on your location.
Because this is a law, the risks associated can include hefty fines or even lawsuits.
2. 10DLC
10DLC (10 digit long code) is a formal program designed by US carriers that secures and improves business-to-consumer text messaging, also known as A2P (Application-to-Person).
10DLC seeks to build and maintain trust between businesses and consumers by establishing routes and validity for sending messages. It rewards companies who know their consumers and provides wanted content to them.
10DLC was completed in 2022 — a change which required companies who use text message marketing services to register their brand and their campaigns. The registration and vetting process quickly identifies bad actors which ultimately preserves high industry response rates, increased deliverability, and reduces spam texts across the board.
In the past, throughput was set at a standard across all mobile carriers. Now, with 10DLC, throughput is determined by the sender registration which includes brand size, vertical, and campaign.
The process for registration typically takes a few days to complete and brands can renew automatically so users don't need to manually complete after the initial registration.
Since this regulation is prompted by carriers, the risks for non-compliance include blocking of your number and messages. Carriers use their own set of rules to flag messages that they think may be spam or violate 10DLC.
3. Toll-free Verification
Toll-free numbers are business lines that allow organizations to send and receive text messages from an 800 number. The most common use case is for transactional messaging such as account-related alerts, notifications, and customer care messaging.
In 2022, carriers expanded the toll-free verification process to opt customers into receiving mobile SMS marketing. An end user has to add their opt-in policy and a screenshot of how and where they collect the opt-in. One of the biggest differences from 10DLC is that toll-free verification requires a clear and concise opt-in policy. 10DLC doesn't need to see how companies collect their data.
The verification process updates the filters that a phone number goes through when a text is sent. The verification process lets you see a higher deliverability rate if you are using a marketing use case. You will also see less false positives on deliverability. For example, some providers will say a text has been sent but in reality it hasn't. The pathway to reach a backend provider will also let them see verified traffic and fix a problem to restore full functionality quicker.
This process typically takes 2-3 days but during a time when all users are trying to verify, it can take up to two weeks. If your toll-free number isn't verified, you could see a total blockage of your text messages.
4. Dedicated Short Codes
Short code texting is one of the first ways brands started to use mobile SMS marketing. Short code messaging may include five- or six-digit numbers used from a text messaging platform.
Short code texting that included sharing codes was eliminated in March 2022. To prevent brands from potentially sharing the same code and causing confusion, the industry moved to dedicated short codes. These codes are more expensive but mean that each brand will have a unique code to share with its audience, and avoid sharing a number with a competitor! This process can take 6-12 weeks to get started.
The biggest difference between TCPA compliance and the others is that TCPA is a law while the others are compliance rules regulated by carriers. The risk of violating a carrier guideline, may cause your number to be blocked and prevent messages from being sent, while violating TCPA could have legal consequences.
With so many different compliance regulations and laws, here are a few tips to help you:
You wouldn't want your employees sending business emails from their personal email addresses. Business texting is no different — any communications that come from your employees should be sent via an authorized platform.
By using a text messaging platform, you can make sure that your business SMS messages will be archived and accessible on demand, a part of many compliance guidelines for text messages.
2. Provide training
It's one thing to put a process in place; it's a different thing to get people to follow it. Provide SMS compliance and accountability training for your employees so they understand why it's important and how to do it right.
Make sure your staff is trained on how to use your business text messaging platform. It's easy to use and won't take much time, but it's still an essential step.
3. Perform regular audits
Keeping up with audits on your own is a great way to prepare for a regulatory inspection. It also provides an accountability spot-check. At least once a year, conduct a self-audit to identify any areas in need of improvement — before anyone else does.
One final note: users should still follow standards of text messaging. You will want to stay away from SHAFT (sex, hate, alcohol, firearms, and tobacco) messaging or participating in "get quick rich schemes" to continue compliance and keep the SMS community spam free.
For resources on business texting etiquette, take a look at our do's and don'ts guide! It's a great addition to following the SMS laws and compliance guidelines that will increase your engagement with contacts.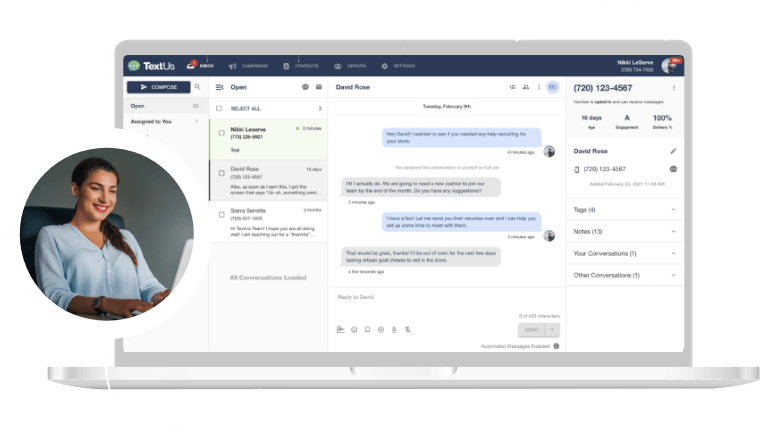 Get a TextUs Demo
Learn how thousands of businesses use TextUs everyday to communicate in real-time.