How to Build Texting Products that Help with TCPA Compliance?
Q&A with a TextUs Product Manager
With different SMS regulations and policies to keep track of, how do you build a text messaging solution that helps users best engage contacts while remaining compliant? We sat down with Josh Gaastra, a product manager at TextUs, to ask him about the regulations and policies affecting SMS and how they impact building products and services. 
Disclaimer: TextUs is not a law firm, does not give legal advice, and this Q&A provides opinions from one product manager's point of view.
Q: What does TCPA stand for?
Telephone Consumer Protection Act passed by Congress in 1991.
Q: What is the goal of TCPA?
The goal of TCPA is to protect consumers from unwanted solicitations (aka spam) from third parties who are marketing products or services over the phone, via voice or text.
Q: How does TCPA impact a product manager's responsibilities?
In my role, I work with our customers and internal stakeholders, such as the sales team, engineering team, and executives, to come up with improvements for the SMS platform that will make the most impact for users. This includes new UI and UX and making sure the text message experience is easy for businesses to reach contacts. The single biggest impact of the TCPA on a product manager is the constant consideration of how to best manage opt outs. More specifically, we have to ensure that every contact's desire to be opted out is enforced. Secondly, our software reminds users how to write messages in a way that is more engaging or less offputting, which minimizes the chance of an opt out.
Q: Does TCPA only apply to SMS?
No. In fact when you read the law, it is focused mostly on phone calls. The original law was passed in 1991 before there was wide cell phone or SMS adoption; however, the FCC has issued ruling and guidance since the original law clarifying that the rules apply to SMS also.
Q: Does TCPA apply only to SMS marketing?
It regulates phone calls and text messages in all industries.
Q: How do you obtain consent to send text messages?
Contacts you are reaching out to should be expecting a message. If you are contacting them about a product or service, then you will require an opt-in to do so. The most common ways of obtaining an opt-in is through a lead capture form on a website or a past purchase with your company. Sending text messages that don't involve marketing a product or service (eg, new job openings) do not require an opt-in per TCPA. Even though the law doesn't require an opt-in for such messages, mobile network operators oftentimes will require an opt-in even though the law doesn't require it because they have no way of reliably discerning marketing-related messages from other ones. You should always consult an expert about your specific use case and what your organization does or doesn't have to do around SMS opt in.
Q: What should you include in your opt-in message for clear, written consent?
Since some users may have already opted in through another channel such as email or website, your first text message should reconfirm the outreach and what to expect as you add SMS to your communications strategy. 
Some best practices include writing your name, business, why you are reaching out, and making it clear there is a way to opt out. One common way to provide an opt out is a message that says something like "Reply STOP to opt out." 
While not a part of the law, you still want to adhere to general best practices for regular SMS such as being aware of when you are sending text messages. Not many people want to be woken up at 3am by a text from a company!
Q: Are there any exceptions to needing consent?
Notification messages or alerts like ones from schools and universities or reminders such as from your doctor or restaurant reservations tend to be exempt. However, it is still a good best practice that contacts should know why they are receiving the message and give options for opting out of receiving notifications or reminders in the future.
Q: Can contacts automatically opt out with keywords?
Yes. Keywords such as STOP and UNSUBSCRIBE  sent to a TextUs account will automatically opt them out. One TextUs feature we built allows you to take an opt out list from your database and load that into TextUs. This means that you will start out on the right foot with SMS compliance.
Q: If someone is on the do not call (DNC) list for phone calls does it also include text messages?
Yes, you should follow the national do not contact registry and check your database regularly. Some of the lists will also depend on your location.
Q: Are there different rules for short codes, long codes, and toll-free numbers?
The law applies to general text messaging and is not as concerned with the type of number a text is coming from. However there are different rules for registering long codes and toll-free numbers with SMS providers. My colleague, Sierra, did a similar Q&A about toll-free verification.
Q: What if someone on your contact list changes their number?
A good best practice is if you have two or three phone numbers listed for someone and they opt out from one number, they should be removed from all communication for all numbers you may have for them.
Q: Any last thoughts?
The best thing to keep in mind is respecting people's wishes. Even outside of the laws, we have many resources for how to use business texting and best practices to help you not only stay in compliance but to engage with your contacts and improve your communications.
SMS Best Practices
Here are a few recent blog posts from the TextUs resource library to give you some guidelines on how to apply business texting at your company. 
Best Practices for SMS Automation 
Josh Gaastra has been at TextUs for five years and is currently a member of the product team. Prior to that, Josh worked in the telecommunications sector.
Looking for more information on business SMS? Contact us today for a free demo!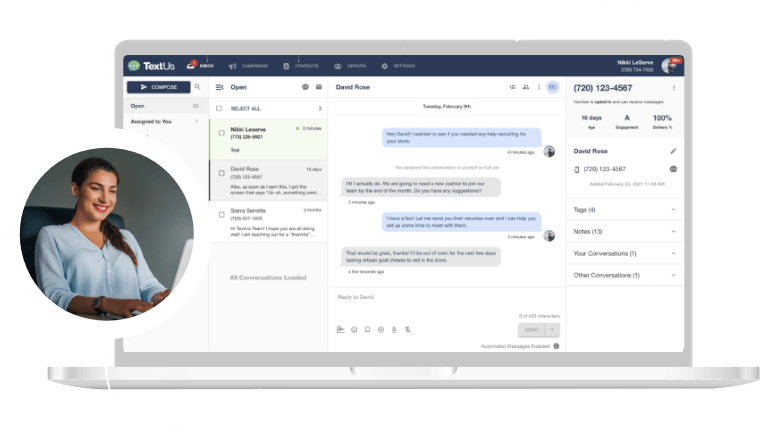 Get a TextUs Demo
Learn how thousands of businesses use TextUs everyday to communicate in real-time.