Find Out How Fast-Growth Firms Do It Differently in StaffingHub's New State of Staffing Report
We're excited to share StaffingHub's 2019 State of Staffing Industry Growth Benchmarking Report, sponsored by TextUs. StaffingHub connected with staffing executives and recruiters across the industry to help you better understand what it takes to supercharge your staffing firm's growth.
The State of Staffing Industry Growth Benchmarking Report explores:
Staffing industry growth trends
Day-to-day challenges
Time to close
Cost per hire
Text messaging software use
Marketing automation software use
Referral management software use
Staffing industry resources and conferences
It highlights three industry trends:
Speed is crucial

Firms that respond faster, grow faster. Fast-growth firms:
Close 14 days faster than slow-growth firms
Are 3x more likely than other firms to respond to leads within 5 minutes
What's more, firms that use text messaging software are 55% more likely to respond within 5 minutes than firms that don't.
Make tech choices that make your firm more human
The majority of staffing firms are moving towards automation. Nearly 60% of staffing firms now use marketing automation tools.
But not all automation is created equal. The fastest-growing firms are automating repetitive, low-touch task so their recruiters can focus on what really matters: building real relationships with candidates.
It's all about trust and authenticity
The staffing industry is in on the trend: it's all about keeping it real. To build the relationships that the industry thrives on, the most important recruiting traits are transparency, authenticity, and responsiveness.
Download the State of Staffing Industry Growth Benchmarking Report to stay in front of these trends and to grow your staffing firm faster.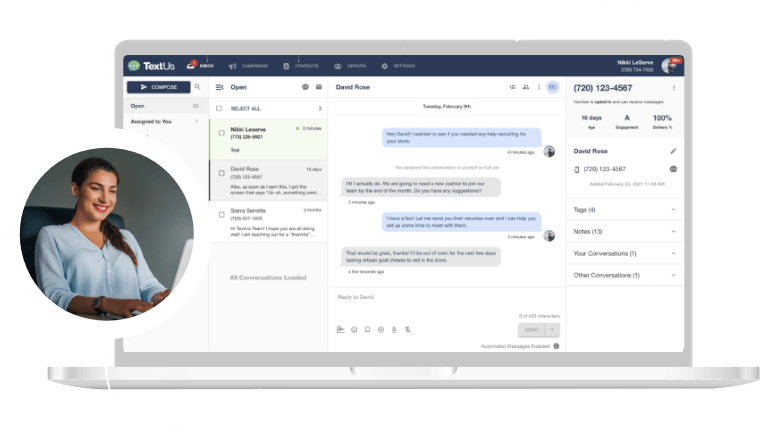 Get a TextUs Demo
Learn how thousands of businesses use TextUs everyday to communicate in real-time.