Best Practices for Text Messaging Automation
When a specific keyword is texted into a phone number, the keyword triggers an automated message to be sent back in response. For example, a person can text in the keyword "PROMO" to receive an automated text back providing more information on current promotions, or text in the word "EVENTS" to learn more about upcoming events.
What are the benefits of SMS automation?
Time saving. Set up your automation once and let it do the work for you.
Prompt responses. Your contacts receive responses to their inquiries when it's important to them – day or night.
Segmenting your audience. When your contacts text in a keyword, you'll get a sense for what they are interested in. With TextUs, all contacts who text in keywords are added to contact groups that can be used for future campaigns, like sending them a text when a new promo is available or following up after an event.
Simplifying opt-ins. Grow your subscriber list by giving prospects and customers a simple way to opt-in to your SMS marketing. Clients or customer are more likely to use texting if they are getting something in return.

What are some ways SMS keywords can be used?

SMS keywords can be used in a variety of ways within business texting, such as

Simplifying opt-ins and growing a subscriber list for SMS campaigns
Providing quick answers to common questions, such as business hours
Inviting customers to text for promotions or upcoming events
Creating simple polls to gauge interest in certain products
Allowing customers to sign up to receive notifications or alerts

What are the best practices for creating SMS keywords?

Keep it Simple. With keywords, simpler is better. Avoid long words or short phrases, and use only a single single word for your keyword. The goal is to create a simple keyword that's easy to remember and easy to promote.
Avoid Special Characters. Using special characters such as &, $, or * can make your keyword harder to remember, and can increase the likelihood of someone mistyping your keyword. Keeping your keyword simple will help ensure your keyword can be texted in successfully.
Make it Memorable. Making your keyword memorable will help get more people to text in your keyword. You can tie the keyword your brand, your campaign, or use common terms. For example, you can use the keyword "JOIN" as an easy way to opt-in subscribers, or use the keyword "SEATS" to help promote season ticket sales.
Plan for Autocorrect and Mistypes. As with all forms of communication, texting in a keyword is prone to human error or autocorrect gone wrong. To ensure you don't lose out on a subscriber, test your keyword on multiple mobile devices and create additional keywords for any potential autocorrections or mistypes.
Determine Your Automation Flow. If you need more touch points to get contacts further down the funnel, or if you want to further segment your contact list, you can create multiple keywords to achieve a text automation flow. Be sure to include what they should text in next within your auto response, e.g. "If interested, respond back with 'DEMO' to schedule a live demo."
Promote Your Keyword. For best results, promote your keyword across multiple channels such as digital and print ads, website landing pages, signage, social platforms, and other marketing collateral. This will help ensure you reach a broader audience and get better success from your keyword campaigns.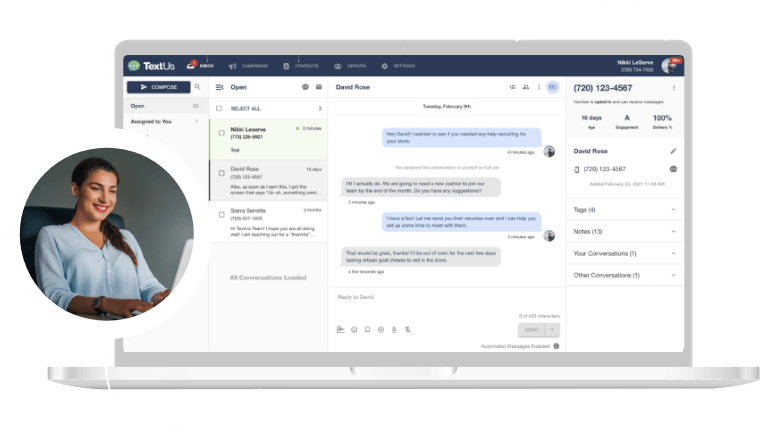 Get a TextUs Demo
Learn how thousands of businesses use TextUs everyday to communicate in real-time.