"TextUs is the Primary Way We Get in Touch with Candidates": How LRS Healthcare Simplified Compliance and Increased Placements
Executive Summary
---
LRS Healthcare is a healthcare staffing company that prides itself on being available for their travelers 24 hours a day. They're not paying lip service to an idea of a supportive recruiter — they know that travel healthcare professionals are often out on their own in a new location and their recruiters are more than just headhunters — they're friends.
So, in 2017, when LRS Healthcare realized that their prospects and talent weren't picking up the phone anymore, they knew they needed to make a change. They knew travelers preferred to text  — but reaching out to talent from their personal phones wasn't ideal.
"It was awful. It was really tedious," said Patrick Buckley, Manager of Online Strategy at LRS. "I knew there had to be a better way."
After hearing other staffing firms were using TextUs, LRS implemented the platform. LRS has revolutionized the way they reach out to candidates, simplified the compliance process, and made more placements.
Here's how.
---
Reached and qualified candidates faster
---
Since LRS partnered with TextUs in 2017, healthcare travelers have become even more phone-averse. Whether they're with patients, working night shifts, or traveling to a new assignment, their jobs make them notoriously difficult to get on the phone.
"In most cases, they just won't answer a phone call," said Buckley. "But they'll respond to a text in no time flat." TextUs helped LRS get ahold of candidates faster and communicate with them exactly the way they want to touch base.
Before TextUs, LRS recruiters were wasting a lot of time playing phone tag with candidates who weren't even qualified for the positions they were filling. Recruiters would regularly spend 15-20 minutes following up with a candidate who just wasn't a good fit.
"You can qualify multiple candidates at once," said Buckley. "You aren't locked down in a single dead-end phone call. You can have a quick conversation over text and find out everything you need to know before you even get on the phone."
---
Streamlined the compliance process
---
When asked the most difficult part of the healthcare recruitment process, staffing firms and travelers alike often say it's compliance and documentation. Recruiters don't want to feel like they're souring the relationship with multiple follow-ups about their travelers' least favorite subject: paperwork.
LRS found that TextUs helped ease the compliance process. Instead of making a series of unwanted phone calls, the compliance team can get nearly everything they need from candidates over text.
"Texting during the compliance process is just a better candidate experience," said Buckley. "It's a lot more convenient — and quick. They can send their documents in while they're waiting in line at Walgreens."
---
Increased candidate placements
---
You hear it all the time — the war for talent is getting more and more intense. It's crucial to partner with tech firms that keep their eye on both the bottom line and on the future.
"There's a direct correlation between use of TextUs and increased placements," said Buckley. "It's also been helpful for getting new recruiters to be successful at placing candidates faster, right out of the gate."
TextUs also helps the LRS team deliver the messages that will be most impactful to their contacts, all throughout their journey with LRS. Features like predictive messaging, texting templates, and customized messaging tips help LRS stand out from the competition.
"TextUs is looking at the future of communication really intelligently and constantly helping us to send the best messages out to our contacts," said Buckley.
"We're beyond the point where it's optional: TextUs is a business need."
About LRS Healthcare
---
LRS Healthcare was founded on the idea that staffing doesn't have to be difficult — for clients, for recruiters, and most importantly — for candidates.
LRS Healthcare is committed to staffing their clients with top industry talent and helping professionals choose the right facilities. They provide their staff with the tools to accommodate every client and candidate and make the staffing process simple, smooth, efficient and exceeding industry standards. They pride themselves in their ability to understand and effectively respond to the needs and objectives of both their clients and candidates.
Download Case Study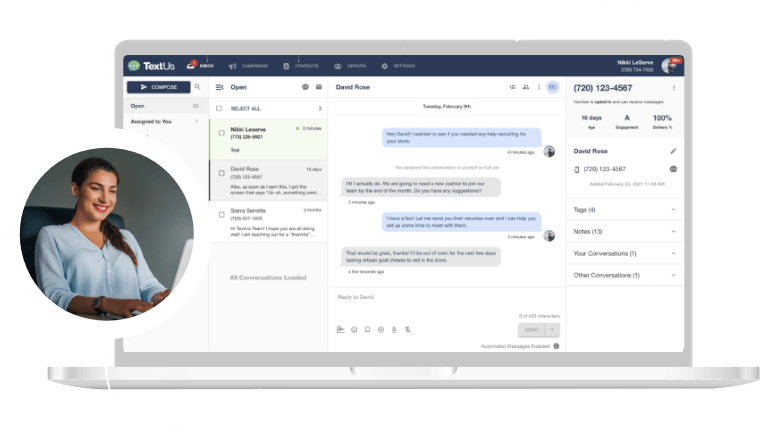 Get a TextUs Demo
Learn how thousands of businesses use TextUs everyday to communicate in real-time.