TextUs + HubSpot SMS Integration
Build outbound texts into your HubSpot automation workflows. Send personalized texts from your TextUs number to contacts in response to any automation trigger within HubSpot.
Create more engaging automation workflows
By building customizable outbound SMS and MMS texts into your automation workflows, you can increase engagement and drive higher response rates for your multi-channel marketing campaigns.
Nurture leads and drive pipeline creation
By providing both SMS for workflows and conversational texting, TextUs lets you easily nurture leads and drive higher conversion rates throughout your sales and marketing funnels, improving pipeline creation and speed to close.
Make your team more effective
By automatically logging text conversations back to HubSpot, TextUs keeps your team informed so they can engage with prospects and customers more effectively.
Build Texts into HubSpot Workflows
Add a personal, more engaging touch to your automation workflows by building in customizable texts that send from your TextUs number.
Add Two-Way Texting to HubSpot
Easily respond to prospects and customers by texting them directly from the TextUs Embedded Messenger.
Easily Resume Conversations
Easily find and resume any conversation within the TextUs inbox, with clear indicators of which messages were sent from HubSpot workflows.
Log Conversations Back to HubSpot
Keep your team on the same page by auto-logging text communications back into HubSpot for a single system of record.
Already have HubSpot? Give TextUs a try!
TextUs for HubSpot lets you easily add texting to your automation workflows to nurture leads throughout your sales and marketing funnels. Drive higher conversion rates across your multi-channel campaigns with dynamic personalization and rich media to increase engagement and build pipeline at scale. Engage even further by communicating seamlessly from the contact record with embedded messenger, available only with the TextUs integration.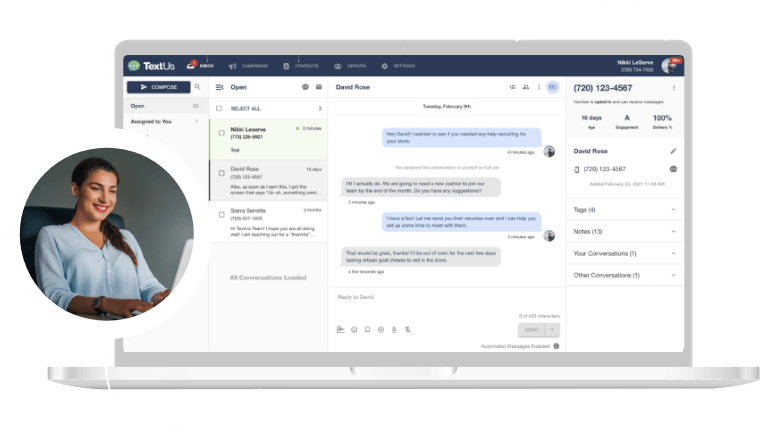 Get a TextUs Demo
Learn how thousands of businesses use TextUs everyday to communicate in real-time.