Easy-to-Use. Flexible. Powerful.
Don't let technology come between you and the people you're trying to reach. TextUs is a two-way business texting software designed to work seamlessly with your current workflow and drive increased engagement with real-time, conversational communication.
Very effective form of communication
"In the year 2022, texting should be a priority for reaching clients. I am far more likely to receive a response when I reach out through Text Us than when I call. I love that we can connect our phone number to the text line as well."
Casey K.
Injury Counselor
Straight forward solution to our communication needs
"We switched from another service to TextUs after looking at several. It is very a very cost-effective and straight forward tool. It took no training time at all to be able to pick it up and use it immediately. The switch-over was quite painless."
Katie S.
Office Manager
Happy to use TextUs at work
"I like the fast and efficient communication I have with my clients. I never miss a text and always am able to respond faster than a phone call. My clients love that I can talk to them at a drop of a hat!"
Jessica W.
Onboarding Team Lead
Flexible Plans, Reasonable Pricing
Choose the plan that serves your organization best. With flexible options for businesses large and small, there's a TextUs plan for everyone.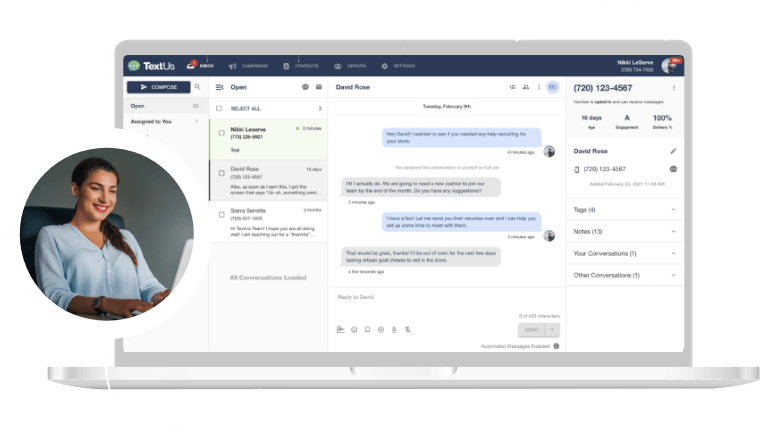 Get a TextUs Demo
Learn how thousands of businesses use TextUs every day to communicate in real-time.