Don't let technology get in the way
Text-enable all your business phone numbers, giving candidates, customers and prospects an easy way to connect with your team. TextUs enables personalized, real time communication that saves time, reduces hassle and makes teams more productive, so they can communicate at the speed of today's economy.
Stop texting from your personal phone
It's time to take business SMS more seriously. Your text communication is just as important as your emails, your web chats, and your phone calls, so your text inbox needs to give you the kind of rich features you've come to expect. We allow you to sort conversations, quickly compose messages, talk-to-text, and look deeper into contact engagement.
Work together more effectively
Business SMS requires effective team collaboration to keep everyone on the same page. Increase your team's efficiency with shared inboxes, multi-user conversations, and typing indicators so your team can stay informed and jump in to help out without stepping on each other's toes.
Track SMS communication across your business systems
Integrate TextUs with your existing CRM, ATS, or HRIS so that you can track data that matters most to your business. Target and connect with the right contacts, and record the properties that are most meaningful to your bottom line. <
Reach more people with conversational Business SMS campaigns
Gone are the days when your customers will tolerate spam messages. These are the business equivalent of a "u up?" text—and no one wants that. Our platform allows you to reach thousands of contacts in minutes with personalized, well-crafted messaging, and dive into analytics for a more granular look into performance.
Automate repetitive tasks
TextUs helps your team simplify your processes and save time with recurring campaigns, unlimited keywords and auto responses, and automatic contact segmentation for easy re-targeting.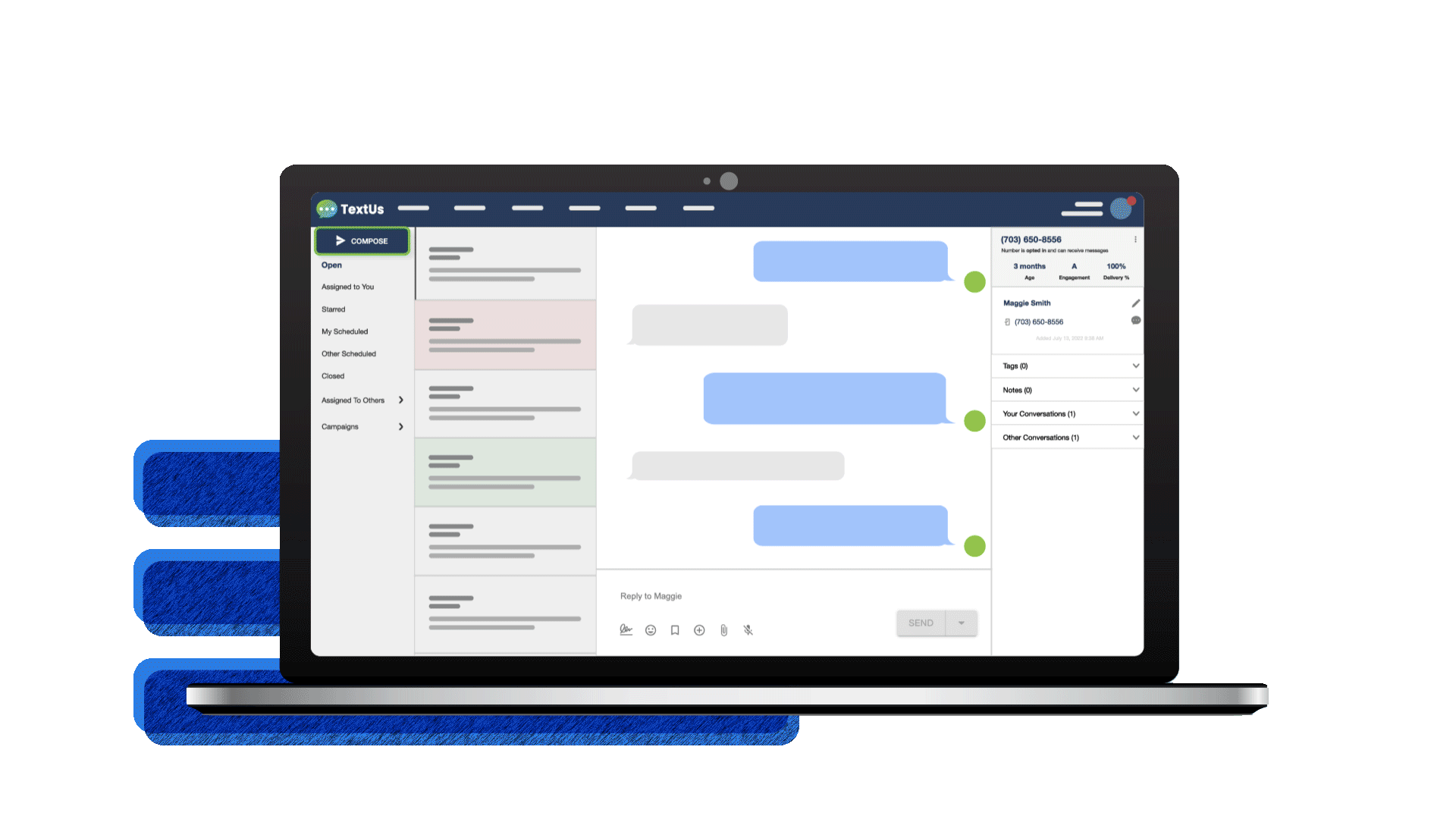 Customize your product experience
With our white label SMS platform, make texting a seamless extension of your current product offering and let us do the heavy lifting. We'll take our industry-leading conversational text messaging platform and brand it to make it your own.
Very effective form of communication
"In the year 2022, texting should be a priority for reaching clients. I am far more likely to receive a response when I reach out through Text Us than when I call. I love that we can connect our phone number to the text line as well."
Casey K.
Injury Counselor
Straight forward solution to our communication needs
"We switched from another service to TextUs after looking at several. It is very a very cost-effective and straight forward tool. It took no training time at all to be able to pick it up and use it immediately. The switch-over was quite painless."
Katie S.
Office Manager
Happy to use TextUs at work
"I like the fast and efficient communication I have with my clients. I never miss a text and always am able to respond faster than a phone call. My clients love that I can talk to them at a drop of a hat!"
Jessica W.
Onboarding Team Lead
Flexible Plans, Reasonable Pricing
Choose the plan that serves your organization best. With flexible options for businesses large and small, there's a TextUs plan for everyone.
Get a TextUs Demo
Learn how thousands of businesses use TextUs every day to communicate in real-time.