Import client contact information
Schedule or send 1:1 text messages or mass text messages to reach clients faster
Respond to requests quickly as they come up
Enhance Your Communication Strategy
With a busy market, strong demand, and plenty of competition, having a strong communication strategy can make the difference between a deal or loss.
Improve your efficiency with Keywords, a TextUs feature that can automate text responses for common questions and categorize buyers into groups based on their interests – so you can more easily follow up with additional information.
Catch Eyes with Campaigns
Add photos, videos, or shortened links of your listings to catch the eye of a potential buyer right away. And if you aren't sure which real estate texts resonate best with your customers, our A/B testing capabilities will give you visibility into what performs best making texting for realtors seamless and efficient.
Why Real Estate Teams Choose TextUs
Process Efficiency
Use real estate text messaging software to send video messages, reminders, status updates and follow ups.
Increase Lead Response Rates
Text leads to get a 40% response rate and makes lead follow up much faster.
Expedite Documents
Communicate faster to ensure all docs are signed quickly and easily, making move-in or closing day that much smoother.
Schedule More Real Estate Showings
Get more tours by using SMS for real estate to connect with potential buyers and tenants.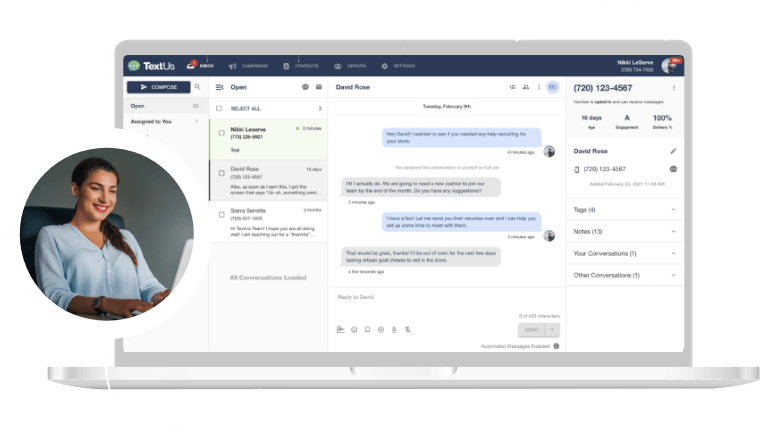 Get a TextUs Demo
Learn how real estate teams use TextUs everyday to communicate in real-time.