Overview
DaXtra has partnered with TextUs to further automate your recruitment processes through DaXtra's candidate matching and the TextUs SMS and click-to-call candidate engagement platform, helping you save time and money while driving revenue.
As the most popular business texting platform for staffing and recruiting firms TextUs helps your recruiters:
Get ahold of candidates 10x faster
Broadcast jobs to 100s of candidates
Build better relationships
Place candidates faster
By combining these technologies, recruiters can search across their databases and external resume sites with DaXtra Search, then communicate through SMS campaigns with candidates, using the TextUs real-time communication platform, all from within your CRM or ATS. This eases the chore of locating and engaging with passive candidates or those candidates who can be difficult to reach.
DaXtra's search and match technology provides automated three-way matching and the option to take full control over your specified target skill sets. These tools allow for automated matching of jobs to candidates, candidates to jobs, candidates to candidates or the ability to use your own Boolean searches to identify specific skill sets. Used in conjunction with the TextUs cloud-based business texting platform, staffing professionals are then able to automate a texting campaign to reach out to each matched candidate.
Together, DaXtra and TextUs create an unbeatable combination that improve recruiter productivity and ultimately save money.
About Daxtra Technologies:
DaXtra Technologies is a world-leading specialist in high accuracy multilingual resume and job parsing, as well as semantic search, matching and aggregation technologies.
Since 2002, DaXtra has been at the forefront of innovative recruitment process automation solutions. We support clients globally via offices across Europe, USA and APAC, supporting 2,500+ loyal clients who collectively process in excess of 100 million resumes each month. With 400+ ATS/CRM integrations available and the ability to parse documents in more than 40 languages, DaXtra has become a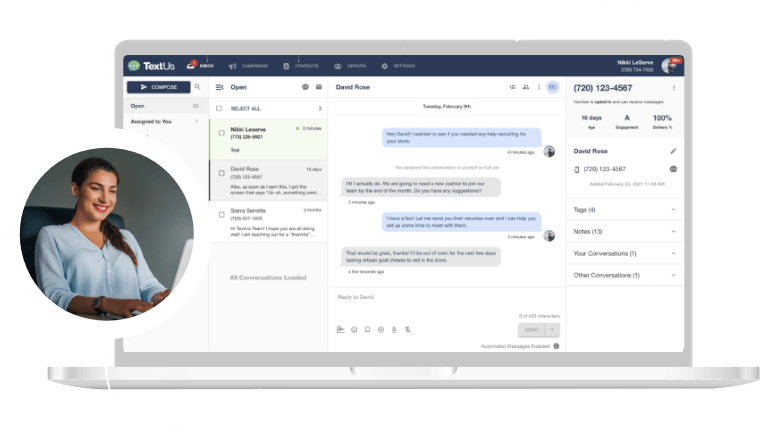 Get a TextUs Demo
Learn how thousands of businesses use TextUs everyday to communicate in real-time.