Overview
TextUs for JobDiva enhances your ATS experience with integrated business-class text messaging, improving workforce productivity, increasing communication efficiency, and enhancing customer engagement.
This integration enables recruiters and staffing professionals to send and receive real-time, two-way text messages from JobDiva using the TextUs platform. It also allows the text messages to be recorded in the candidate records of the JobDiva applicant tracking system. As part of the partnership, all JobDiva customers will receive preferred pricing from TextUs.
About JobDiva
Redefining the standard for cutting edge technology and innovation, JobDiva is the leading global Applicant Tracking System and front-to-back Talent Management solution, serving 18,000 global staffing professionals who support Fortune 500 clients. A powerful cloud solution, JobDiva combines a Customer Relationship Management (CRM) application, synchronization with all major job boards and VMS providers, BI analytics, automated 24/7 resume aggregation, a Mobile App and the largest resume database in the world to deliver staffing solutions with unmatched speed and precision.
JobDiva offers more patent-protected features than any other solution on the market — including the unique ability to search resumes for "skills by years of experience". Continually recognized by both industry experts and clients, JobDiva has received numerous awards, including the '2016 Best of SaaS Showplace Award,' '2016 Top Rated Recruiting Software Platform' from the software reviews site TrustRadius, '2014 Cloud Company of the Year', '2014 Best Employment Mobile Application' and '2014 Best Computer Software Mobile Application'.
https://www.jobdiva.com/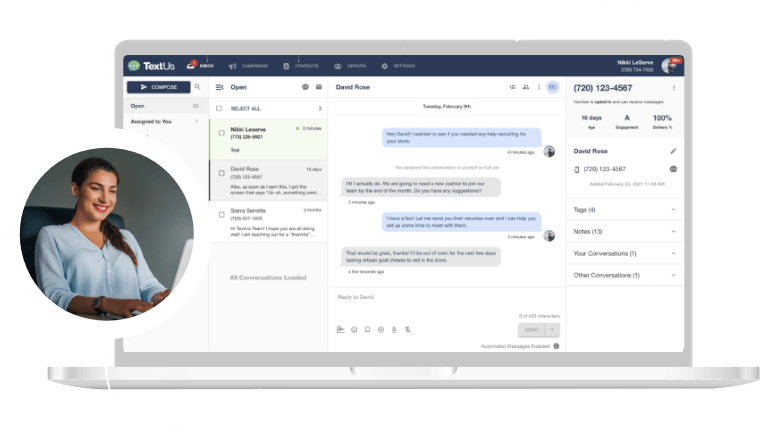 Get a TextUs Demo
Learn how thousands of businesses use TextUs everyday to communicate in real-time.