New TextUs Partner: JobDiva Announces Integration With TextUs
We're excited to announce our integration with JobDiva, the leading global ATS and Talent Management Solution, is now live!
JobDiva users can now send and receive text messages to candidates within JobDiva using the TextUs platform.
JobDiva's integration with TextUs enhances recruiter communication, improves workforce productivity, and improves candidate engagement.
This integration enables recruiters and staffing professionals to send and receive real-time, two-way text messages within JobDiva. It also automatically records texts in JobDiva's candidate records. Managers have total access to text messages between recruiters and candidates so they can quickly identify and reward top performers.
TextUs's partnership with JobDiva reflects our commitment to clear, easy communication between recruiters and their candidates. It demonstrates why TextUs is the leading business-class text messaging platform for the staffing and recruiting industry.
"JobDiva has been providing SMS integration for years, but we see this project with TextUs as a great new partnership because of their fantastic user interfaces and customer support," said Emily Clark, JobDiva's head of product management.
"JobDiva is thrilled to give our clients yet another way to connect with their best candidates."
As part of the partnership, all JobDiva customers will receive preferred pricing from TextUs: https://textus.com/pricing/jobdiva/
Learn more: https://textus.com/integrations/job-diva/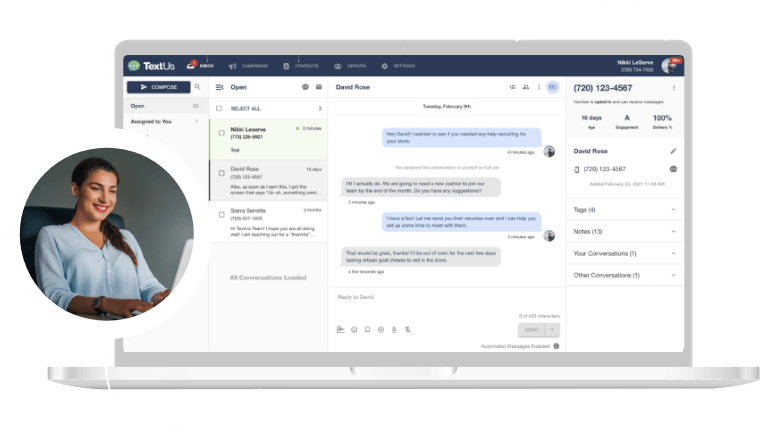 Get a TextUs Demo
Learn how thousands of businesses use TextUs everyday to communicate in real-time.