The Real-Time Communication Era is Here and It's Changing How You Connect with Customers
Over the past year and a half, we've thought a lot here at TextUs about how the business world is changing. We've noticed that your customers won't wait for a call back or fish around their inbox for your email. They can get everything when they want it on their schedule, so they expect immediate info and thoughtful answers whenever they need them. 
We've seen the connection between businesses change more in the past two years than it has in the previous decade. 
Businesses are no longer in control — customers are. Customers aren't up for waiting for responses and needed information. In fact, 64% of consumers and 80% of business buyers said they expect companies to respond to and interact in real-time. 
The Age of the Seller is over, as are the days when the business controlled the communication process. 
That's why we're excited to share our strategy to help you and your team communicate in the Era of Real-Time. 
We've laid our strategy out here in our latest eBook, How to Adopt a Real-Time Communication Strategy.
In it, we outline how real-time communication maximizes the speed and responsiveness of your outreach through text messaging, live-chat, social collaboration, and cloud voice technologies. We explore how to shift from email, cold calling, and bot automation to instantaneous, interactive human communication that is personal, dynamic and on the customer's terms. 
We've also put this strategy into practice by rebuilding our platform from the ground up with a real-time approach at its core. With TextUs Next, you can text from your desktop and smartphone, make calls from your business number from a cloud phone, and instantly click-to-call customers. This real-time workflow empowers your team to build the relationships that your business thrives on.
Read the Real-Time Communication Strategy now.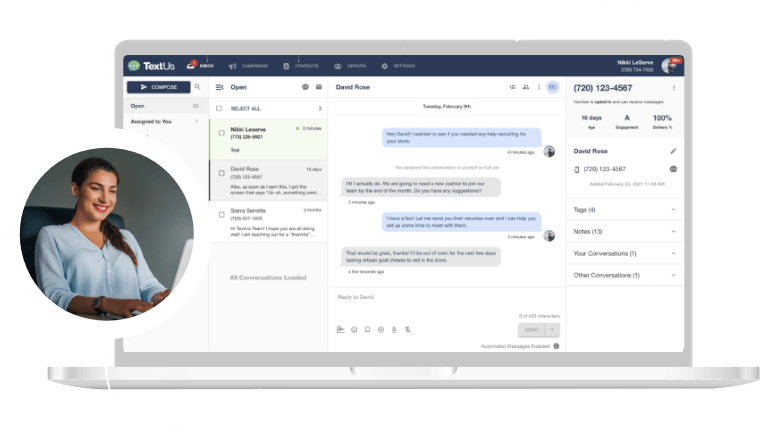 Get a TextUs Demo
Learn how thousands of businesses use TextUs everyday to communicate in real-time.