3 Business Texting Insights Even Old-School Recruiters Will Love [Customer Story]
Javar Manning, Recruiting Manager of MBS Solutions, has been in recruiting for over 5 years. He is now responsible for managing a large team of recruiters, as well as having individual quotas of his own.
As a former college athlete, he has maintained his determination to surpass his competition and come out on top. He thought he'd tried every trick in the book to get ahead: Then he met TextUs.
Javar and his management team already knew the importance of texting, and saw it as an emerging communication medium to get ahead. But, they couldn't quite figure out a scalable and efficient way to introduce it the team. Mass texting from your personal cell phone is expensive, and doesn't often yield high response rates. This method is inefficient, and it's not secure. Having to keep tabs on each message and log the results was proving to take up a lot of valuable time.
Javar found TextUs, and after a few discovery sessions and calls with our team, it was time to set up the pilot. The pilot was meant to last for 14 Days, but Javar was sold within minutes. TextUs set up MBS' enterprise Bullhorn account to integrate with the tool, and then did a Training and Brainstorming session with his team. Before the training was complete, Javar's team members were already sending texts. Within a few hours, their recruiters began to place jobs.
Javar had someone on his team, "an old-school recruiter," as he called her, who was having trouble closing a job. She was going through her normal routine of cold calling and sending out traditional emails, when Javar introduced her to TextUs.
"Jen is one of my old school recruiters and only uses the phone, barely even emails. She had a job that she couldn't close and I made her put her phone down and close her email. She sent 100 texts out in 25 minutes, got 50 responses, and closed the job that day."
In fact, after just 30 days with TextUs, over 50% of the entire MBS team are operating on a 70% response rate, averaging over 100 outbound texts a week.
So what lends Javar and his team such successful response rates?
Here are 3 insights:
1. They always address themselves at the beginning of a broadcast message (by including their name and the name of the company).
2. They make sure to personalize each broadcast message with a contact's first name, to demonstrate clearly that these messages are coming from a real person.
3. Being descriptive about the job by including specific details, rather than saying only: "Hey, I have jobs. Call me!"
---
Ready to get your team texting? Call or text us at 303-442-3223, or visit our website to get started today. With any questions, please feel free to contact our support team at support@textus.com any time. We'd love to give you a hand!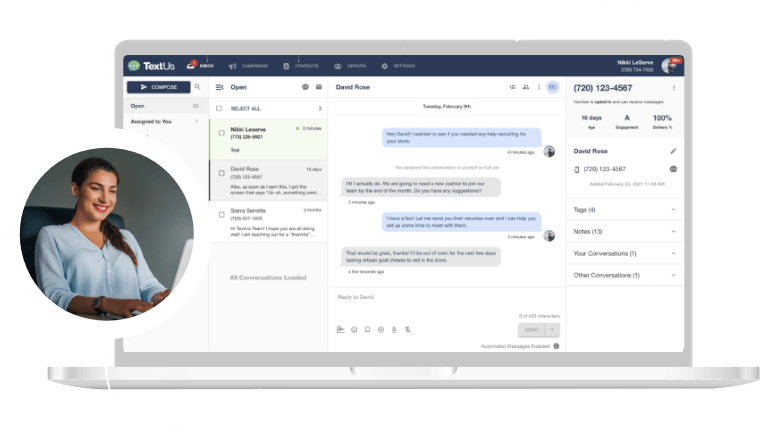 Get a TextUs Demo
Learn how thousands of businesses use TextUs everyday to communicate in real-time.