5 Events You Can't Afford to Miss at SIA's Healthcare Staffing Summit
Healthcare Staffing Summit is just around the corner, and we here at TextUs can't wait to see our healthcare staffing community in Vegas! We put together this quick and dirty guide on the can't-miss session, events, and booths that you want to make sure to put on your agenda.
See you at Red Rock!
SIA Kickoff and Conference Overview
Wednesday, 4:00 – 4:45  pm
Veranda
Join SIA's Healthcare Analyst Amy Change and their Senior Director of Global Membership Products, Adrianne Nelson as they help you maximize your ROI on the event with an overview of sessions, tips on networking, and an open forum to get all your questions answered. It'll be a great way to make sure you get the most out of the conference.
SIA Welcome Party
Wednesday, 7:30 – 9:30 pm
Hearthstone Kitchen & Cellar, Red Rock Casino
Sponsored by Wanderly, Staffing Referrals, JobRobotix, and TextUs, this kickoff party at the conference casino will help you jumpstart your networking in a fun, relaxed party. Come for the apps and drinks, and stay for the company!
The party is invite-only, and we're almost at capacity, so get in touch with our team in Vegas to see if there are any spots left.
Keynote Speech and Book Signing with Fabian Geyrhalter
Keynote, Thursday, 3:15 – 4:15 pm
Charleston Ballroom
Book Signing, Thursday, 5:30 – 6:00 pm
Booth #105
Differentiating your brand is about more than just building a great product. You also have to tell your story in order to build authentic connections. Fabian Geyrhalter, bestselling author of Bigger Than This: How to Turn Any Venture Into an Admired Brand, has a message that's close to our hearts — and our mission. In his keynote, he focuses on how storytelling can help you keep it real in the healthcare staffing space.
After the keynote, come by the TextUs booth, #105, to get your copy of Fabian's book signed during the day's closing reception.
For a sneak peek of Fabian in action, check out his talk on Futur.
The Best-in-Class Tech Stack in Booth #105
Even if you can't make it to Fabian's signing, be sure to stop by our booth. Sure, we're partial, but it's not just the TextUs team you can come say hi to. You can also learn about how to boost your referral rates with Staffing Referrals, protect your online reputation with Great Recruiters, and automate the thankless parts of recruiting with Herefish.
Want to learn more about our work with our partners? Check out this article on how our staffing tech stack revolutionized the recruiting process and boosted placements for one Inc. 5000 staffing firm.
Ideas in Action: Improve Your Speed to Market & Increase Candidate Engagement with the Right Technologies
Friday, 10:00 – 11:00 am
Veranda AB
Join our Director of Enterprise Sales, Josh Berndt, to learn how over 700 staffing firms improved their speed to market by leveraging the latest tech to recruit smarter than the competition. He'll present case studies on how tools like email automation, text messaging, referral automation, and real-time reviews boost candidate engagement and foster better relationships.
You'll learn how to:
Connect, engage, and delight your talent with real-time communication
Find and place qualified talent faster
Automate processes to free up your recruiters' time
Build trust and transparency with your candidates
Reduce paperwork by integrating everything into your ATS
Mitigate your risk by maintaining ownership of conversations, contacts, and data
Looking for more on getting the most out of HCSS? Check out these text templates that will keep your calendar filled before, during, and after the conference.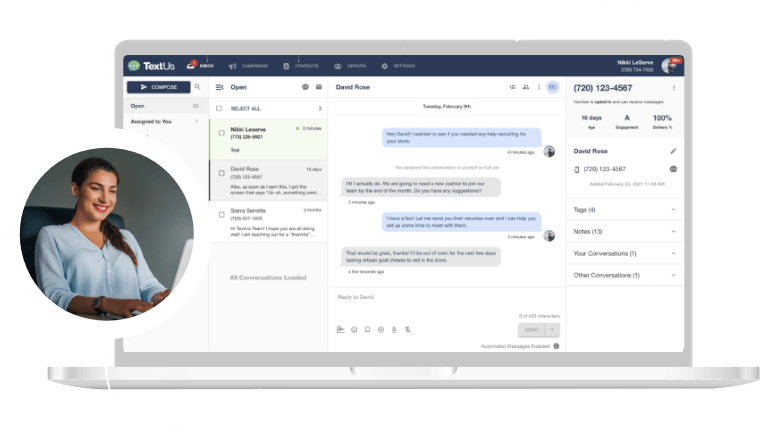 Get a TextUs Demo
Learn how thousands of businesses use TextUs everyday to communicate in real-time.