How the Las Vegas Aviators Switched From Zipwhip to TextUs
The Las Vegas Aviators are a Minor League Baseball team in the Pacific Coast League (PCL) and the Triple-A affiliate of the Oakland Athletics. Located in Summerlin South, Nevada, a community in Las Vegas, the Aviators play their home games at Las Vegas Ballpark, a 10,000-seat facility. The ticket sales team is responsible for filling those seats. 
How to Fill Stadium Seats
Texting is an important part of the sales communication process for the Aviators. For three years, they used Zipwhip as their communications tool.
When Twilio acquired Zipwhip and the SMS platform ceased feature updates leaving current customers unable to send text messages, the Las Vegas Aviators needed to find a way to keep ticket sales and communication with their fans. 
Having used Zipwhip for several years, the ticket sales reps were used to texting customers. This interaction was a great addition to their sales process and connecting with their base. The team found that texting communication had better responses than phone calls or emails.
The Aviators use texting for touchpoints, sending promotions, season ticket renewals, and special events. One of their biggest needs was streamlining their communications process. 
Sales can be a profession that never sleeps – and speed to lead can keep reps communicating during different times of the day. While reps want to be available and not miss out on closing deals, they also want to separate their work and personal life.
An SMS platform allows reps to text from work phones instead of blurring the lines of where work ends and life begins.
The Aviators knew they wanted to keep their texting campaigns in order to continue their 1:1 communications with customers and prospects. So, they went on the search for an alternative to Zipwhip. 
"Texting is a part of the sales evolution. Back in the day, we'd go door to door, then send faxes, then phone calls, then emails – now we have texting. Each improvement has helped sales reps close more deals and make our jobs more efficient." – Erik Eisenberg, VP of ticket sales and service, Las Vegas Aviators
From Zipwhip to TextUs
The Aviators looked at a few different texting solutions before deciding on TextUs. TextUs was the most inline with what they experienced with Zipwhip so they thought that training the reps on the new platform would be easier. 
The Aviators say their transition to TextUs from Zipwhip was seamless. They migrated over the weekend when it wasn't as active so they wouldn't lose as much data.
Once they started using TextUs, ticket sales reps noticed that the product was easy to use, but also included some additional features they didn't have with Zipwhip. 
Unlike Zipwhip, TextUs lets users send more contacts a text message in one send. Zipwhip was only able to send texts to 100 people at a time, so reps would have to send a few different times to reach their prospects. 
One of the greatest benefits reps have been able to apply with TextUs is the data analytics.
With Zipwhip, reps couldn't see the opens and deliveries of text messages. So, while they felt like they were able to connect better with customers via SMS, they had no actual proof of which messages and numbers were working well for them. 
The biggest challenge sales reps faced was not knowing if a contact included a mobile number or not. Sometimes in sales, you scrape data and contact information in order to find prospects.
In a numbers game like sales, sending 500 text messages out and not knowing if only 100 were deliverable can impact your sales forecasting and strategies. 
TextUs allows the Aviators to know which numbers are mobile numbers so the ticket sales reps can be more efficient and intentional in their outreach. 
TextUs Sales Solution
As the sales reps are looking to increase revenue, finding a tool that would help their pipeline was critical. TextUs has met the client's needs. 
People look at their phone up to 160 times a day and notifications let you know when you receive a text message so you can respond to it.
The Aviators now have more confidence in their messages because TextUs guarantees the texts will be delivered. Before, they saw a higher rejection rate, but since switching to TextUs, delivery, open, and response rates are higher. 
"Not everyone likes emails.  You can get hundreds of emails that you feel bombarded by them." -Erik Eisenberg, VP of ticket sales and service, Las Vegas Aviators
With a fanbase that varies in ages, some have had a harder time with the digital transformation. The Aviators use Ticketmaster and now that mobile tickets are the norm, older generations (many of whom are season ticket holders) have begun to embrace the technology.
The team is also part of the Summerlin app that shares community news including the minor league baseball team's schedule. These advancements in technology have opened the door for text messaging to send reminders for renewals and ticket purchases. 
The sales reps have a full service menu of prospects. They work from their current customers and then each find new prospects from there. TextUs syncs with Ticketmaster easily so that the sales team can see their prospects and conversations.
Most reps use the web app version of TextUs, but if they are on the field or boxes, they find the mobile app a plus so they don't miss anything. 
Making the jump from one tech solution to another isn't always a walk in the (ball)park. Because TextUs offered similar features to Zipwhip – with some added benefits and a great customer experience team – the Las Vegas Aviators are working to fill their 10,000 person stadium.
---
Learn More about text messaging for the sports industry by visiting our solutions page: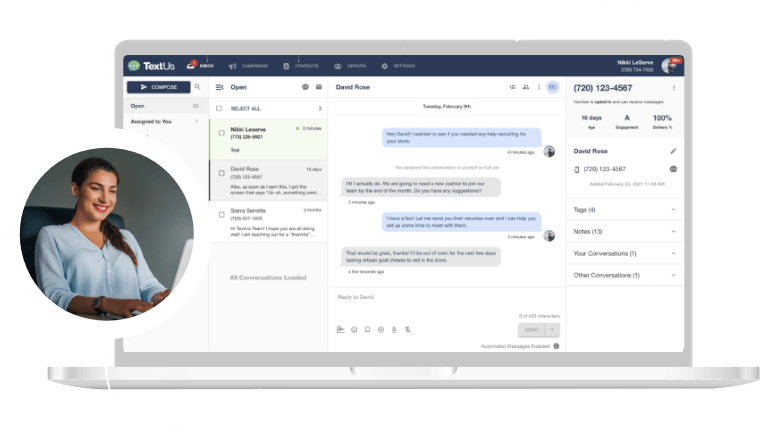 Get a TextUs Demo
Learn how thousands of businesses use TextUs everyday to communicate in real-time.