Import customer contact information & create groups
Schedule or send 1:1 messages or mass campaigns to fans, season ticket holders, or for events
Respond to questions or requests as needed
Gain Insight into your Audiences
Whether its current season ticket holders or prospective fans, Campaigns Pro can help you get your audience's attention by adding engaging images, videos, GIFs or PDFs to your messages. A/B testing and link analytics will help you understand what your audience is responding to and better inform future campaigns.
Automation for Sports
Improve your efficiency with Keywords by automating responses to common questions, like ticket availability, special events, or promotions. Additionally, create keyword groups based on the keywords your contacts use, so your teams can more quickly and easily follow-up about event reminders, discount codes, and more.
"Texting is a part of the sales evolution. Back in the day, we'd go door to door, then send faxes, then phone calls, then emails – now we have texting. Each improvement has helped sales reps close more deals and make our jobs more efficient."
– Erik Eisenberg, Las Vegas Aviators
Why Sports Teams Choose TextUs
Increase Sales Rep Productivity
Maximize the time your team spends selling by using your texting solution to send group broadcasts.
Increase Response Rates
Text target customers to get a 40% response rate.
Fill Your Venues Faster
Use group broadcasts to connect with more fans faster.
Promote Special Game Offers
Reach your target audience with special offers and promotional events.
Put More Butts in Seats
Communicate faster to sell more game day experiences.
Track Texts in Your CRM
Capture messages in your database automatically.
Eliminate Cold Calls
Skip ineffective sales techniques and focus on a 1:1, conversational texting solution.
Track Sales Rep Effectiveness
Track texting analytics to identify texting best-practices.
Leave No Sale Behind
Get dormant sales targets to respond instantly.
Build Better Relationships
Communicate the way fans prefer.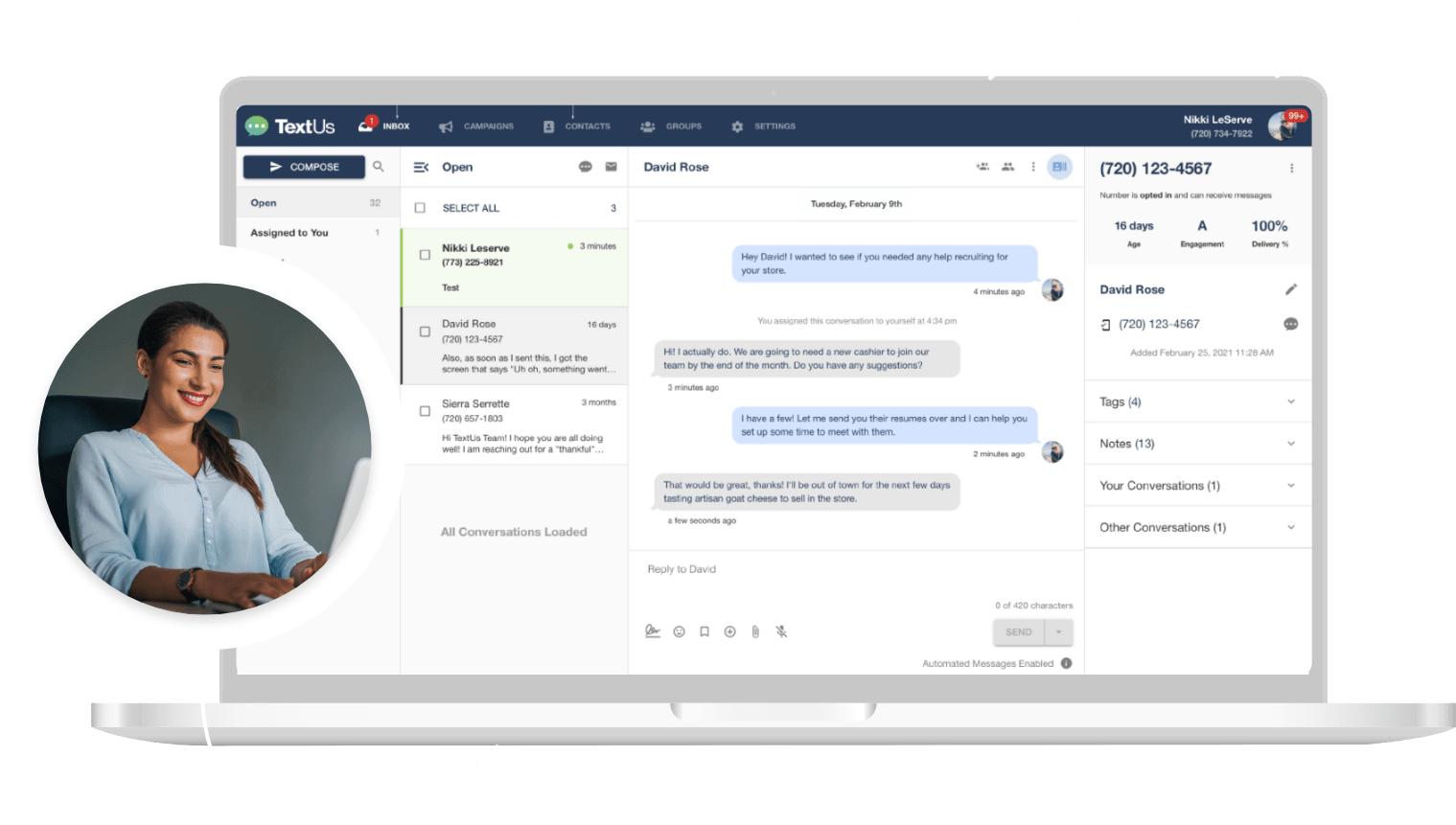 Get a TextUs Demo
Learn how other sports teams use TextUs everyday to communicate in real-time.