UNLV's Executive MBA Program Increases Prospective Student Engagement, Webinar Registrations, and Response Rates with TextUs
The mission of the University of Nevada, Las Vegas's Lee Business School is to cultivate  leaders who transform business. With such a core focus on change, it's not surprising that they dedicate a portion of their budget every year to exploring something new.
"This year, we tried TextUs," said Nikkole Liesse, Executive Director, Lee Business School Office of Online and Executive Education. "The results were phenomenal."
In just one month, the business school saw an increase in response rates over email and phone calls, increased registration for online webinars, and faster engagement from prospective students.
---
The Executive MBA Program was at the stage in their recruitment cycle when they needed prospective students to take the next step with them. They had a robust pipeline filled with people who had expressed interest in the program at some point, but the list stretches all the way back to 2012.
They were having trouble getting those on their list to reengage — to come to an informational session or just to let them know they weren't interested.
With TextUs, they got the responses that they needed.
Used to email and phone outreach, EMBA administration was overwhelmed with the responses from their first outreach.
"We weren't prepared for all of the responses from prospects — the most we've ever had to a single piece of outreach. It was a great problem to have."
The result was the most well-attended virtual informational session the EMBA program had ever held.
"We got so many registrations for our info session from the first text message that we sent that we had to hold additional sessions to accommodate all the interest," said Liesse.
What's more, they got responses from prospective students in their pipeline who they hadn't heard from in years. Some reached out to let them know they had already gotten an MBA, or were no longer interested, or had changed their number. Though this information was not the yes the program wanted, it had the added benefit of helping clean up their list.
"It was great to get that clarity — to have help in cleaning up our prospect list. It will help us make our outreach in the future even more targeted," said Liesse.
"Working with TextUs has been a wonderful experience. We're very pleased with these results and look forward to seeing more success with them in the future."
About the University of Nevada, Las Vegas's Lee Business School
---
University of Nevada, Las Vegas's Lee Business School – Our mission is also our ethos: we cultivate leaders who transform business. While our teaching is the most evident means through which we accomplish this mission, our research and service are also foundational to our teaching and our ability to foster such transformational change.
Through our teaching, research and service, we transform the lives of our students and the communities we serve— Las Vegas, the state of Nevada, the United States and the world.
Download Case Study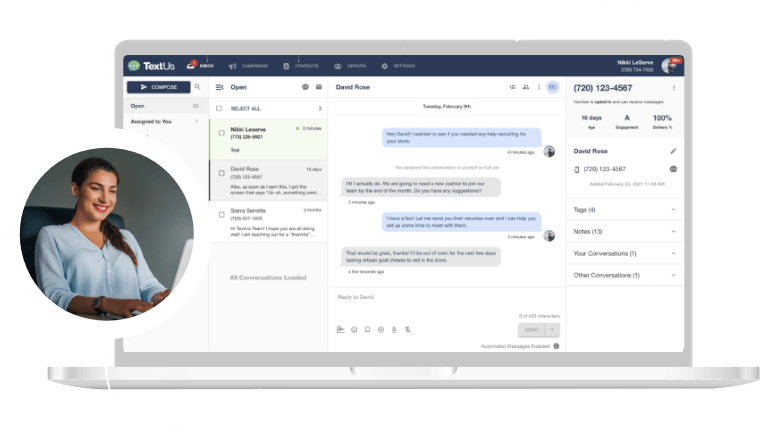 Get a TextUs Demo
Learn how thousands of businesses use TextUs everyday to communicate in real-time.