How to Attract and Engage Millennial Candidates
You've heard it again and again: Millennials are the future of work.
Millennials are the first generation to grow up on the Internet. This has shaped their sensibilities, their values, and their expectations about work.
So, what do Millennial candidates want? And how do you attract and engage the very best of them? Here are some tips.
T
ell a strong story on social media.
Millennials will discover who you and your clients are online. They will to see who follows, likes, and interacts with your company on Facebook, check out your client's current employees on LinkedIn, and get a feel for your employer brand on Twitter.
Make sure each medium — from your firm's Twitter feed to your own LinkedIn profile — tells a story. You want to paint a picture of a company that Millennials can see themselves in.  
Keep recruiting mobile.
Millennials are surgically attached to their phones — 87% say their phone never leaves their side. By 2018, smartphone proliferation among Millennials is expected to reach 99.7%. In fact, one in five is already mobile-only, accessing the internet solely on their smartphones.
This tech-savvy, ever-connected workforce expects to do everything from their phones. So, if you want to snag this group's top talent, every aspect of your recruitment strategy should be made for mobile.
Optimize your online presence.
If your job site isn't mobile optimized, GenY talent will bounce away to one that is.
Streamline your job descriptions.

Highlight only what's most important — a long list of requirements and qualifications is tough to read on a smartphone.

Use short sentences and paragraphs.

Use headings and bullet points.

Keep the online application process simple, brief, and easy.

Minimize the number of pages an applicant has to navigate.

Reduce the number of clicks required to complete each task.

Keep informational text short. Remember, this is the tl;dr generation: brevity is best.

Instead of requesting a resume, ask for a LinkedIn profile. It's much easier to link to on the fly and will give you the same information.

Make sure your firm and client websites are pleasant to look at on the small screen.
Send a great text.
Texting is the main thing Millennials do with their phones and their favorite form of communication. If you want to meet Millennials exactly where they are, skip voicemail and email, and send a text.
Not just any text will do. With a generation this connected, how you communicate is crucial. GenY wants messages that are:
Brief.

Think Twitter, not Tolstoy. 

Meaningful.

Just because you're writing for the small screen doesn't mean you need to edit out value. 

Engaging.

These candidates are highly sought after. Be the one recruiter of the dozens who grabs their attention. 

Educational.

This generation is eager to learn.

Conversational.

This generation watched mass marketing die when they were teenagers. They can spot a formulaic or generic message a mile away. Don't make a pitch, strike up a conversation.

Personalized.

They want to feel unique. Tailor your messages specifically to each young candidate.
Check out our blog post for tips on how to make texts more personal.
Move quickly.
A candidate who is constantly on her phone — from the moment she checks her texts in the morning to the moment she closes Facebook before she falls asleep — expects quick responses.
When everyone is vying for these young candidates' attention, taking more than 24 hours to respond to a text isn't going to win you any points. Likely, by the time you get around to hitting Send, they've already scheduled an interview with a more responsive recruiter.
Highlight growth potential.
In a recent survey, the most important factor for Millennials in a new job is the opportunity to learn and grow. In your job postings and in your conversations, underscore any areas that can provide room for growth.
Trace possible patterns of advancement within a company.

Tell stories of other candidates who have moved up within a client's ranks.

Stress any educational benefits or valuable on-site trainings.

Describe how the client's culture facilitates learning or growth.

Provide constructive feedback on resumes, cover letters, and online profiles.
Connect to a greater purpose.
Millennials don't just want their messages to be meaningful — they want to work for organizations that help the greater good. When talking to prospective GenY candidates, writing job postings, and crafting your firm's employer brand, be sure to highlight how company culture is committed to the bigger picture.
There you have it — how to attract and engage Millennial candidates. Looking for more on developing an on-point communication strategy? Check out our post on what candidates really want when communicating with recruiters.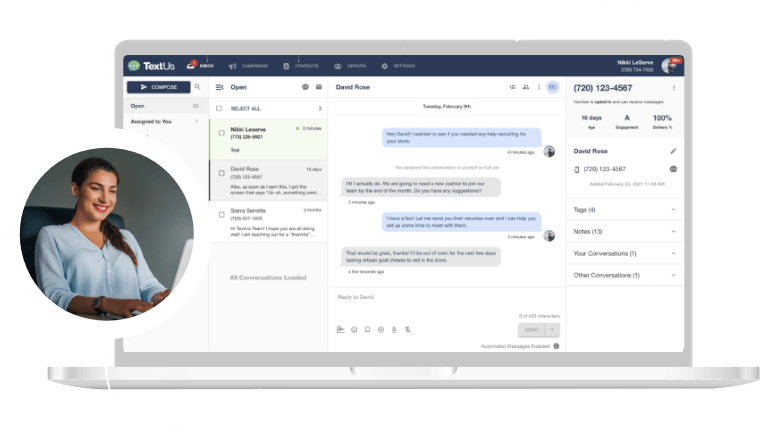 Get a TextUs Demo
Learn how thousands of businesses use TextUs everyday to communicate in real-time.