How to Land the Staffing Clients of Your Dreams
Clients looking for staffing and recruiting firms know they want the basics. They want strong candidates and a relief from the time-consuming hiring process. But, your firm is not basic. How do you go above and beyond to prove you're a head above the rest?
Know your ideal before you go looking for it
Nothing wastes more time and energy than pursuing clients that aren't a good fit for your agency. Determining who those clients are can be tricky.
Pay close attention to what kind of clients convert. How big are your best clients and what are their staffing needs? What unique value do you provide to the clients you landed most quickly? Create a profile of your ideal client persona and focus your energy on clients that fit the bill.
Predict client need
By anticipating future clients' needs before they do, you prove your value and credibility. Clients will remember the staffing agency that helped them stave off an employee crisis or offered skilled workers just a few days before they were badly needed.
Keep tabs on the clients you want to land and what's relevant to their industries. Consider the local and the global changes that may impact the clients you're courting.
Expansion and restructuring:

Get in touch with the local hospital that's opening a new location in six months to check on their health care staffing needs.

Industry trends:

Send an article about the effectiveness of a dedicated call center to a small business on the rise.

Time of year:

Touch base with a large retailer in September with a story of success story about your agency fulfilling the holiday staffing needs of similarly sized store.
Provide value
When contacting prospects, lead with personalized, relevant content that will make them think of you first when making staffing decisions. By demonstrating knowledge of their industry and foresight into their staffing needs, you establish the credibility that will help you land a sale. Make relevant, timely, customized information the first currency you offer potential clients.
Be responsive
In order to land the clients you want, your team must respond to inquiries from interested companies! This may seem like a no-brainer, but 70% of B2B requests for information receive no reply. Take a moment to mourn the loss of all that business, and then establish a 24-hour rule for responses to all client inquiries.
Be persistent
Think of times when you are on the client side of things, determining whether or not to develop a relationship with another company. It likely takes a lot for a company to get your attention. In fact, it takes on average 8 to 10 attempts to get a prospect's attention, while the average rep gives up after 2.
Don't be average! Encourage your team to remain respectively persistent, offering personalized, valuable information that shows your agency's commitment to building a relationship.  
How do you attract your ideal clients? Let us know on Twitter, Facebook, and LinkedIn.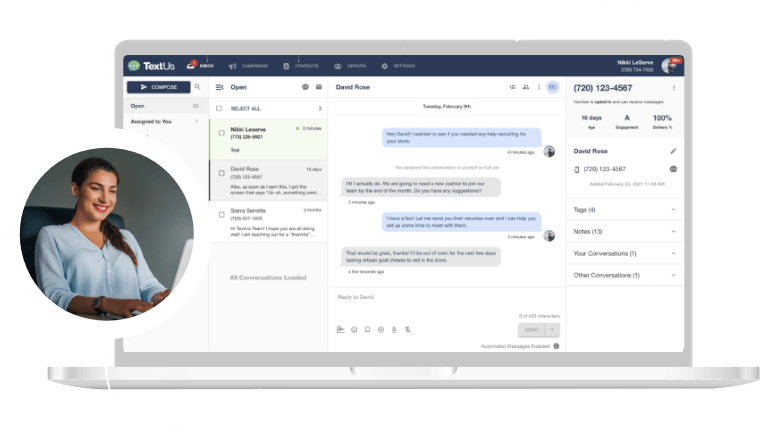 Get a TextUs Demo
Learn how thousands of businesses use TextUs everyday to communicate in real-time.