How to Write LinkedIn Messages That Don't Suck
LinkedIn is an excellent place to prospect for sales — it gives you an amazing amount of access to details about people's professional lives and allows you to specifically target your messages to reach exactly the right people at exactly the right time.
But LinkedIn is also a challenge. Every decision maker you send a message to is probably receiving messages from many other salespeople as well, some of whom are probably your competitors. Fortunately for you, many of your competitors are writing terrible LinkedIn messages that immediately land in the trash. This provides an opportunity for you to get ahead by crafting well-written messages that will be read.
Here are seven guidelines for writing LinkedIn messages that don't suck:
1. Personalize your messages beyond just calling people by name
Personalization is a well-known tactic for boosting engagement — it works in email, it works on social media, and it works on LinkedIn.
But personalization doesn't just mean calling someone by name — it means talking to them like a person. Before writing a message, take the time to read the person's profile. It will provide information — company, industry, background, interests — that you can use to start a conversation.
2. Write a clear, specific title
Why are you contacting this person? State your purpose clearly and concisely in the title.
Note that blog titles, even catchy ones (like the title of this blog post) don't work for LinkedIn messages. You are sending a personal message, not an automated newsletter.
3. Keep it short, and get to the point
Just because you can write long messages on LinkedIn doesn't mean you should. This is no place for a full sales pitch.
Think about it more like an email, a text message, or a conversation at a networking event. Introduce yourself, state your purpose for writing the message, and then ask permission to contact the person by phone, when you can pitch to your heart's content.
4. Share something valuable
Effective selling is about what you can do for your prospects, not what they can do for you.
Reading their profile can help you identify what type of content or resource would be most valuable to them.
5. Have a clear call-to-action
One of the biggest mistake marketers and salespeople make — in blogs, emails, LinkedIn messages, and so on — is not having a clear call-to-action.
What exactly do you want the recipient of your message to do: reply to your message, visit your website, set an appointment? Tell them what action you want them to take and provide a clear and simple way for them to take that action.
6. Say thank you
You have just taken up a few minutes of a busy person's time, so be sure to thank them. This isn't just good manners. These two little words are instrumental in building and maintaining relationships.
Watch Derek Halpern's video on "The Gratitude Effect" to learn more about how saying "thank you" can improve your business results.
7. Proofread
Finally, before you hit "send," be sure to proofread your message. If you are unsure of your skills, have someone proofread it for you or, at the very least, put it through an online grammar checker. Proofreading takes only a minute or two, but a sloppy-looking message could cost you a sale.
Now, go forth and prosper from LinkedIn messages that don't suck!
---
Also see:
---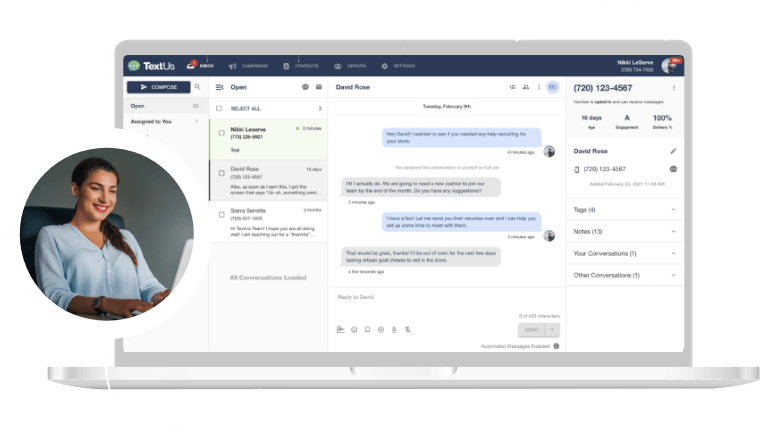 Get a TextUs Demo
Learn how thousands of businesses use TextUs everyday to communicate in real-time.