How Kelly Zitlow Group Uses Text Messaging in Real Estate
How to communicate during the home buying process
The real estate industry never sleeps. For Kelly Zitlow, putting customers first and providing an honest, well-communicated, and knowledge-based lending experience is at the core of her company. As a senior mortgage advisor with over 26 years of experience, Zitlow and her ten person team leverage technology to make the home buying journey from application to closing seamless. They consider how they can move people from thinking "can I buy a home" to getting the keys in their hands. Texting makes that process easier. 
Real estate agents get too many emails 
Like many in real estate, Kelly Zitlow Group noticed that people weren't always reading their emails because they were bombarded with them. In a competitive market like real estate, it can be difficult to differentiate your emails in order to stand out and get access to people quickly. For the emails that don't end up in the spam folder, they may not increase responses and engagement in a crowded space. 
Zitlow has always embraced technology and used it as a way to stand out from the competition—she began texting from her personal phone before she even used a business texting software platform. She discovered that customers and clients liked it but there can be problems with texting from your personal phone. The team wanted to focus on compliance and a secure setting for sharing information. They also wanted to make sure if someone left the team, they weren't taking information with them on their personal devices. Business texting software was the solution for that. 
As millennial buyers entered the home market, there was a greater need to be connected. Kelly Zitlow Group wanted to be progressive in their style to reach this demographic just as they had been in piloting text messaging. But it wasn't just millennials who appreciated the convenience of texts. Realtor partners and clients also like having the option to text—especially with follow-ups when emails or phone calls go ignored. 
Integrating text messages in real estate 
Zitlow has been a loyal user of TextUs for over four years. As she experienced migrations with different sales software, TextUs helped provide an easy transition. Changing platforms can be difficult to navigate, but the Salesforce and TextUs integration allowed Kelly Zitlow Group to keep their office phone number and convert to enable text messaging. This assured clients and customers would still recognize the brand and office, therefore the customer experience flow would not be disrupted. 
Zitlow says, "We are always looking for a great client experience and part of that is communicating with our partners how they want to engage in an effective way….some still prefer text." Kelly Zitlow Group adheres to what clients are responding to and incorporating text messaging into their communications mix has been valuable. 
The team uses campaigns for new leads, pre-approved clients, clients under contract, client post-closings, and agent follow-ups. They also use TextUs to communicate with clients and agents throughout the loan process with status updates and information related to their loan. Kelly Zitlow Group lets people know one way they can connect with them is via text–and promotes that on all of their marketing. 
Kelly Zitlow Group has found the best use case for text messaging is being more relational. It helps in building relationships and trust one-on-one. The ability to have access to an agent or lender is important. Right now independent mortgage companies are providing for a market that has, on average, 30-day closings.
"Home buying can be a stressful time and technology can help ease that process. Text messaging lets us answer questions in the moment and in real-time." -Kelly Zitlow
If real estate agents and mortgage lenders can get to clients faster with text messaging, and then clients respond faster than they do with phone or email, the closing process can become more efficient.  
How to improve the mortgage loan process 
A smoother loan process and better customer experience often means a faster process as well as closing. Some people have full inboxes making it impossible to leave a voicemail and slowing down the process. 
Text messaging lets agents and lenders achieve instant outreach and responses—allowing them to help customers faster. Zitlow says, "something could happen on a Friday during a home inspection and someone in my office will get to it on the weekend instead of waiting until Monday." 
Clients are happier with the quick responses. The Kelly Zitlow Group is able to do their jobs better and see the fruits of their labor. For the team who has stayed ahead of communication trends, text messaging was a natural part of the evolution. Zitlow can remember mailing physical print newsletters, then working the phone calls, then incorporating weekly email updates to the real estate community, and now embracing text messaging. She has always been forward thinking. 
As Kelly Zitlow Group evolves its marketing and communications strategy, one of the biggest features the team embraces is how and where they text. Zitlow uses the TextUs mobile app more because she's always on the go and not necessarily at her desk. The rest of the team prefers the desktop version of TextUs where they can use templates that they can all easily modify so that the team can be multifaceted. TextUs meets people where they are—maybe that's their phone but it can also be on their desktop enabling texts. For those in the real estate industry, it's connecting faster but not sacrificing the personal relationship. Homes can go on and off the market quickly, and you want buyers to find and get approved just as fast.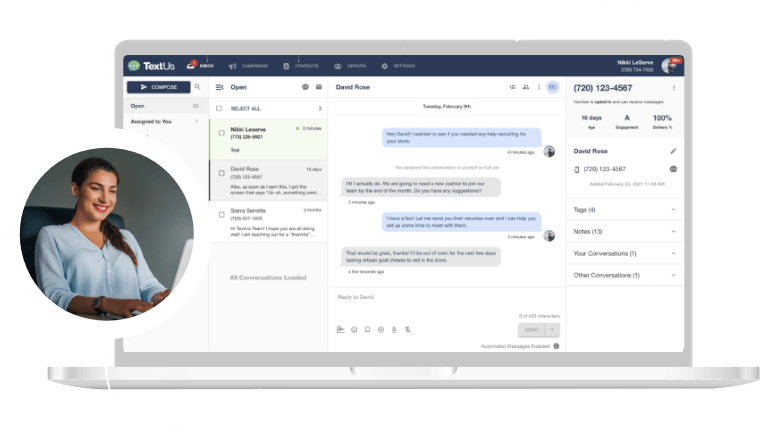 Get a TextUs Demo
Learn how thousands of businesses use TextUs everyday to communicate in real-time.