How Text Recruiting Works at TextUs
Get started in minutes
Text directly from within the ATS or easily import new candidates from your ATS.
Segment your contacts
Create groups to text candidates pools, or send personalized 1:1 messages. Include images, videos, PDFs or branded links when you need to.
Understand what works
Test variations of your message, and get intuitive analytics about delivery, response rates and more.
Place more candidates!
With 98% read rates and 40% response rates, we'll help you get the edge you've been looking for.
"TextUs has been a valuable tool for reaching a large pool of people quickly. It is one of my most powerful tool as a recruiter. I am able to fill positions quicker."
– Val, TextUs Customer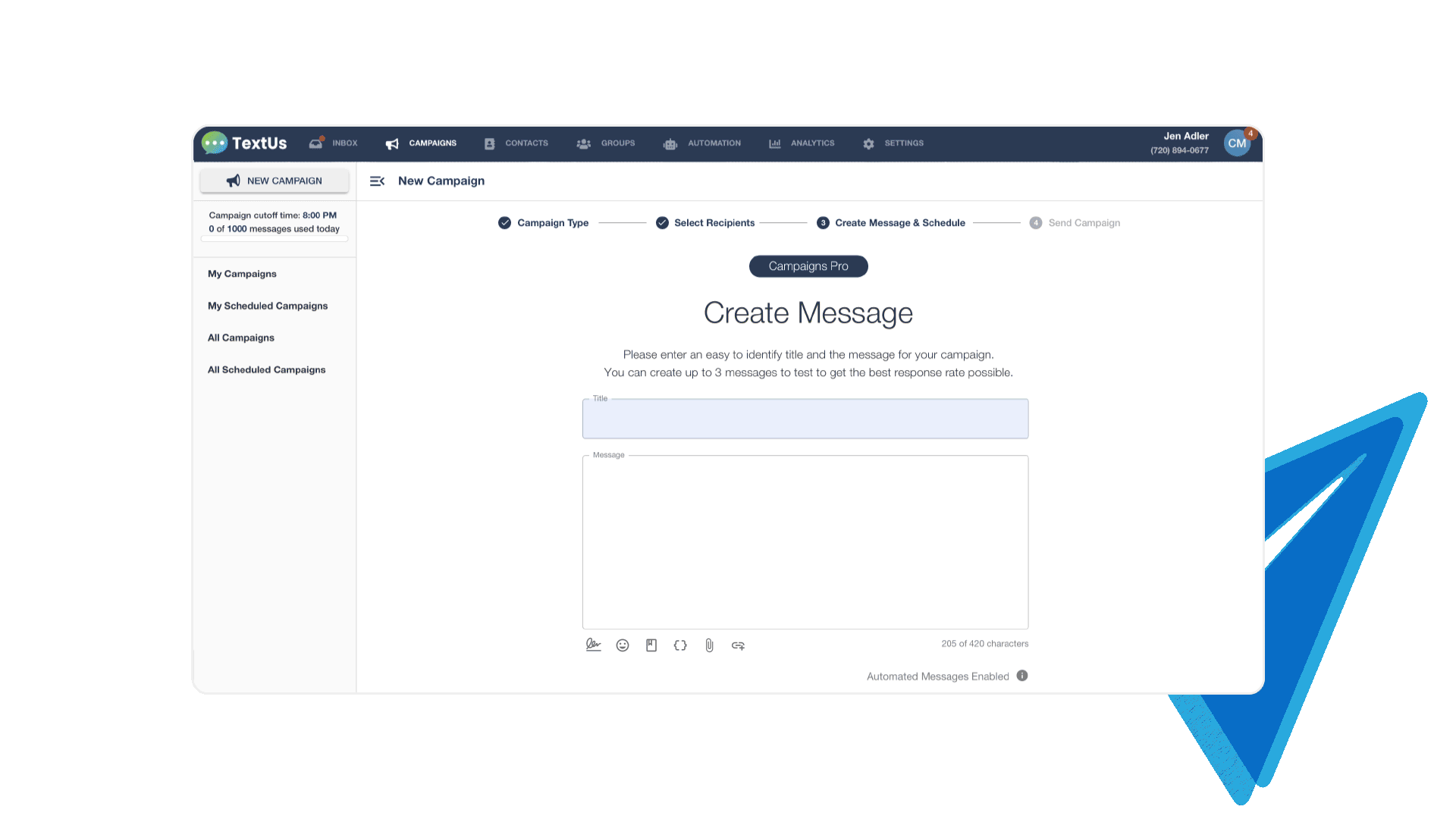 Customize your message
Add images, videos, GIFs, or PDFs to your text messages, and stand out in your candidates' inboxes.
Plus, with our A/B testing tool you can to understand which message better resonates with your candidates.
Automate your texts
Enable automated text message responses to common questions.
We'll also segment your contacts into groups based on what they've expressed interest in, so you to send more targeted and customized content.
Know the numbers
Get targeted user analytics for each message and for your A/B test campaigns.
We make texting for recruiters easy
Two-way texting
Communicate the way candidates want you to.
Track everything in your ATS
Integrate all of your text messages directly into your ATS.
Dynamic campaigns
Schedule multiple campaigns at once without worries — we'll take care of the timing.
Unlimited campaign
No more group size limits! (Daily message limits may apply)
Target the right contacts
Search by business name and tags in addition to name and phone number.
Typing indicators
Avoid stepping on each other's toes: know when other users are typing in the same conversation.
Track effectiveness
View all of your texting analytics to see which recruiters communicate most effectively.
Chrome Extension
Send one-to-one texts, campaigns and manage conversations right from your browser.
Mobile App
Take TextUs with you anywhere.
Do more in less time
On average, TextUs staffing and recruiting customers experience 97% deliverability and 64% response rates. Your teams can communicate with candidates up to 10x faster compared phone or email!
Over 800+ staffing firms use TextUs to accelerate their recruiting, sourcing, and onboarding. Give us a few minutes and we'll show you how.
Frequently Asked Questions
TextUs integrates into many CRMs, ATS, HRIS platforms, including Bullhorn, Workday, Greenhouse, Salesforce and more. See a full list here.
If you already have business landlines used for voice, TextUs can usually text-enable those numbers. Otherwise, we are happy to provide a virtual number with your preferred area code.
TextUs offers opt out management, so if a contact texts back "stop" or "unsubscribe," they will automatically be opted out and unable to be texted again – unless they request to be opted back in.
Get a TextUs Demo
Learn how thousands of staffing and recruiting agencies use TextUs every day to communicate in real-time.