How Integrity Locums Connects with Physicians Faster and Gets More Done with Bullhorn, Herefish, and TextUs
Increasingly in staffing, it's not only individual tech choices that differentiate firms, but how the entire suite of tech solutions work together. Integrity Locums, a locum physician recruitment firm, saw this firsthand as they searched for a text messaging solution. They tried many other platforms before arriving at TextUs, and the integration with their CRM, Bullhorn, was nonexistent or inefficient — requiring laborious spreadsheet work that sapped consultants' time.
Integrity Locums went searching for new texting software. Hearing good things about the TextUs platform, they tried it out and found just the solution they needed.
"The new TextUs has worked so well for us," said Chelsea Scoggins, Sales Administration Manager at Integrity Locums. "It's been beneficial in expanding our outreach so we can communicate quickly and efficiently, the way our business needs to."
TextUs seamlessly integrates with Bullhorn and with Integrity Locum's automation platform, Herefish. This saves consultants' time, improves response rates, and facilitates more targeted, effective candidate communication.
Integrity Locums also gained insight into what was working in their communication strategy — and what wasn't — with TextUs' robust texting analytics.
"We've been able to get a lot more done with TextUs, and as a result, we've seen more responses, and we've seen our business growing," said Scoggins.
Here's how.
Save time and effort with Bullhorn + TextUs
Before partnering with TextUs, Integrity Locums found that texting solutions that weren't compatible with their CRM and automation platforms left a lot to be desired.
"Before we had the three platforms integrated, the process wasted a lot of time," said Scoggins.
Rather than uploading lists in various locations, reformatting spreadsheets, and manually sending separate email and text campaigns, Integrity Locums can seamlessly manage all their text communication from within Bullhorn.
"We can text directly from contact records in Bullhorn without creating a new profile in TextUs itself. It also syncs well with Bullhorn so we can easily create lists. If we want to text our New Jersey hospital list, for example, it will autoload and pull smoothly into TextUs — no formatting, extra uploads, or sheets."
In a fast-paced, high-touch, competitive industry like healthcare staffing, a seamless process can save teams hours throughout the week, positioning them favorably to move quickly to place top candidates.
Automate mass text outreach with Herefish + TextUs
Along with texting directly from contacts in Bullhorn, Integrity Locums can automate both email and texting campaigns simultaneously from their automation platform, Herefish.
"With Herefish, we automate our emailing and texting for some of our hotter, bigger jobs. It connects with TextUs well, gets the right information and textable numbers for people, and allows us to send the message through Herefish."
Beyond just saving time, this automation also helps Integrity give a physician the feel of a personalized message from their consultant, while enabling their team to reach out to thousands of candidates with a single send.
"To the candidate, it looks like it comes from our consultants directly, and the consultants can see and respond to messages right from their TextUs inboxes."
Together, Bullhorn, Herefish, and TextUs are a powerful communication tech stack that help Integrity accomplish their goals of saving time and building relationships.
Align on company messaging with templated text messages
Integrity Locums has a lot of consultants working simultaneously. To avoid each consultant reinventing the wheel and to ensure that all outreach is consistent, Integrity relies heavily on TextUs templates.
"The templates have helped a lot. We create a professional template that everyone can use, which saves time and keeps our messaging consistent."
Here's an example of a template Integrity Locums uses to amplify their job campaigns:
Hi, from Integrity Locums: A new [specialty] job has opened in [state] for coverage starting in [start date month]. Would you like me to send you additional information?
This brief text message exemplifies a few best communication practices:
It's brief, friendly, and to the point.
It succinctly provides all the necessary information for the recipient to take action.
It has a single call to action.
It asks a simple yes or no question, which lets the consultant know if the physician is interested or if efforts would best be spent elsewhere.
Improve communication strategy and response rates with detailed texting analytics
Of course, the best communication tech suite in the world doesn't mean much if you don't have insight into how your outreach performs. Using TextUs' robust analytics features, Integrity Locums was able to watch their response rates climb. What's more, they were able to analyze what kind of text messaging campaigns worked best, down to a sender, recipient group, and messaging level.
"The really nice thing is that TextUs has a lot of analytics that we can use. We can see response rates and judge immediately if a text is successful. If it's not going the way we'd like, we can correct it quickly."
This data helps the staffing firm make sure that their campaigns are successful. If a message strikes an off-note or contains an error, they can easily intervene and course correct.
The platform also made all their communication efforts more transparent. Administrators can gauge how users are interacting with the system, how many messages consultants are sending, and which campaigns are the most effective.
Communicate thoughtfully to build relationships
Integrity Locums is committed to making a difference in people's lives, and to achieve that, they're focused on relationship-building and transparency. When it comes to their outreach strategy, they're dedicated to communicating with integrity, as their name implies, without sacrificing efficiency.
With the other texting solutions they tried, some of the platforms lacked robust group texting solutions, didn't allow multiple users to manage messages, and provided no texting analytics. Their consultants were wasting time and, due to a lack of insight from other platforms, sometimes over-communicating with physicians, which hurt the candidate experience.
TextUs helped Integrity communicate quickly and transparently with their physicians and to really illustrate their core values in all their outreach.
"It's been helpful to see the company work as a whole. TextUs helps us align with our core values in all our outreach," said Chelsea Scoggins, Sales Administration Manager at Integrity. "We're able to communicate thoughtfully and efficiently."
About Integrity Locums
Integrity Locums was established in 2012 by Tim and Lacey Devereux, leaders of the permanent physician recruitment firm, Integrity Healthcare. After building Integrity Healthcare into a stable and sustainable partner for healthcare organizations across the country, Tim and Lacey began to see the need for a transparent, relationship-focused locum tenens recruitment firm.
With more than 95 years of collective staffing experience on our executive team alone, we've learned that successful partnerships are rooted in relationships and transparency. We value the relationships we build with both our providers and our clients, and we're consistently successful in cultivating these relationships into favorable locum tenens placements.
When you work with us, whether you're a provider or a healthcare organization, you can be confident that you're working with honest, transparent experts who will work hard to maintain a valuable partnership.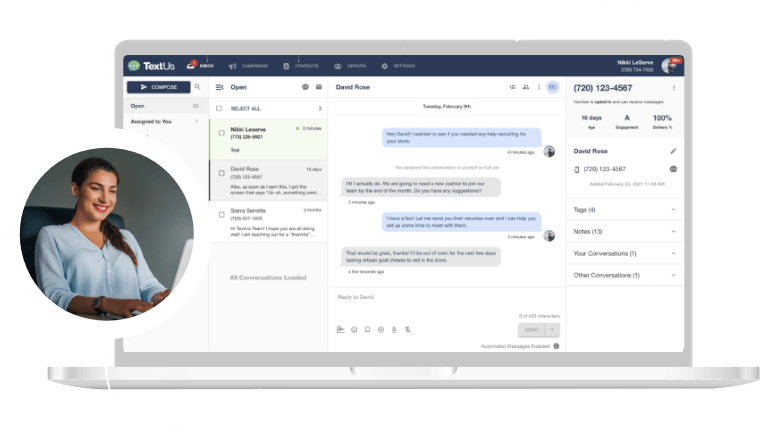 Get a TextUs Demo
Learn how thousands of businesses use TextUs everyday to communicate in real-time.