Innovation, Communication, and Other Key Drivers of Staffing Firm Growth
You want to be the best of the best.
You want to draw in the most skilled talent, hook the hottest clients, and grow your firm. What do fast-growth firms do differently?
They're driven by vision
Successful recruiting firms consult their crystal balls. While keeping an eye on everyday realities, they're also guided by their visions of the future and align strategies and operations with these visions.
Paying attention to trends
To create a powerful team, you need to remain ahead of the curve. Successful firms strive to notice the next big thing, first. Today, they have their eye on:

They're also keenly interested in the unique characteristics of Millennial and GenZ candidates, the future of today's workforce.
Developing ideal candidate profiles
Top firms front-end the search process with a clear understanding of their ideal candidates. When grounded in solid research and in-depth industry understanding, these personas can focus recruiter energy and vastly reduce time wasted on dead ends.
They're all about the silver linings
Successful recruiting firms create a culture of positivity. In the same way a smile is infectious, optimistic recruiters can often bring out the very best in their candidates. The happiness train keeps on rolling when these bright candidates, in turn, please clients. Here are some hallmarks of positive recruiting:
Educating coworkers and candidates alike on self-coaching and motivation.

Encouraging talent to focus exclusively on the positive in interviews.

Reframing stumbling blocks and missteps as opportunities for growth and improvement.

Emphasizing benefits and empowering lessons when candidates are met with rejection.
They break molds
Recruiting competition is fierce. The top firms are going to be the ones that don't consider the box at all in their thinking. Innovation doesn't need to be sweeping to be revolutionary to clients and candidates. The simple act of sending a text about a job lead — practically unthinkable a decade ago — now speeds the sales cycle and overall firm growth.
The best firms regularly reevaluate their recruitment strategy from initial contact to signed contract. Every step of the way they ask: How can we be better?
They're savvy communicators
You can have all the vision, positivity, and innovation in the world. But if you can't communicate them to candidates and clients, you're pretty much dead in the water. Strong communication is about connection, responsiveness, and convenience.
Learn more about what candidates want in recruiter communications.
They keep score
Cutting-edge firms are harnessing the power of data to drive their growth. For example, organizations with formal Customer Relationship Management (CRM) processes that also track all candidate communication are 40% more likely to be best in class.
They also track how happy their clients are and course-correct as needed. "Top staffing agencies are able to stay on top because they consistently measure their [quality control] processes and utilize client and candidate feedback to improve," says Eric Gregg, CEO of Inavero. "[Satisfaction scores] are the number one metric the majority of clients use to determine the quality of a prospective staffing firm."
With exponential growth in the field of predictive analytics, recruiting firms have also started to ground strategic vision in hard data. Predictive analytics helps improve:
quality of talent,

job-response time,

client acquisition,

cost-per-placement, and

time-to-fill.
Want more info on what sets fast-growth firms apart from the pack? Check out our 2015 Staffing Industry Sales Communication Benchmarking Report.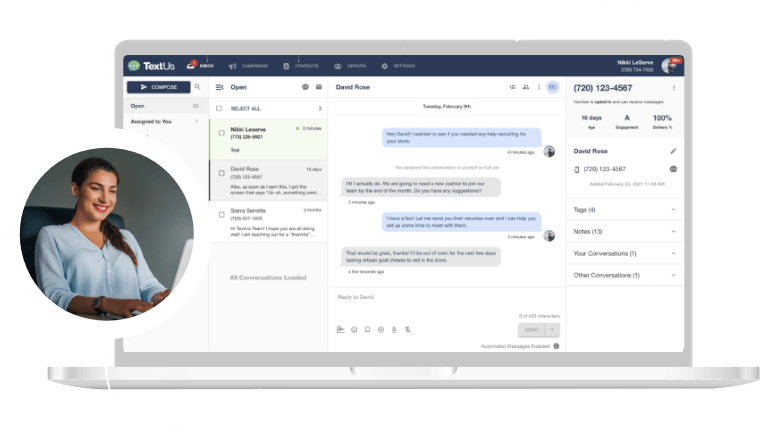 Get a TextUs Demo
Learn how thousands of businesses use TextUs everyday to communicate in real-time.