Inside TextUs: January 2021 Product Updates
Latest Platform Updates
We hope your 2021 is off to a successful start! You may have already noticed a handful of small changes designed to make your daily experience on TextUs smoother:
New, unread messages in your inbox are more eye-catching, in our favorite shade of TextUs green
The dark blue Compose button is more visible
Minimized white space in your inbox allows for a longer message preview for each conversation
The TextUs team has also been working on several bigger features, designed to take your TextUs success to the next level. And of course, there are always more in the works.
New Year, New Features
User Personalization 
With User Personalization, Root Admins can define common custom fields that their Users often use in messages, for example, a calendar link. Users then supply values for these fields, and use these fields to personalize the messages they send to Contacts. You can learn more about setting up User Personalization here, and if you have questions, please reach out to your Account Manager.
---
Edit Group Names
You can now update your Groups with new members and a new name. Simply select your Group, and click the pencil icon next to the name.
---
Notification Center
Desktop notifications are now controlled through the Notification center in User Settings.
---
Default Account Setting
Default Account Setting is now available through Profile Settings. By selecting a Default Account, a user who sends messages through an API and has access to multiple messaging accounts can now control which account a text is sent from. (This is most useful if a contact is on more than one account and has never been texted before,  which is common with Herefish users).
---
Failure Rate Accuracy (opt outs removed from Campaigns) 
Previously, if Opted Out Contacts were added to a Campaign, they would appear in the Campaign statistics as "Failed." Now, if an opted out Contact is included in a Campaign, the campaign message will not be sent to them at all and they will not be represented in the failed message calculation.
---
What's in the Works?
Analytics Details Tab 
Coming this month, TextUs is introducing a Details tab to our Analytics. This Details tab will provide you with a far more comprehensive set of reports that you can use to analyze your Organizations use of TextUs. Three new detailed reports will be available for export:
User By Organization: This report will allow Users to easily audit active TextUs Users. It will include details like creation date, user type, and accounts the user is associated with.
User Engagement: This report shows how Users at the Organization are performing. It can serve as a form of leaderboard or provide insight on those who use TextUs the most. It includes details like number of active conversations, average messages per conversation, and total messages sent/received.
Message Deliverability: This report serves to provide full visibility into the deliverability of your messages.
---
Happy Texting!
-Team TextUs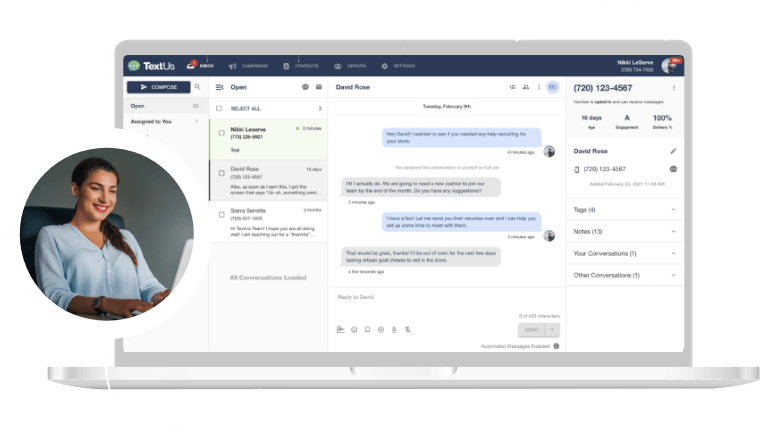 Get a TextUs Demo
Learn how thousands of businesses use TextUs everyday to communicate in real-time.