Introducing the "Text Us" Call to Action
If you're like most companies, you've been using the tried and true "Contact Us" format: Visit Us. Email Us. Call Us. But these calls to action don't meet the needs of today's on-demand economy.
In the age of real-time communication, your customers want a way to connect with you that's convenient, quick, and personal — whether they are browsing your website, scrolling through your social feeds, or responding to emails.
That's why we're introducing the "Text Us" Call to Action. It lets customers start texting with your business with a single click. No matter where your customers find you, they can now easily start direct, personalized conversations with you and your team over text message.
The "Text Us" CTA puts our name into action. Here's how you can put it to work for you.
Embed it on your website.
Before now, there hasn't been a convenient way for your browsing audience to move from your website to texting you. The "Text Us" call to action bridges the gap between online prospects and sales teams, converts traffic into instant text conversations, and powers a modern multichannel outreach strategy.
Use it to convert mobile traffic.
When your audience is browsing your site on the go, they are likely to be looking for a quick, convenient way to be in touch with you. By adding the "Text Us" CTA to your mobile site and landing pages, you create an easy mobile experience that converts your browsers into customers.
Promote it through social outreach.
By adding a link to your text-enabled business phone number to your social posts, you harness the power of your social traffic. You make it that much easier for your fans to get in touch with you. You can also add the Text Us CTA to your social ads and manage new conversations from your TextUs inbox.
Add it to your email signatures.
Text messaging is a great way to make your email outreach more effective. When your customers are on the go, they don't always have time to respond in-depth to your emails. But they likely have time to click on a link to send you a quick text message.
The "Text Us" Call to Action is another tool in your communications toolkit which allows you to meet your customers where they are and start the real-time conversations they are looking for.
You can learn how to edit the simple HTML to add "Text Us" calls to action to your website, emails, and more in this brief how-to guide.  
Want to hear more about the Text Us CTA? Text Us at 303-442-3223.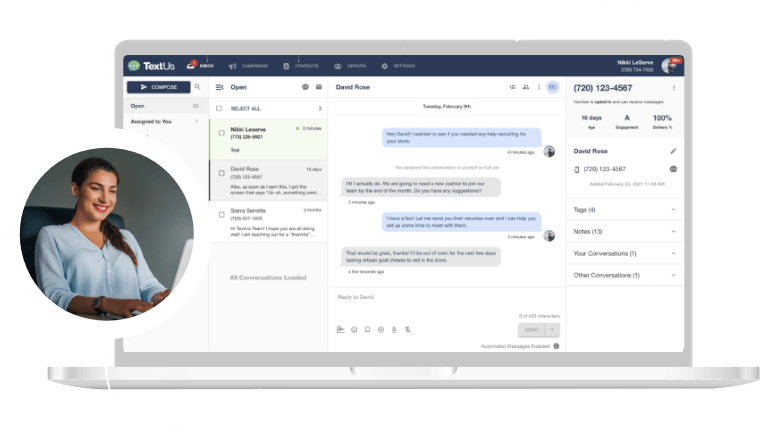 Get a TextUs Demo
Learn how thousands of businesses use TextUs everyday to communicate in real-time.