Staffing Hub Introduces The Staffing Show Podcast, Sponsored by TextUs
Staffing Hub, the go-to site for staffing industry intelligence, just introduced The Staffing Show, the only podcast that delivers tools, tips, and tactics from the staffing and recruiting industry's top executives and thought leaders. TextUs is proud to co-sponsor The Staffing Show.
Art Papas, the CEO of Bullhorn, Ralph Henderson, the president of AMN Healthcare, and Melissa Howard, Data and Systems Analyst for IT Tech Recruitment, have been the first three guests on the show. Each of these episodes has explored, in a different way, the role of technology in making recruiting better.
Episode 1: Art Papas, CEO and Co-Founder of Bullhorn
Warning about the dangers of slow adoption, Art Papas encourages staffing executives to pay close attention to today's disruptive technologies — or risk extinction. "If you aren't prepared to get in gear two years from now, you really could be at an extreme disadvantage, and potentially risk disruption as a business," says Papas. "If automation does become disruptive in the space, disruption is a messy business, and businesses do get turned over. Look at Blockbuster, right? It's a business that thought it had plenty of time to figure out the internet and didn't."
---
Episode 2:
Ralph Henderson, CEO of AMN Healthcare
Henderson focuses on the value automation has for candidates. "When you use technology to take away the other parts of their job and let recruiters do the part of their job where they add the most value, I think you create a better environment," he says.
---
Episode 3: Melissa Howard, IT Works Recruitment
And we're honored that Howard gave TextUs a shout out. "It's been wonderful," says Howard. "Within three months we were able to see a great ROI. Really, the first month of us using [TextUs] we were able to get candidate feedback and see an average response rate of over 40%."
---
Listen in on the staffing and recruiting insights by checking out The Staffing Show website or by subscribing to The Staffing Show podcast on iTunes, SoundCloud, or wherever you like to listen to your podcasts.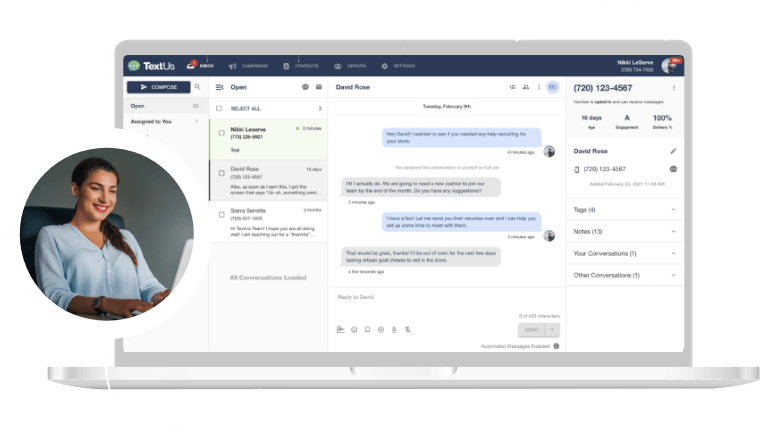 Get a TextUs Demo
Learn how thousands of businesses use TextUs everyday to communicate in real-time.