Text enable your 1-800 Number
Text enable your existing 800 number to add text messaging (SMS) service without affecting any voice services.  When customers text in the messages show up instantly an easy to use web portal and can be managed by multiple agents.  With the ever growing popularity of texting why force potential customers to call when they can simply shoot over a text.
Multi-Agent
TextUs.Biz offers multi-agent log in which allows multiple agents to manage text conversations for the same phone number. All new inbound messages can be viewed by the agents but when one agent begins typing a response, the others can see the chat has been "claimed" and dismiss the chat window from their view.
TextUs.Biz API
Our Contacts API allows your business to easily sync, add, edit or deletes contacts between the TextUs.biz Messages database and your CRM. This restful API includes First Name. Last Name and Phone Number.
Web-to-Text Widget
With our web-to-text widget we provide you with "Text Us" tab or button that allows customers to text in from your website. They can then type in their cell phone number and message and it will instantly pop up in your Messages app. When you respond, it goes directly to the customer's cell phone as a text message and gets the conversation started!
Learn more and get started at https://textus.com/text-enable-your-1-800-number/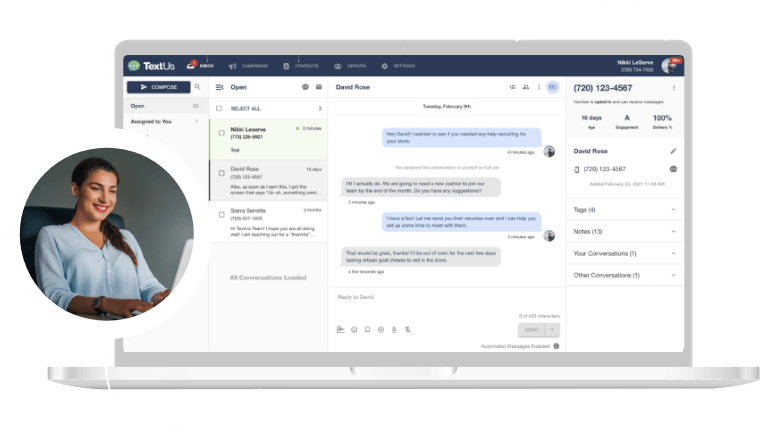 Get a TextUs Demo
Learn how thousands of businesses use TextUs everyday to communicate in real-time.