TextUs Music Presents "Indiehour" – Volume 1 of a Music Playlists Series Brought to You by the TextUs Team
We're excited to introduce TextUs Music with you. Each month, different folks here at TextUs will be curating a musical adventure for you. It's our way to welcome you into the TextUs vibe, to give you a sample of that good TextUs life :).
I'm happy to be kicking things off with "Indiehour," a collection of some of my favorite mellow indie songs.
"Indiehour"
by Josh Berndt, Director of Sales
People always think it's the weirdest thing, but I like to listen to really slow music when I work and when I run. It helps me get calm and focused so I can do my best.
That was really the inspiration for this playlist — it taps into our focused and practical nature here at TextUs. We know what makes people successful, and we don't stray from it. We also don't need all the bells and whistles that can often distract people. Sometimes simple and powerful is just what you need.
One of my favorite tracks on here is "Balance" by Future Islands. I once listened to this song for an entire half marathon on repeat. Samuel Herring has one of the voices you can't get sick of. Here's a sample:
Trust me as a friend
And I'll do all that I can do
And I'd do anything for you
Because I want to see you through
It just takes time
Hard work and your time
You can change your life
You can listen to the "Indiehour" playlist on Spotify. And stay tuned to the TextUs Records channel for future playlists!
Bonus: Get a TextUs Wallpaper of the "Indiehour" cover art for your desktop and mobile devices!
Download for Desktop | Download for Mobile
---
P.S. Can we send you an email?
Once a month or so, thousands of business pros get an email with our best content. We never bug you; we just send you our latest content to keep you in the loop.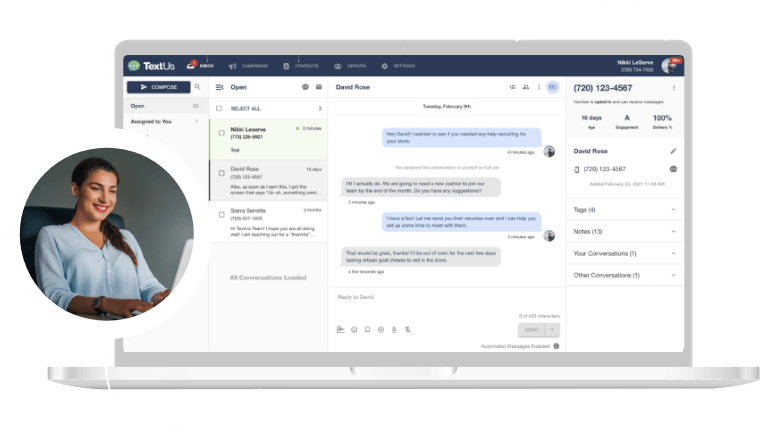 Get a TextUs Demo
Learn how thousands of businesses use TextUs everyday to communicate in real-time.