Why Your Team Needs to Communicate in Real Time to Make Today's Customers Happy
Gone are the days when businesses set the rules of engagement. The internet has leveled the field. Your customers are used to getting what they want, when they want, whether that's an instant delivery from Amazon or on-demand customer support when something's broken.
But the good news is it's pretty simple to meet clients where they are. Your best customers just have a few requests about how they reach you.
Make it easy
These days, every generation is texting. And if they're not texting, they're making a call and expecting the call to be answered immediately.
Think about it: how do you — and your customers — prefer to communicate with friends and family? You're probably texting. If you're calling, you're setting up that call with grandma over text so you don't interrupt her book club.
Your customers don't want to switch to phone or email to learn about your product. If you're going to reach them, jump into the stream they're already paying attention to. You'll both save time.
Make it convenient
Nearly 78% of consumers say they wish they could text a business when they're interested in a product or have a question. If the buying bug hits them and you aren't available in real time, your customers will probably move to the next business that is.
This means when your customer is ready to talk, you should be ready to talk. And your customers are mostly talking in real time. Over a third of professionals say they can't go 10 minutes without responding to a text. How about email, in comparison? Consumers aren't even opening a fourth of the emails they receive.
Make it friendly and accessible
You used to be able to open a new store, sit back, and wait for your customers to roll in. Now consumers are shopping and comparing options lightning fast, with no time to hunt down your product. When they find you, they want their questions answered right away.
Almost 64% of consumers and 80% of business buyers said they expect companies to respond and react in real time. And when they do connect, your customers want to know they're talking to a real person. No spam, formal business doublespeak or smarmy sales talk needed. Think of creating a conversation instead of causing an interruption.
Looking for more tips to make your texting stand out? Check out 8 Data-Driven Hacks to Get People to Respond to Your Business Text Message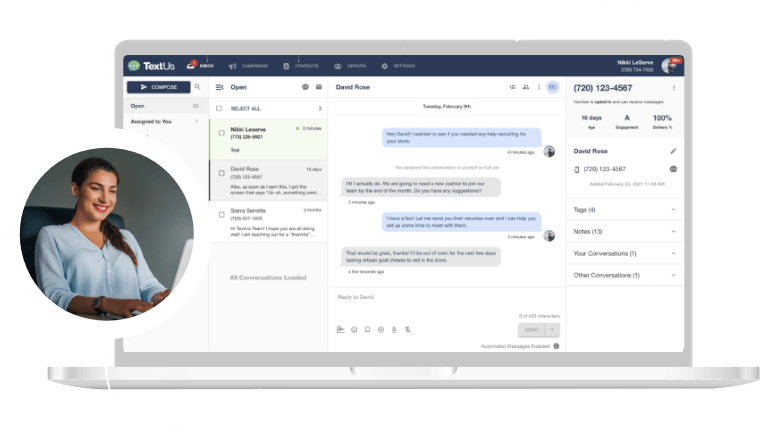 Get a TextUs Demo
Learn how thousands of businesses use TextUs everyday to communicate in real-time.