5 Can't-Miss On-Demand Staffing and Recruiting Webinars
The talent you want is constantly evolving. If you and your team want to keep up, you need to strive and improve along with them. A lot of staffing executives read the standard blogs and follow the same news stories. They don't think outside the box when it comes to team education.
---
When it comes to data, there's a lot of noise out there. Jeff McCarthy from Indeed helps you pay attention to which staffing and recruiting numbers are most important. This webinar helps you connect the dots between your strategic goals and the metrics that matter.
You'll learn:
How data helps you find the right candidates for your niche
How to effectively use automated sourcing
How to easily track candidate performance
---
TextUs execs Ted Guggenheim and Erich Hugunin draw on extensive staffing industry data to find what the fastest-growing staffing firms do right. Moderated by David Folwell of The Growth Co. and Staffing Hub, this webinar examines which technology choices and communication strategies accelerate growth — and which don't.
You'll learn:
How your staffing and recruiting firm can sell more, faster
Industry average close rates and days-to-close
How to effectively use text messaging to place more candidates
What messages increase response rates
---
Expert recruiter Dean Da Costa of Search Authority brings you the sourcing tools you haven't heard of and teaches you to make the most of the ones your recruiters use on the regular.  
You'll learn:
Which anonymous sourcing tools help you become embedded in talent communities
How to hyper-target your sourcing efforts
How to profile scrape for talent and bolster the information in your ATS
---
What determines how effective your recruiting tech is? Tim Sackett, President of HRU Technical Resources, argues that it's how closely your tools tie to your strategic goals. This webinar maps out a realistic, tactical way to make successful HR tech decisions.
You'll learn:
Why tech should be your firm's top priority
How to pitch tech changes to your team
How to ensure your tech decisions will be successful
---
Note: ASA Membership Required
Chances are your recruiters are facing some of the issues Erin Bent of Next Level Exchange highlights in this webinar. Do your recruiters ever get into ruts or lose inspiration in the midst of a long search? This webinar will help you teach them strategies to give their work new life.
You'll learn:
How to revive a dying candidate search
How to boost your recruiters when their spirits are low
How to deal with lack of candidate response
How to find happy, interested candidates
---
There you have it — 5 can't-miss staffing and recruiting webinars. Watch them whenever you have a spare hour and a fast internet connection.
Don't have time to watch a webinar right now? Check out our Staffing Industry Sales & Marketing Communication Benchmarking Report.
Want more tips on how to be a better recruiter? Check out our 7 Habits of Highly Effective Recruiters.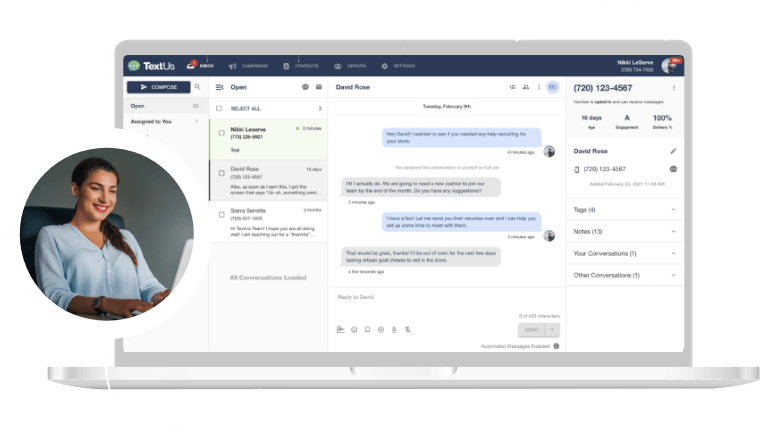 Get a TextUs Demo
Learn how thousands of businesses use TextUs everyday to communicate in real-time.