7 Business Text Messages You Should Be Sending
You ignore mail, voicemail, and even email. But there's just something about text messaging you can't resist. It's the same for your prospects and customers — the open rate for text messaging is an extraordinary 98%!
Here are seven types of business text messages you should be sending to reach your audience where they're most eager to connect.
Welcome messages
When a customer leaves their information with you, or trusts you with a purchase, a hearty welcome text can make them feel even better about their decision. Send an automated (but personalized) welcome note that shows customers how happy you are that they joined you.
Thank-you notes

A variation on the welcome message is a thank-you note. Thank you is one of the most powerful phrases in the English language. And for sales: saying "Thank you" is a tried and true way to earn repeat customers. Importantly for text messaging, it also increases the likelihood that you'll get a note back. There is no wrong time to say "thank you," so send this type of text message as reinforcement at any point.
Meeting requests and reminders

Scheduling appointments is one of the top uses of business text messaging. Before you spend time calling someone (and probably talking to their voicemail), send a quick text to ask when is a good time. Before your meeting, send a reminder. Rather than making your contacts check their email or voicemail, shoot them a text to get your message right in front of their eyes.
Order confirmations
Order confirmation emails are common. But again, why not send a text? If you're shipping a product, you can even send a shipping confirmation with a tracking code.
Renewal notices

Subscriptions running out? Send a renewal notice. Put a link to re-up directly in the text message so customers can take action immediately.
Special offers

Anytime you've got a promotion running, send a text to your target audience. Be sure to personalize the message so your customers think the offer is just for them, and include a quick link or code for maximum accessibility and effectiveness.
Surveys
Want to know what your customers think? Send them a survey via text. The average response rate to email surveys hovers around 25%, but studies show that sending a survey via text message significantly increases the response rate. Not only that, but you'll get your responses much faster. But be kind to your respondents and remember they're on their phones — don't make your survey too long and don't include too many open-ended questions where they need to type.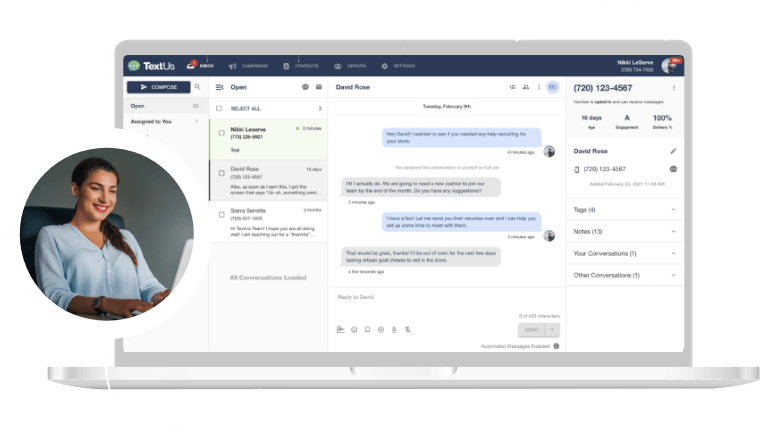 Get a TextUs Demo
Learn how thousands of businesses use TextUs everyday to communicate in real-time.