SMS has become a game changer for the manufacturing industry by providing a fast, easy and reliable way for companies to communicate with employees, schedule shifts, and manage recruiting efforts. With so many employees working in different locations and on different shifts, it can be a challenge to keep everyone informed and on the same page.
But with SMS, you can quickly and easily send out messages to all of your employees, no matter where they are or what shift they're working.
Ways SMS can be used in manufacturing
SMS can be a useful tool to have in your toolkit. Let's take a look at some specific ways in which SMS can be used in manufacturing.
Staffing & Recruiting
Quickly and easily reach out to potential hires, schedule interviews and keep track of the hiring process.
Onboarding and training
Send new hire paperwork and training materials, as well as schedule orientation and training sessions.
Shift management
Easily send out shift schedules to all of your employees, and they can confirm their availability with just a few taps on their phone.
On-call scheduling
Schedule and confirm on-call shifts, and to communicate any changes or updates to the on-call schedule.
Internal communication
Send important updates and reminders to employees, such as shift schedules, safety information, and company policies.
Employee engagement
Send out regular updates and reminders about company events, training opportunities, and other important information to keep your employees engaged.
Safety alerts
Send out safety alerts and reminders to all of your employees to keep them informed and safe on the job.
Reminders
Remind staff about upcoming mandatory trainings, certifications, and other professional development opportunities.
SMS features to look for
To make the most of effective communication tools including text messaging, you should consider how the technology will help you accomplish your goals faster.
What are some of the key features you should look for when researching text messaging solutions for manufacturing business?
Auto-replies
Use Keywords to send back an automated message when they use the preferred keyword. For example, a candidate can text in the keyword "F&B NY" to receive a list of open positions in food and beverage in New York.
Segmentation
Create groups based on what candidates have expressed interest in allowing you to send personalized, targeted, and customized content to place them faster.
Campaigns
Broadcast the same text message to multiple contacts and schedule them to be sent at optimal and most convenient times.
Unlimited Campaign Sizes
Send campaigns to larger audiences with industry-leading throughput. (Daily message limits may apply.)
Mobile App
When you're on the go, leverage our mobile app to stay connected from anywhere. Otherwise, you can use TextUs directly from your browser or using our Chrome extension.
Rich Media
Analytics
Measuring your analytics is important to know if your text messages are resonating with your audience and allow you to adapt to improve your communication strategy.
CRM or ATS Integration
Your tech stack should complement one another and work together in order to improve your workflows and make your and your team's jobs easier.
Learn about how Hamilton-Ryker grew their candidate pool, improved their walk-in traffic, boosted their associate referrals, and increased their response rates to 60%.
10 text message templates for manufacturing
These templates are customizable, easy to use and can be used to send job openings, schedule interviews, send new hire paperwork, track attendance, gather employee feedback, and more.
1. We have a new job opening for a [position] at our [location] manufacturing facility. Interested candidates can apply at [link] or reply 'APPLY' to start the process.
2. Hi Mark, you have been selected for an interview for the [position] role at our manufacturing facility. Please reply with your availability to schedule a time that works for you, or select an available time from here [link]
3. Sara, welcome to the team! Our next orientation is on [date] at [time], please reply with "will be there" or "can't make it" to let us know you if can attend.
4. Hey Ed! Reminder: You are scheduled to work a shift from [start time] to [end time] on [date]. Please reply 'CONFIRM' if you will be able to make it."
5. We value your feedback! Please take a few minutes to complete our employee engagement survey by replying with 'SURVEY' or by visiting [link].
6. Reminder: Our next safety training is scheduled for [date] at [time]. Please reply 'CONFIRM' if you will be able to attend.
7. Rachel, for your time tracking and attendance, please reply 'IN' when you arrive for your shift and 'OUT' when you leave. This will help us track attendance and hours worked.
8. Emergency alert: There is a [emergency situation] at our manufacturing facility. Please stay away from the area and follow instructions from management.
9. Drew, are you interested in joining our team in the manufacturing field? We are currently hiring for [positions]. Please text 'INTERESTED' for more information.
10. Congratulations Emily, for your outstanding work! Here is a gift certificate to show our appreciation [link or image] Keep up the good work!
SMS is an essential tool for recruiting and HR in the manufacturing industry. It can be used to send job openings, schedule interviews, send new hire paperwork, track attendance, and gather employee feedback, all through the convenience of text messaging. Text messaging also allows for a faster response time, which means you can fill open positions and onboard new hires more quickly. With SMS, you can keep your employees informed and engaged, which can help improve employee satisfaction and retention. Additionally, SMS is a cost-effective communication method, which can help lower expenses for your business.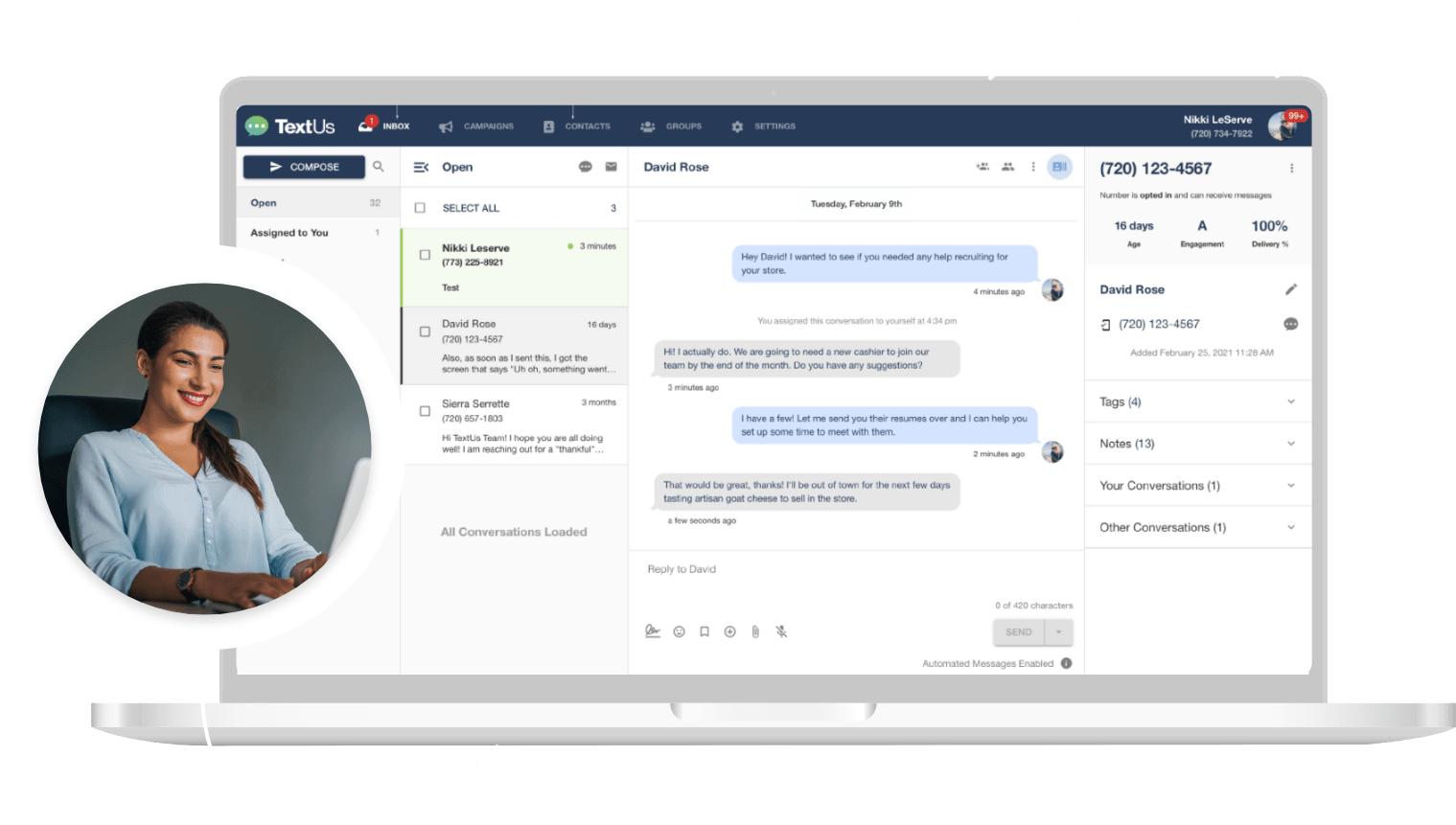 See a Demo Today
Learn how other manufacturing organizations use TextUs every day to communicate in real-time.