Hamilton-Ryker Increases Response Rates to Over 60%, Grows Associate Pool, and Boosts Referrals Using Business-Class Text Messaging
In today's ultra-competitive job market, a recruiter's every minute counts. With TextUs, Hamilton-Ryker increased their associate reach, improved their return on time invested in phone calls, grew their pool of new applicants, and even attracted more walk-in traffic. Using the TextUs Broadcast messaging feature, Hamilton-Ryker increased their response rate to more than 60%.
The Challenge
The Hamilton-Ryker recruiters were wasting too much time calling non-responsive associates.
For a busy commercial staffing firm like Hamilton-Ryker, time is of the essence. Placing call after call to associates who never returned the call was consuming valuable staff resources. They found that associates had limited interest in phone calls and voicemail.
Some were reluctant to talk due to constrictive cell phone plans. Recruiters were even leaving messages with family and friends, unclear whether they were received. Hamilton-Ryker needed a new, efficient way to get in touch with associates to increase their reach and grow their firm.
The Solution
Leveraging TextUs two-way text messaging, Hamilton-Ryker grew their candidate pool, improved their walk-in traffic, boosted their associate referrals, and increased their response rates to 60%.
Hamilton-Ryker implemented the TextUs two-way text messaging platform and the results were dramatic.
"Our first Broadcast text message yielded a 60+% response rate within an hour."
– John Willcoxon, Branch Manager, Hamilton-Ryker
Hamilton-Ryker's response rate skyrocketed.They heard back from candidates more quickly, increased the flow of applicants coming into their firm, and received follow-ups from associates who had never returned a phone call.
"We have gotten great feedback from associates that like the fact that we use this service. We have dramatically increased the flow of applicants to the office since implementing TextUs, and we have been able to locate associates using TextUs and fill orders. We were able to fill seven additional orders the first two weeks of using TextUs. – William Rommell, Area Manager, Hamilton-Ryker
The staffing firm also found innovative ways to use the TextUs messaging platform to increase their associate referrals. Using the TextUs Broadcast tool, they sent text messages to associates who had been quiet for a few months or longer. The candidates responded often. When they did, Hamilton-Ryker not only helped them find work, but they also received referrals from them.
Each text touch could result in two or more new active associates through this text referral system. This method not only increased return calls and texts but also improved walk-in traffic from those who heard that a colleague had received a text about a job opening.
TextUs is highly effective and the ROI is very quick. It not only increased our return on time investment over placing individual phone calls, but it also increased the walk-in traffic to our office. People came by interested in our services after hearing we had texted someone about a job opening." – Brittany Burcham, Area Manager, Hamilton-Ryker
Hamilton-Ryker also found that TextUs gave them a competitive advantage by increasing the number of candidates they can reach in the field. By remaining more connected and communicating in just the way candidates and associates want, Hamilton-Ryker saved time, grew their connections, and closed more deals.
About Hamilton-Ryker
Founded in 1971, the Hamilton-Ryker company specializes in commercial staffing, from back office administrative assistance to manufacturing positions. They are committed to providing their clients with the strongest talent and finding best-fit careers for their associates. They offer an extensive suite of human resources services, from developing skilled workers to managing compliance requirements. They help their clients remain competitive and their associates active and engaged. For more information, visit Hamilton-Ryker's website.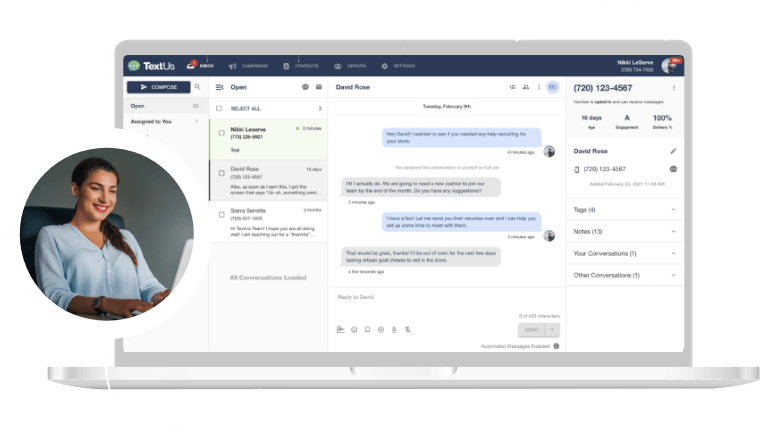 Get a TextUs Demo
Learn how thousands of businesses use TextUs everyday to communicate in real-time.