Texting Templates for Real Estate
With such an increased interest in the housing market, texting to schedule appointments for renters and homebuyers can help you keep track of interested candidates and ensure important information is read.
From sending greeting or promotional messages and efficiently keeping your schedules in order, to sending renting renewal reminders and sending paperwork that needs to be signed, texting will make your team's workflow more efficient – and keep your clients well informed. We've put together a few templates to get you going.
Texting templates to send during the home buying process
Communicating with potential homebuyers is important throughout all stages. Some properties can go on and off the market quickly and you want to make sure your clients find the right home and get approved just as quickly. Don't risk an email getting lost or a phone call getting ignored during this process!
Mike: Here is a 4BR home in Glenbrook in your price range. Do you want to schedule a tour? Please reply "YES" or "NO" (Insert photo or link)
Tina: Congratulations on your new home -I hope you are settling in! If you can think of any friends looking for homes please feel free to refer me with the link below. Thanks! Brenda! (Insert Referral Link)
Gary: Thank you for your inquiry about 353 Westview Drive. How would you rank your home buying interest: 1 – Actively ready to move 2 – Casually viewing 3 – Just getting started
Hey Carlos! It was a pleasure helping you find the right home – I hope you are enjoying it! How would you rate your experience with us? 1 – Excellent 2 – Good 3 – Okay 4 – Not that great
Texting templates for property management
How do you communicate with your tenants? Maybe you send out email blasts or post flyers on doors and elevators? Have you experienced low response rates and ignored flyers? Texting is a quick and efficient way to reach your tenants in a way that they are already using in their personal life! Here are text message examples to send to your tenants.
Hi Wendy! Just a reminder that rent is due at the end of the month. Have you already paid? Please respond 1: Yes 2: Not yet 3: I have autopay
Hi Justin: Your renewal is approaching.  Are you interested in staying at Lakefront Properties? Please respond: 1: Yes 2: Still deciding 3: No
Laura, we are collecting non-perishable items for the local food bank. Are you interested in donating? Please reply: 1 – Absolutely 2 – Not this time 3 – Maybe
Hi Chris! The resident holiday party will be this Friday from 6-8 PM.  Will we see you there? Please reply "YES" or "NO"
Texting template for HOA communities
Being a part of a homeowners association can be fun with events and not having to worry about landscaping. But when it comes to the rules, people may not want to hear from a "Karen" or "negative Nancy" in the community.  If the group email is getting cluttered and social media comments need to be controlled, texting campaigns can help achieve more positive results.  Here are SMS examples you can send to the community today!
Chris: We are having a golf day at our course next Saturday.  Tee time is 10:05am.  Are you able to attend?  Please reply "YES" or "NO"
Ali: It's time to vote for next month's book for book club! Please pick your top choice: 1 – Magic Hour 2 – The Secrets You Keep 3 – The Paper Palace 4 – The Last Thing He Told Me
Nate: The pool will reopen for Memorial Day Weekend! Hope to see you there! Did you spend time there last summer? Please reply: "YES" or "NO"
Olivia: We are already planning our annual summer picnic! Please vote for your top food choice: 1 – Tacos 2 – Pizza 3 – Burgers 4 – BBQ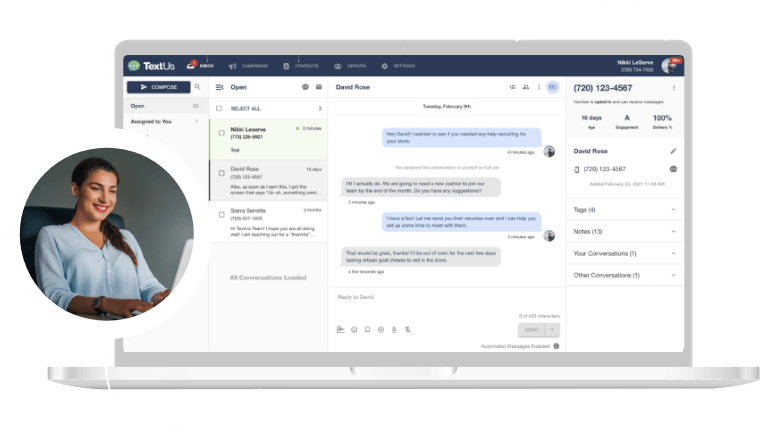 Get a TextUs Demo
Learn how thousands of businesses use TextUs everyday to communicate in real-time.