Managed Services Company Sought State of the Art Communication Method to Improve Candidate Recruitment Efforts
The Background
The Judge Group is a global managed services firm with offices in the US, Canada, and India. serving 60 of the Fortune 100 companies. Being at the top of your game in the talent and managed services business necessitates having a consistent stream of high-quality candidates and the ability to place those candidates quickly when clients need them – a feat that can be difficult with a national labor shortage and the increased complexity of communicating with candidates based on individual preferences. By 2018, Judge was already realizing that traditional recruitment communication methods were becoming unreliable, and the company wanted to get ahead of the trend by finding a customized communications solution.
The Challenge
Unlike emails and voicemails that can get lost or forgotten, text messages provide a direct communication line to candidates with a much quicker response rate. Judge wanted to have a more effective way of breaking through the clutter to communicate and update candidates on a regular basis and they found that email and voicemail were progressively becoming less reliable. To solve this challenge they first asked candidates, "How do you want to be communicated to?" and they realized text messaging was far more convenient for candidates and would result in quicker placement of resources for clients. Candidate feedback also told them that text messages needed to remain personal, be sent quickly, and could not sound "automated". Additionally, any solution needed to integrate into Judge's proprietary applicant tracking system (ATS) that deploys machine learning and artificial intelligence to effectively source candidates.
The Solution
In their search for an effective communication solution, Judge found TextUs, a text messaging software company located in Boulder, CO that provided unique one-on-one customized communication services. TextUs delivers the ability to quickly communicate with candidates through personalized messaging that further strengthens recruiter-candidate relationships. The easy-to-use platform allows Judge to regularly monitor their 40,000+ monthly outbound text messages to uncover best practices and efficiencies. By using TextUs analytics, Judge can better understand what content is most effective, including the length of text messages and the best times to send messages. Judge also partners with TextUs to deliver best practice workshops for recruiters to ensure all text communication remains effective.
The Results
With the help of the TextUs platform, Judge has a 40% response rate from candidates and an 8.5-second response time. Judge uses 150+ texting templates that make it effortless for them to standardize their regular communication to candidates. TextUs training was simple, and recruiters were able to adopt to the application quickly. Judge was also pleasantly surprised to find an additional use case for business texting. While they initially thought it would primarily be used by recruiters, they discovered the Judge back-office staff loved the tool as well. Using text functionality to remind employees and consultants to submit their weekly payroll was much more effective than calling or leaving voicemails. With seamless implementation, easy to understand training, quick adoption, and quality customer service, TextUs enabled Judge to greatly improve candidate communications, while increasing the productivity of recruiters.
---
Learn More about text messaging for the staffing and recruiting industry by visiting our solutions page: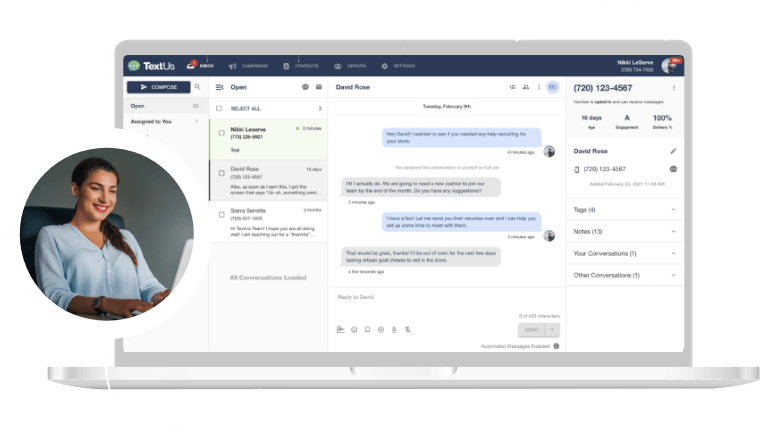 Get a TextUs Demo
Learn how thousands of businesses use TextUs everyday to communicate in real-time.